Hauraki District citizens and young achievers have been celebrated in style during an evening of glitz and glamour.
Twenty-five people have been recognised at this year's Hauraki District Council Citizen & Young Achiever Awards held at the Waihi Memorial Hall, which was packed with more than 200 supporters for the awards ceremony.
Hauraki District Mayor John Tregidga says the annual awards ceremony was always special evening of celebration.
"These awards give our communities the chance to honour and acknowledge our volunteers, who give so selflessly to organisations and community groups that make a difference in all of our lives.
"It's fantastic to celebrate the dedication and community spirit of these outstanding people, who make the Hauraki District such a great place to live."
Doreen McLeod and Keith Trembath both received Outstanding Citizen Awards in this year's celebrations.
Fifteen young people between the ages of 13- and 25-years-old received Young Achiever Award, which recognise young people for their leadership, sporting excellence, academic and vocational achievements as well as their ability to be role models for others in the community.
The recipients of the Young Achiever Awards are: Ruby Hodgson, Thomas Spicer, Mahonri Koopu, Lucy Keall, Gemma Walker, Jamie Mudford, Jasmine Wales, Micah Fielden, Aidan Roycroft, Tasmin Skinner, Skye Budge, Sarah Kruger, Olivia Dustow, Zyon Ford and Elizabeth Gordon.
Eight people received the Citizen Award, which recognise those who have been involved in a service that benefits the Hauraki District, or an outstanding long-term service to a community organisation.
The Citizen Awards recipients are: Margarete Ford, Brent Willoughby, Rita Rawson, Jill Hack, Jolene (Jo) Tilsley, Margaret Waters, Allan Jenkinson and Valda Laurich.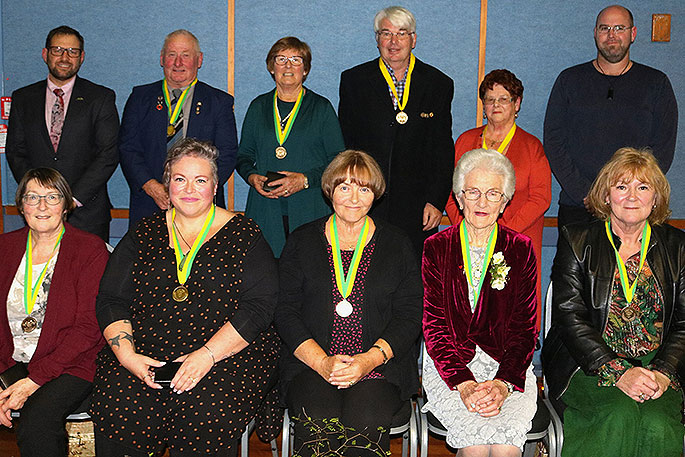 Deputy Mayor Toby Adams,back left, Allan Jenkinson, Valda Laurich, Keith Trembath (Outstanding Citizen Award), Doreen McLeod (OCA), Glen Willoughby (on behalf of Brent Willoughby). Margaret Waters, front left, Jolene Tilsley, Jill Hack, Rita Rawson, Margarete Ford.