Traditional Cambodian dancing was on display at the Bethehem Community Hall on Saturday night, as part of a fundraiser for the Cambodian Charitable Trust.
About 100 people turned out to participate in an authentic Cambodian experience, with a sumptuous three-course Cambodian dinner and dance performances.
The dinner paid homage to Cambodian's vibrant street-food culture. All made from scratch by Lin Evans, the menu included lemongrass beef skewers and a coconut curry which can be found on busy street corners and food markets throughout Cambodia.
Lin was abandoned as a child by parents who couldn't afford to keep her. She lived on the streets of Phnom Penh in Cambodia until she was taken into an orphanage at the age of five, and adopted at the age of eight by an American family living in Cambodia.
She moved to New Zealand ten years ago and, after escaping an abusive relationship, made a home for herself and her ten-year-old son in Tauranga.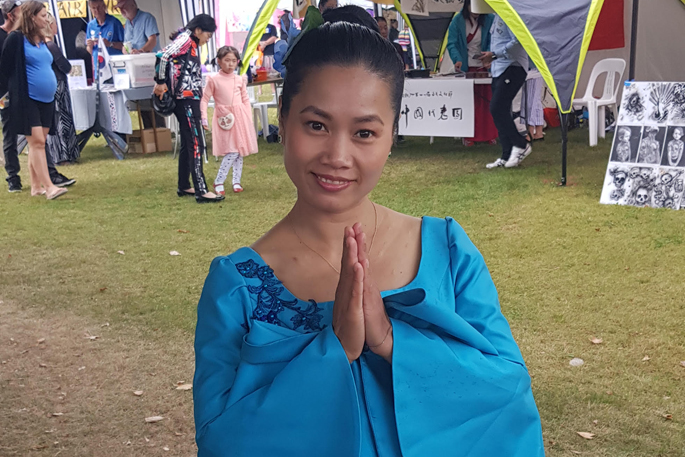 Organiser of Cambodian Experience Lin Evans. Images: Supplied.
Lin considers herself one of the lucky ones and wants to give children in the same position a better chance at life.
"I didn't go to school until the age of nine," says Lin. "Everyone in Cambodia is poor – paying for shoes or even a pencil and paper is so far out of reach for families there."
Lin's cooking skills came to the fore last night as she helped co-host the celebration of Cambodian culture with the Khmer Community of Tauranga to raise funds for the Cambodia Charitable Trust, a Tauranga-based organisation that works with the Cambodian government to offer accessible education for children in Cambodia's most impoverished rural areas.
The starter course Lin prepared was Sach-Kor Ang Jakak – beef lemongrass skewers and pawpaw pickle salad. Following this the main dish was Khmei Ka-ri Sach Moan and Bai-Sor – Cambodian chicken curry, vegetables and Jasmin steamed rice; followed by dessert which was Bong-aim Traow – a taro coconut sticky rice pudding.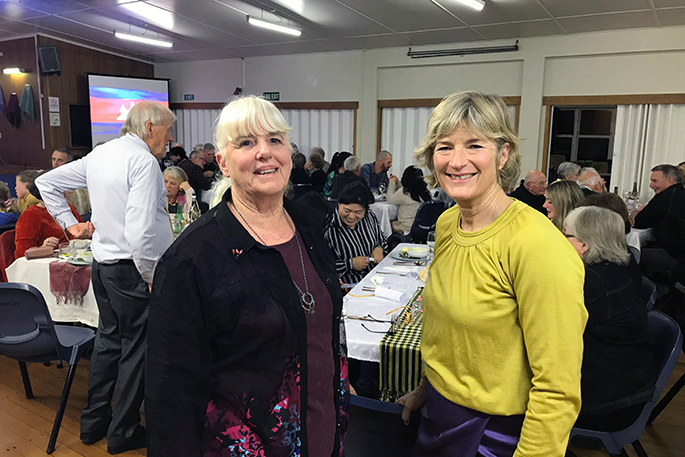 Dorothy Hutchinson and Denise Arnold
Denise Arnold, Don Pilbrow, and Steve Chitty established the Cambodia Charitable Trust in 2008 after Denise was compelled to take action.
"Cambodia gripped my heart in 2007 and has not let go," writes Denise on their trust website. "After reading about young children being rented out for sex by the week, I was compelled to act. Crushing poverty and the threat of human trafficking are everyday realities for vulnerable children."
Denise recognised that education interrupts injustice, protects children and sets them up for a brighter future. By engaging the help of the wider community, Denise has been able to focus on making it possible for vulnerable children to get an education.
The Cambodia Charitable Trust currently supports about 16 schools in Cambodia, helping free thousands of people from the trap of extreme poverty, and also raises international awareness of human rights issues and provides Cambodian children with housing, health and education. More sponsorship is needed to help provide library books and teaching materials.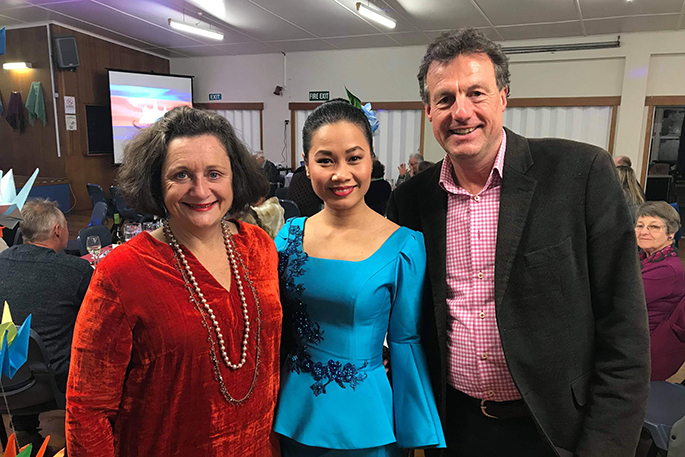 Kathryn Clout, Rothmany Keo who is a leader in the local Khmer community, and Tauranga Deputy Mayor Kelvin Clout
"The Cambodian Charitable Trust is well worth supporting as they focus on educating underprivileged pupils, teachers and trainers in one of Asia's poorest nations," says Tauranga Deputy Mayor Kelvin Clout, who attended Saturday night's event along with his wife Kathryn.
"Denise Arnold is a great leader of the trust and tonight Kathryn and I enjoyed the Cambodian Experience put on by the trust in association with the local Khmer community. A wonderful evening of food, art and dancing."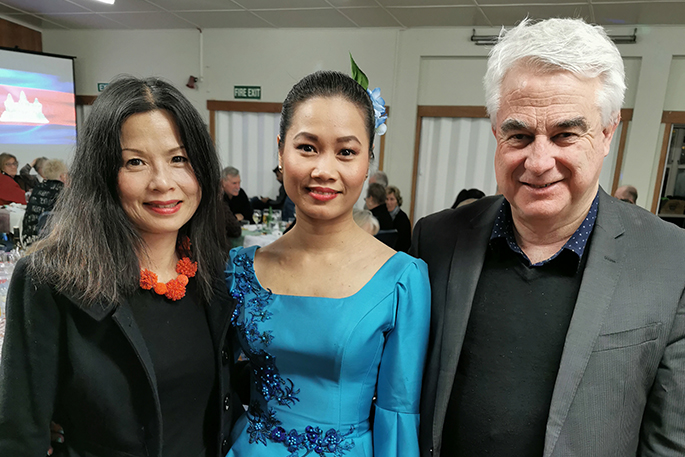 Li-Jong Liao, Rothmany Keo, and Tauranga Mayor Greg Brownless
The evening was supported by The Art Lounge NZ, where five per cent from the sale of art during the month of August will be donated to the Cambodia Charitable Trust.
To help support the work of the Cambodian Charitable Trust provide education into impoverished areas go to their website cctnz.org.nz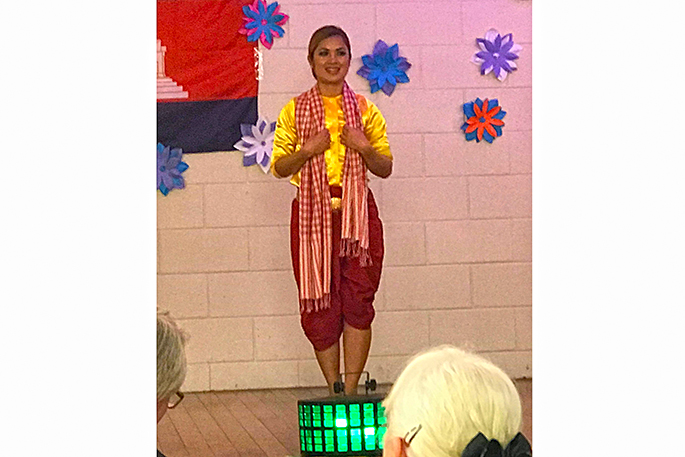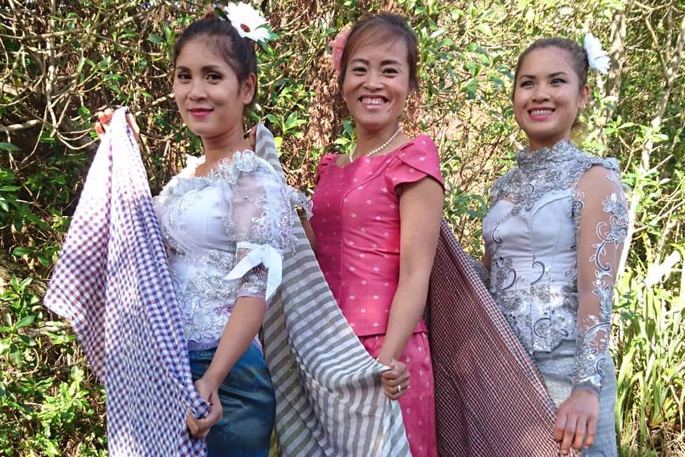 Some of the Cambodian dancers.