Kia ora and welcome to Saturday.
Today we are expecting cloudy periods with a chance of showers. Rain is forecast for the evening, along with northerlies.
It's a one-clothing with a high of 17 degrees expected and an overnight low of about 9 degrees.
On Sunday September 15, remaining showers should be clearing early morning with the day becoming fine, along with some westerly breezes.
Going into the week, Monday should be fine with westerly breezes, Tuesday is forecast to be cloudy with some evening rain, but then the remainder of the week should be fine with light winds taking us right through to a partly cloudy but mostly fine weekend.
Check out what's on today around the region:
Come and support the Bay of Plenty U16 Boys as they play Thames Valley U16 Boys at the Katikati Rugby Club. Kick-off is at 12noon.
The Bay of Plenty U18 Boys are up against the Thames Valley U18 Boys at the Katikati Rugby Club at 1.30pm.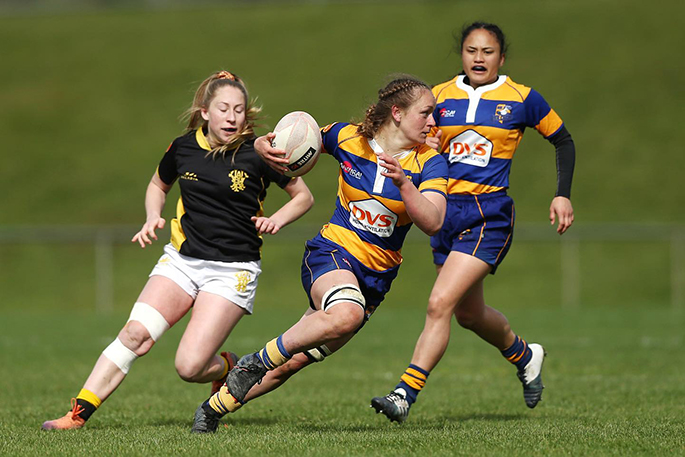 Volcanix at Jerry Collins Stadium last weekend
It's double the rugby in eastern Bay of Plenty today. Ngawha are halfway through their season now and play at home this weekend in the Bay of Plenty Double Header against Auckland. Ngawha kick off at 1pm, and Volcanix kick off at 2.30pm at the Rugby Park, Whakatane. They'll be food trucks on site, and entry is free to everyone.
The Tauranga Sport Rugby Club have their junior prizegiving event from 12.15pm – 3pm at the clubrooms at 91 Cameron Rd.
Come along to a market at Pukehina from 9am – 1pm, at the Midway Park Reserve behind the fishing club. More information here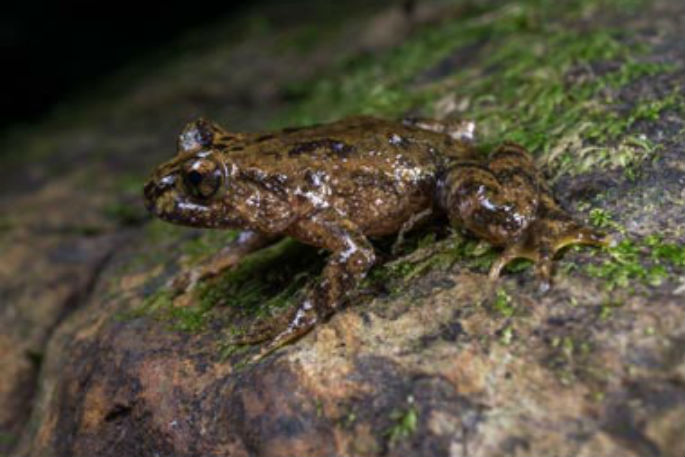 Hochstetters frog
Te Whakakaha Conservation Trust are hosting a tree planting day at the Otawa Sanctuary, 1254 No 3 Rd, Te Puke from 10am – 1pm. Come and help plant about 2000 plants and visit the trap lines. There will be a sausage sizzle to follow, and make sure you bring along planting tools, a water bottle and all-weather gear. Te Whakakaha Conservation Trust helps protect the native forest forming the habitat of the critically endangered Otawa Hochstetters frog species. More information here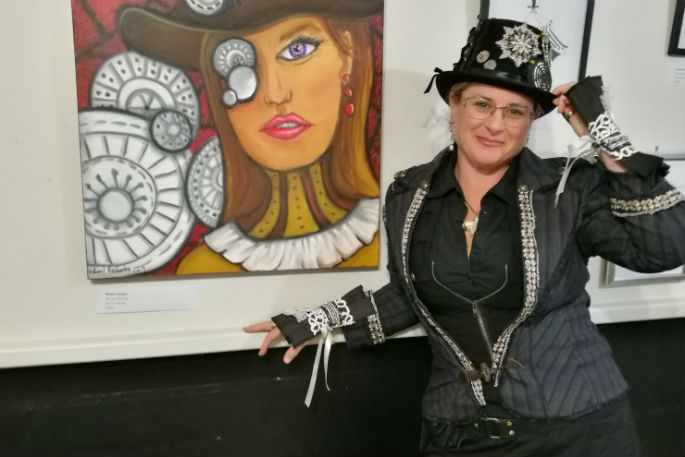 Do you like steampunk themed events? Come along to the Blue Tache Bash at The Black Sheep Bar & Grull this evening from 7pm, with dinner and live music from Shabang. This SteamTember event is part of the blue September fundraising events to support prostate charities. More info here
Also happening at Whakamarama is the Steamtember Artorama exhibition at the Atrium Gallery. This is a collaboration with Steampunk Tauranga to raise funds for the NZ Prostate Cancer Foundation. The Atrium Gallery is open from 11am, Wednesday to Sunday.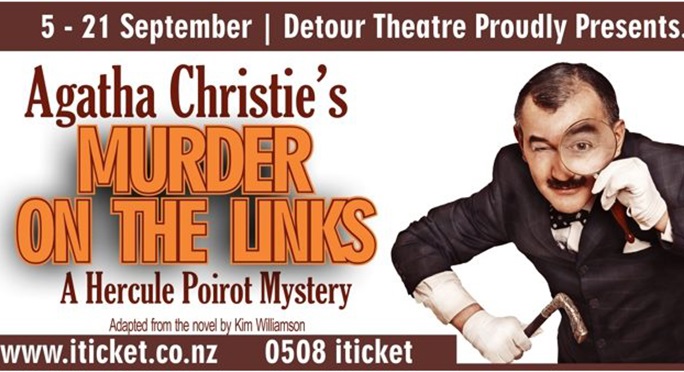 Do you like live theatre? Detour Theatre are staging Agatha Christie's Murder on the Links tonight at 7.30pm. This play is adapted from the original novel for the stage by Kim Williamson. More here
Looking for some family fun? Head along to the Excelsa Fun Day at 4 Golden Sands Dr, Papamoa from 12noon – 3pm. There will be music, mural painting and loads of entertainment for the whole family.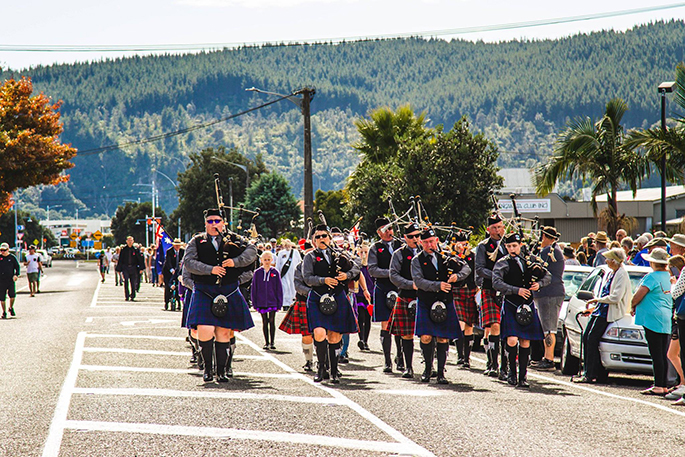 Bay of Plenty Pipes and Drums
Bay of Plenty Pipes and Drums are having a garage sale, auction and a 'Have a Go' day starting at 10am at 10 Yatton St, Greerton. There will be a sausage sizzle life music from pipers, drummers, highland and Irish dancers throughout the day with a concert at 1pm from the full band and dancers. Also ever wanted to try a set of bagpipes or hitting a drum? There will be sets of pipes, chanters and drums for people to try throughout the day. This is a fundraiser to help the band travel to the national pipe band championships in Invercargill next year. More here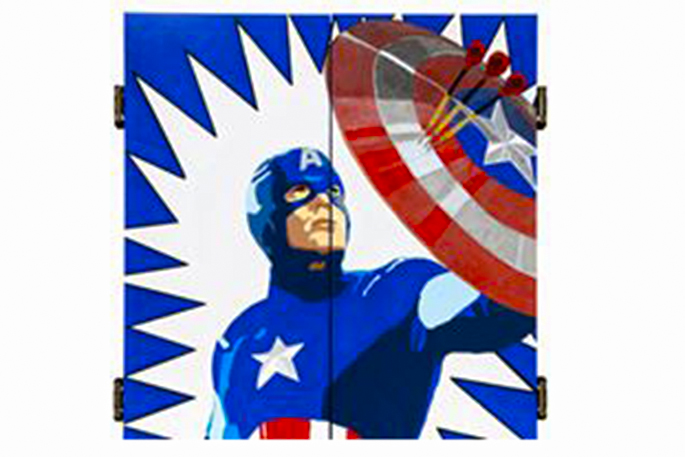 Arty Darty – a dartboard cabinet exhibition is on at The People's Gallery – Toi ka rere at Tauranga Historic Village. The cabinets will be auctioned off from the exhibition via the Incubator Facebook page to help fundraise for a youth dart program called Young Guns, which helps a number of youth get support in their sport in addition to providing them with the equipment they need to compete.
Swing into spring with a tribute to Bobby Hackett at the Baycourt Community and Arts Centre today from 2-4pm. Hosted by the Tauranga Jazz Society, this will be a memorable afternoon of jazz, Dixieland and swing. Performing will be guest vocalist Kate Martin and the Cleanwood Horns. The main act for A Tribute to Bobby Hackett features cornet player Brian Geoghan with narration by Woody Woodhouse. The band comprises some of Tauranga's favourite jazz players - John Nicholson, David Proud, Harvey Win, Murray Mason, and Leith Milson.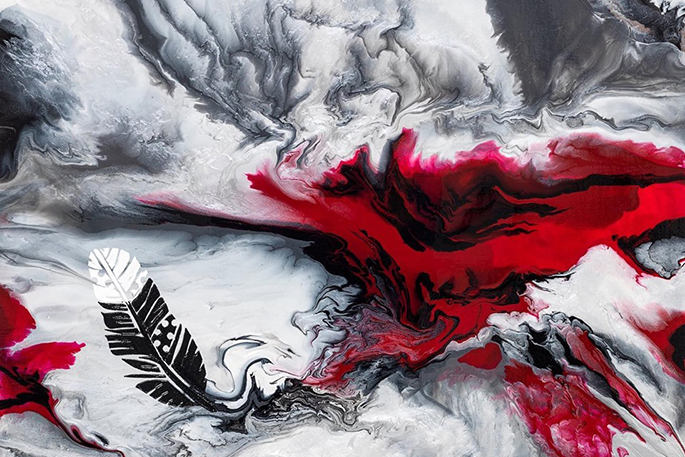 The Art Lounge NZ in Willow St is holding an exhibition of abstract works by Froyle Davies until September 19. More information here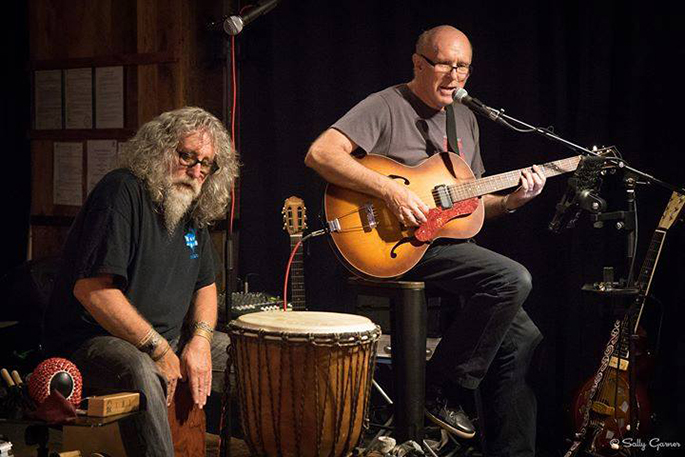 Mike Garner & Friends are playing acoustic blues and original songs at the Barrel Room from 6 -9pm tonight. More here
Come and groove along to classics from the 70s and 80s at the Mount Social Club from 9.30pm – 1am tonight with DJ Ayesha Kee. For more on the social disco click here
For more of what's happening today see below:
Art In The Park
Original Art for sale. Coronation park, Mt Maunganui. Weather permitting. 9am-4pm. Tauranga Society of Artists
---
Arty Darty
A dartboard cabinet collection. Runs until Sept 24th at The Incubator, Historic Village, Tauranga. Free entry.
---
Bay Network Social Singles
Single, over 50? For weekend dinners, barbecues, pot lucks etc. & an annual trip away, Ph Jonathan 572 2091, Maureen 021 112 3307
---
Beth-El Messianic Family
Celebrate the Sabbath (Sat) as Yeshua (Jesus) & all early believers did. All Welcome. 10am, Otumoetai Primary Hall. Joel van Ameringen 021 768 043 www.BethEl.org.nz
---
Bopmpbc Sprint Days
2-lap sprints on today & sprint racing on Sunday. 2 days of fast boats on the water. Starts at 9am both days, Lake Taurikura, Tauranga
---
Coffee n Chat 60+
R u interested in meeting up with a friendly group for a coffee n chat 10am. Marlene 027 342 0698 or marlenehurle@xtra.co.nz
---
Croquet
45 Kawaka St, Mt Maunganui. Mon, Wed, Sat. 9am for 9:15am start. New players & visitors welcome. Ph Jacqui 574 9232
---
Free Adult Learning Festival
All week, have a go! Spinning & Weaving, Greek Dancing, Theatre, Story-telling, Conservation, Crafts, Country Music, Feuerstein, Talks, Model Railways, Belly Dancing. Details: https://letslearn.co.nz/events/
---
Free Beginner Dance Lesson
3pm upstairs Citizens Club cnr Cameron Rd & 13th Ave. Ph 027 497 8651
---
Garage Sale
Bay of Plenty Pipes & Drums Garage Sale, auction, Have-a-Go day & concert. 10 Yatton St Greerton. 10am
---
LOL Laughter Wellness
Come & join us & laugh away your winter blues. Arataki Community Ctr, Zambuk Way, Mt Maunganui 11-11:45am. Ph Trish 022 036 6768
---
Mount Maunganui Society Dance
Come to our Spring Colour's Sequence Dance, 7:30pm Arataki Community Ctr, Mt Maunganui. Sheldon's Dance Band. Lovely supper. $7 entry. Ph 576 0578
---
Mount Music Club
2nd Sat monthly. 1-4pm Senior Citizens hall, Midway, Mount. Mostly country. Good backing band. $3 entry. Ph Dick 027 493 8458
---
Otumoetai Tennis Club
Adult tennis. Start 1:30pm. Bellevue Park Windsor Rd (adjacent to swimming pool). New players & visitors welcome. Ph Victor 027 577 1818 a/hrs
---
Papamoa Tennis Club
Adult social tennis. Tue & Fri 9-11am, Wed 6-8pm, Sat 2-4pm. Gordon Spratt Reserve. New players & visitors welcome. Ph Andrew 021 0292 6934
---
Pest Free Te Puna
10am-12. Free rat traps available. Outside North Bay Real Estate, Te Puna. Ph Mary 552 5516
---
Petanque
Sat & Tues 12:50pm. No equipment needed. Nice low impact sport to enjoy outdooors. Ph Jo Ann 578 3606
---
St Stephens Jigsaw Library
10am-12noon. 500 puzzles. Hire charge: puzzles under 1000 pieces 50c, 1000+ $1. Cnr Highmore & Brookfield Tce, Brookfield. Happy puzzling!
---
Taoist Tai Chi
Celebrating 50 years internationally & 30 years in NZ. New beginner classes. 15 Koromiko St, Judea 8:30-10am. All welcome. Start anytime. Ph 578 6193 or visit www.taoisttaichi.org
---
Tauranga Farmers Market
7:45-12 Tauranga Primary School cnr Cameron Rd & 5th Ave. Fresh & artisan products direct from producers. Ph 0274 915 876
---
Tauranga Floral Art Group
Monthly meeting, competition & workshop every 2nd Tues & Sat. Baptist Church, Cameron Rd. New members welcome. Ph Ruth 543 2157
---
Tauranga Fuchsia Group
Meet last Saturday of month 1:30pm Art/Craft Centre Elizabeth St . Workshops on growing fuchsias. New members welcome. Ph Pat 579 1655 or Noeleen 578 4643
---
Te Puke Scottish Society
Monthly dance, Memorial Hall, Sat 21st Sept 7:30-11pm, air conditioned hall, live band, lovely supper, great company, all welcome. $7 entry. Ph Valerie 573 7093
---
The Blue 'Tache Bash
Come help raise money for Prostate Foundation Charity. Live music from Shabang, tonight The Black Sheep Restaurant. Tickets $25 from Steampunk Tauranga, Facebook.
---
Those Lethals
Indie pop-rock band from Auckland at The Jam Factory, 17th Ave. 6:30pm-10pm. $20