A band from Otumoetai Intermediate have won the best vocalist award at the Rockshop Bandquest 2019 national finals.
Otumoetai Intermediate students Zoe Arthur-Worsop, Ana Tukaki, Halo Tarei-Uerata, and Josiah Taulu of Acoustic Vibes took out the national prize.
Acoustic Vibes submitted a video to the nation-wide competition, comprising two songs - 'Shallow' and 'Tennessee Whiskey'.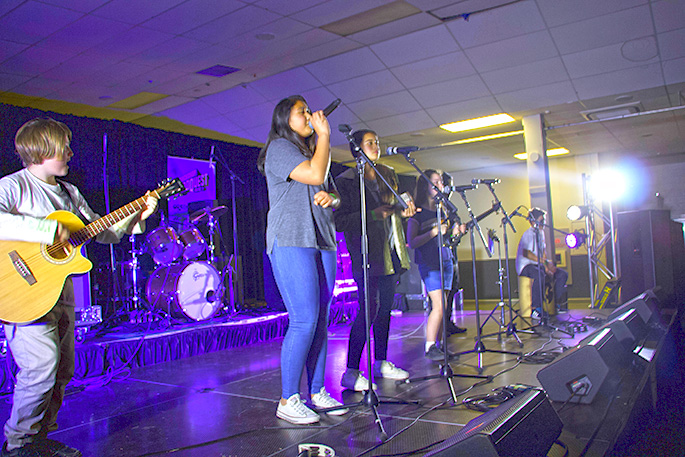 Acoustic Vibes on stage
Now in its ninth year, Rockshop Bandquest is for bands of three or more members, up to Year 8, who play a short set of covers or original songs. There were over 200 entries this year, 12 live events and an online contest for bands from outlying regions.
Judge Ash Wallace of the pop-duo Foley said she was blown away with the talent of such young musicians.
"It's so encouraging to know that our music departments are supporting our youth in their musical endeavours," says Ash, "and I was particularly pleased to see large bands with a range of instruments and multiple vocalists."
Black Wired from St Andrew's College in Christchurch earned $3000 worth of gear for their school music department, as winners of the nationwide primary and intermediate music contest Rockshop Bandquest.
Judge Seth Hapu said Black Wired was immediately recognisable as a class act, with "an exceptional mix of skill, confidence and synergy, elevated the band to another level."
The members of Black Wired are Ethan Lam on vocals and lead guitar, Tama Connelly on bass, Hayden Lam on drums and backing vocals, and Sam McAlister on guitar.
Second place went to Te Reo o Kia Māori Mai from Whangarei Intermediate in Northland. The members of Te Reo o Kia Maori Mai are Freedom Anihana- Dunn - vocals, Kaian Burt - guitar and vocals, Kiani Alexia Christie - guitar and keyboard, Bonnie-Rae Hadfield - drums and vocals, Aria Waimirirangi Hapi-Westphal -ukulele and vocals, Stella Harding - bass and vocals, Manea Harrison - vocals, Anahera Kaipo – keyboards, Waimarama Kaka Nesbit - vocals, and Ngamihi Manihera - guitar and vocals.
As the primary sponsor for the programme, Rockshop Promotions Manager Hamish Jackson says supporting young bands and giving them the opportunity to perform is very much a part of the ethos of the company.
"There is a lasting impact for the music community, and the community in a whole, in being apart of a programme like this," says Hamish. "A lot of these kids will find a passion for music through Rockshop Bandquest, which can lead to really exciting future possibilities when this is nurtured and developed."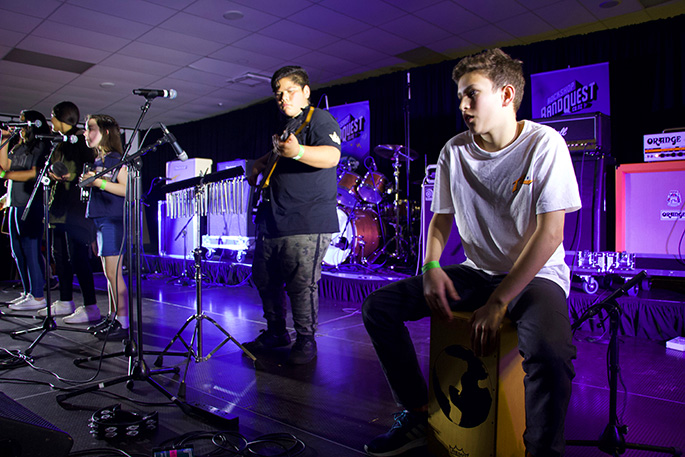 Acoustic Vibes on stage
The full list of awards in the 2019 national finals of Rockshop Bandquest is:
1st Place: Black Wired from St Andrew's College
2nd Place: Te Reo o Kia Maori Mai from Whangarei Intermediate
3rd Place: Unbreakable Glass from Chisnallwood Intermediate
Best Keyboard player Award: Alice Davis of Pinch Of Chilli from Arrowtown Primary School
Rocking Drummer Award: Jointly awarded to Zephaniah Tele'aof Pocket 5 from Manurewa Intermediate, and Mason Maraku of 8 Melodies Pt 2 from Rutherford Junior High School
Rock-Solid Bassist Award: Asher Gundry of The Permanent Markers from Nelson Intermediate
"Killer" Guitarist Award: Lucian McDermott and Khani Te Mete of Twisted from Taupo Intermediate
Rockstar Styles Award: The Elements from Avondale Intermediate
Musicianship Award: Christine Reynolds (Flautist) of Toxic 9 from Havelock North Intermediate
Best Vocalist Award: Zoe Arthur-Worsop, Ana Tukaki, Halo Tarei-Uerata, and Josiah Taulu of Acoustic Vibes from Otumoetai Intermediate
Best Original Song Award: The Not Yet Band from The Cathedral Grammar School
For more information about Smokefreerockquest visit www.sfrq.nz