An impressive number of pool records have been broken at the annual Surf Life Saving New Zealand Pool Rescue Championships 2019, held last weekend in Auckland.
The records were broken across the junior, senior and masters divisions over three-days of competition, showing how committed and fit the competitors are at all levels of the sport.
The winning club was Orewa Surf Life Saving Clubs who dominated the event and took the top spot with a total of 273 points scored across the junior, open and masters divisions and were awarded both the Paul Kent and Masters trophies.
"We're blown away with how our athletes performed this weekend. It sounds cliché, but it really was a team effort, spearheaded by some incredible performances from our juniors," says Orewa SLSC coach Zac Franich.
"We had points across all age groups which is a credit to our development and puts us in a really good space moving forward," he says.
Finishing the event in second after a close battle for the Paul Kent Trophy was Mount Maunganui who ended the three-day carnival on 172.5 points, 53.5 points ahead for their closest rivals Piha in third with 119 points.
Event manager Mike Lord says the event had been a great success, highlighted by the positive vibe and record-breaking trend of the competitors.
"The buzz around the event has just been fantastic this year, and that may have been buoyed by the sheer number of records that were broken over the weekend. It was no easy feat so congratulations to all the athletes who broke a records, and in fact, all those that set personal-beats too because there were also a lot of those."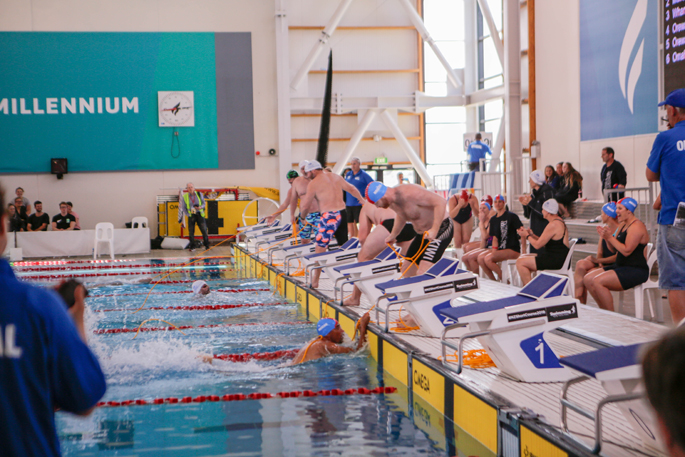 Surf Life Saving New Zealand also announced the team to attend The German Cup, held in Warendorf, Germany on November 23/24, and the Orange Cup held in Eindoven, Netherlands on November 30/December1.
The purpose of sending a team to these events is to help prepare the high performance pool swimmers for the 2020 and 2022 World Championships.
The SLSNZ selection committee has selected these swimmers based on their performances over the last 12 months.
NZ team to attend The German Cup and Orange Cup events:
Libby Bradley – Mount Maunganui Lifeguard Service.
Madison Kidd – Whangamata Surf Life Saving Club.
Lucy Makaea – Piha Surf Life Saving Club.
Natalie Peat – Papamoa Surf Life Saving Club.
Sasha Reid – Fitzroy Surf Life Saving Club.
Levi Ata – Piha Surf Life Saving Club.
Chris Dawson – Midway Surf Life Saving Club.
Steve Kent – Titahi Bay Surf Life Saving Club.
Oscar Williams – Piha Surf Life Saving Club.
The team management is Daniel Grant and Steven Kent.
The SLSNA Selection Committee will also be announcing additions to the High Performance National Squads in the next week.
Surf Life Saving New Zealand Pool Rescue Championships 2019 results table:
| | | |
| --- | --- | --- |
| Paul Kent Trophy (U14yrs to Open) | | Master Trophy (30yrs +) |
| Orewa Surf Life Saving Club | 193 | Orewa Surf Life Saving Club |
| Mount Maunganui Lifeguard Service | 172.5 | Mairangi Bay Surf Life Saving Club |
| Piha Surf Life Saving Club | 119 | Omanu Beach Surf Life Saving Club |
| Mairangi Bay Surf Life Saving Club | 71 | Whangamata Surf Life Saving Club |
| Omanu Beach Surf Life Saving Club | 64 | Papamoa Surf Life Saving Club |
| Fitzroy Surf Life Saving Club | 46 | Omaha Beach Surf Life Saving Club |
| Red Beach Surf Life Saving Club | 36 | Mount Maunganui Lifeguard Service |
| East End Surf Life Saving Club | 31.5 | Fitzroy Surf Life Saving Club |
| Midway Surf Life Saving Club | 22 | Muriwai Volunteer Lifeguard Service |
| Maranui Surf Life Saving Club | 21 | Lyall Bay Surf Life Saving Club |
| Muriwai Volunteer Lifeguard Service | 18 | |
| Lyall Bay Surf Life Saving Club | 16 | |
| Titahi Bay Surf Life Saving Club | 14 | |
| Otaki Surf Life Saving Club | 12 | |
| Whangamata Surf Life Saving Club | 12 | |
| Papamoa Surf Life Saving Club | 11 | |
| St Clair Surf Life Saving Club | 10 | |
| Sumner Surf Life Saving Club | 10 | |
| Wainui Surf Life Saving Club | 10 | |
| Omaha Beach Surf Life Saving Club | 8 | |
| Taylors Mistake Surf Life Saving Club | 6 | |
| Whakatane Surf Life Saving Club | 6 | |