The spooks may be out at Memorial Park for some Halloween fun this coming Saturday evening, as Palmerville Station opens for a fright night train run across the park's railway tracks.
Russell Prout, the president of the Tauranga Model Marine and Engineering Club – TMMEC, is looking forward to the ghostly night, and hopes people will dress up.
"This is the third of our night runs and we were inspired by the Hamilton Model Engineering Club who run an annual Halloween night," says Russell.
"We wanted to do ours without conflicting with their night on the second of November, so that we can also go over and support them.
"October 26 was the only date that was close enough and didn't conflict with any other clubs' activities."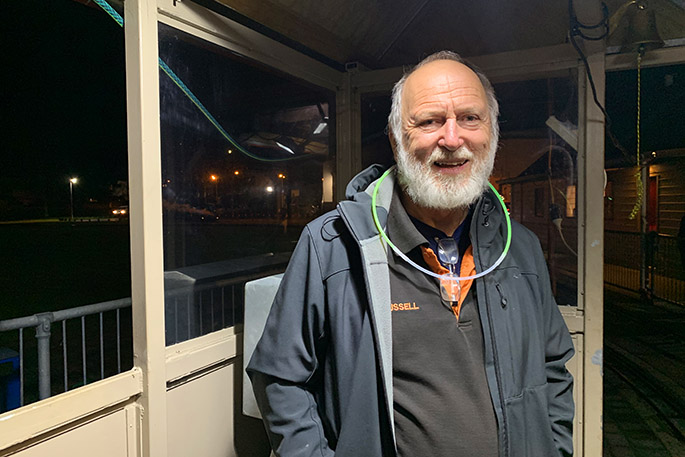 Club president Russell Prout wearing a glo-stick at the last night rail event
With the night run being on Labour weekend, Russell is hoping the club will benefit from those visiting the Bay over the Long weekend as well as providing for our regular locals.
"We're encouraging people to come down wearing their glow-in-the-dark attire or their spooky outfits, and get involved in the theme of Halloween even if it's only for a couple of hours."
Some of the night run may be in daylight hours, as the club plans to be open from 5.30pm on Saturday.
"We expect that some passengers with younger children may want to ride at five-thirty or six o'clock, so we'll be prepared to start taking passengers then."
The Halloween-themed night train event will run into the darkness until 9pm.
"So six til nine is ideal and if they show up earlier, they might get a ride."
Russell says the club will run four or five steamers and other locomotives too, including two electric trains which run quietly.
"We'll run the most popular trains for the night," says Russell who owns a diesel look-alike train.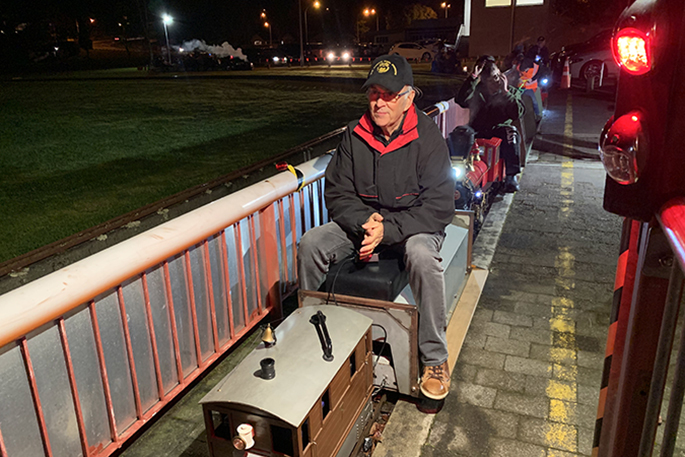 Riding the night trail at Memorial Park
Russell says that members of Steampunk Tauranga have confirmed on their Facebook page that they will be coming along too, which will add an appreciated vibe to the already steam-filled night.
"We encourage our sponsors to come down. We don't know how many will."
The TMMEC have been busy celebrating their 40th year with a range of activities and events, including running the locomotives at night in Memorial Park.
The first night rail event was held on Saturday, May 4, and proved to be highly successful. It was decided to have another night rail event in July, marking the official birthday celebrations.
The club will also be running an open weekend on November 9 and 10.
"We'll have static displays out for that and we'll have visitors hopefully from around the country, with traction engines running."
"The Saturday night of November 9, we will run a night run as well," says Russell. "Check the Facebook page for a theme if we can get enough people on board.
"We're also going in the Tauranga Christmas parade on the 30th of November, so we'll be out in force. We've got all our club members involved and we'll get all of our families in the walk."
The ¾ million passenger travelled on one of the trains, a very attractive Phantom Steam Locomotive built by club member Bruce McKerras, about two and a half years ago.
The club is chugging along to their one millionth passenger which they think may be some time during 2020.
"We get around about 800 passengers a week. That's 40,000 a year. So there's a big chunk of passengers still to come through before we reach our millionth passenger," says Russell.
"Our best day I think was about twelve hundred and fifty-seven. That was a very, very busy day and it was just a Sunday run.
Russell thinks the location of the railway at Memorial Park helps towards the success of the club's activities. In 2016 the club won Supreme Winner in the Trustpower Community Awards and it's easy to see why.
As to whether there will be headless Frankenstein characters lurching around the tracks on Saturday evening, or ghosts and ghouls popping out from behind trees tricking or treating, Russell's lips are sealed.
"That could be revealed on the night," says Russell. "I think there are some spooky aspects to the evening, but if I reveal them now, that will let the cat out of the bag."
Weather permitting, the club usually runs every Sunday from 10am to 4pm in summer, and 10am to 3pm in winter. Tickets are $2 a ride, under 2 year olds are free when riding with a fare paying adult. Check the Facebook page for any updates.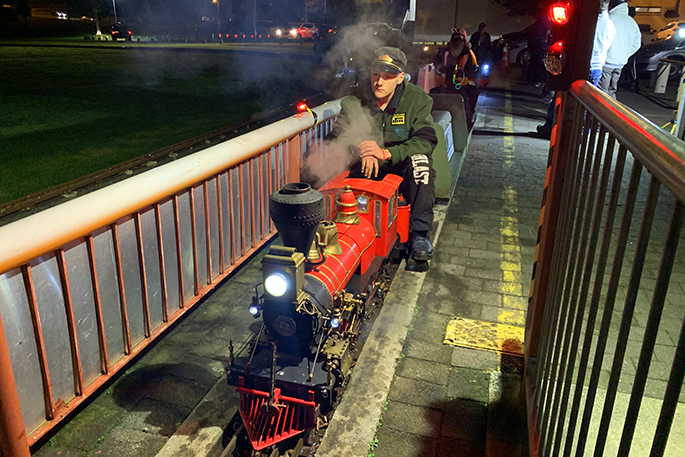 Steam engine at the night rail event in July