More than 200 people, many decked out in their floral finery, packed into the Te Puke Memorial Hall on Saturday for the inaugural 'Beyond the Garden Path' avant-garde headpiece show.
Music, adorable dogs, singers, scarecrows, delicious food in individual packs, and stunning flower and fashion displays filled the hall. And amongst it, radiant models wearing magnificent floral headpieces.
"The 16 headpieces were created by florists, artists and creatives from all over the Bay," says organiser and Te Puke Kiwicoast Lion Michelle Cliff.
Sixteen models, both men and women, took to the runway, showing off the artistic and original head creations.
The Te Puke Kiwicoast Lions team even managed to successfully hunt down a bearded man. Adrian Reid rose to the occasion, looking magnificent in a kilt and allowing his beard to be adorned and intertwined with feathers and leafy additions.
There was a great feeling of enjoyment from the audience during the event with many positive and complimentary comments following.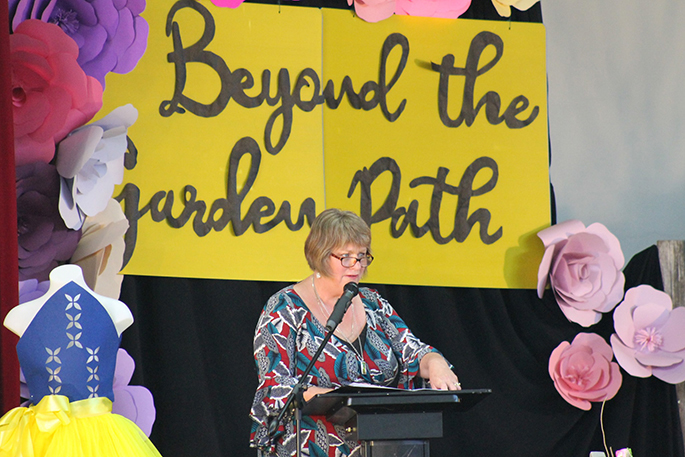 Michelle Cliff
"A huge thanks to Michelle Cliff, her fabulous team and the Te Puke Kiwicoast Lions Club for engaging and supporting the community through the 'Beyond the Garden Path' fundraiser for St Johns," says one.
"A spectacular show of local talent, creativity and generosity."
Members of the Te Puke Kiwicoast Lions Club came dressed as scarecrows and handed out individual food packs. They were rapt to be able to proudly support the local St John Ambulance Service, handing over a donation to Jim Datson during the event.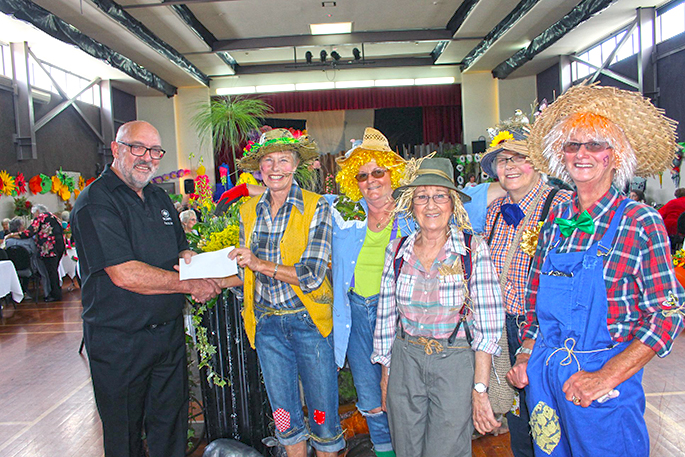 "The Te Puke Kiwicoast Lions are really grateful to the many people who volunteered their support and time to the cause of St John Ambulance," says Michelle.
Models also provided a preview of the 2019 Spring/Summer Collection titled 'Return to Sender' by Annah S. with floral garments drawing appreciative comments from the audience.
Under the tutelage of Marama Rice, the 'Increasingly Vocal' group took to the stage providing an entertaining interlude.
Dogs also walked up the garden path on leads held by the models.
The magnificent headpieces, modelled by Marama Rice, Kim Devcich, Glenn Ward, John Beech, Cushla Bayliss, Daniel Henry, Braydon Cresswell, Tyler Bowler, Lucy Brown, Meg Cowan, 12-year-old Eden Cowan, Diane Leach, Melody Basham, Adrian Reid, Ann Marie Collier and Lee Bayley were created by florists and floral artists including Deby Davis, Murray Howell, Jess Hill, Tessa Blaymire, Kay Aldridge, Claire O'Connell, Celeste Moffatt, Hannah Khull, Sarah May, Donna Dinsdale and Norah McLauchlan.
"Murray Howell contributed three pieces which were spectacular," says Michelle.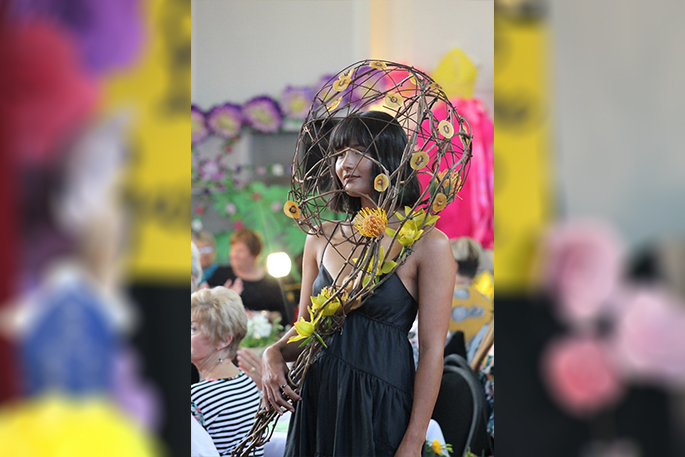 Te Puke Florist Murray Howell's kiwifruit-themed headpiece modelled by Melody Basham
One of Murray's headpieces was a kiwifruit-themed 'cage' encircling the model's head.
A beautifully crafted crown 'Jaelyn's Love of Colours', modelled by Kim Devcich, was created by Norah McLauchlan in memory of her granddaughter who passed away at one year old and who loved pink and purple. Norah is a Fashion Design graduate of the Bachelor of Creative Industries programme at Toi Ohomai Institute of Technology campus, Tauranga.
The essence of spring was truly captured in a celebration of feminine beauty with lush spring roses, sweetly scented jasmine, floaty wisteria and tinted hydrangea.
Creator Kay Aldridge has been a member of the Tauranga Floral Art Group for about 16 years. The technique that she used on the hat design she created was something taught by a visiting French floral designer, and it would normally be used within a floral design. Kay used Midelino sticks bound with decorative wire and succulents.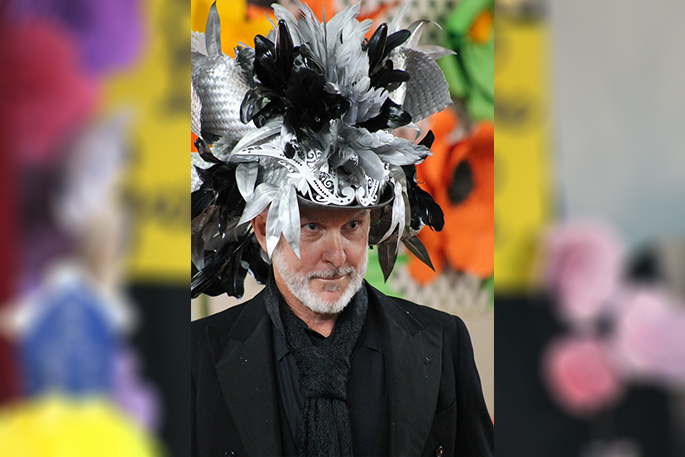 John Beech wore a headpiece called 'Silver Fox' created by Donna Dinsdale
John Beech wore a headpiece called 'Silver Fox', which sits within the avant-garde aesthetic and is influenced by the Victorian era. Created by Donna Dinsdale, it is designed for the outgoing, modern gentleman who likes to stand out in a crowd. A fashion design tutor at Toi Ohomoi, Donna Dinsdale won the overall Award of Excellence at the 2019 MLT Hokonui Fashion Design Awards in July.
"Glenn Ward's modelling career is taking off," says Glenn Ward, thrilled to be part of the show. Glenn was a 'Double Dapper' in a Deby Davis hat and beard ensemble.
The Te Puke Kiwicoast Lions were quite ecstatic when it was all over. They are renowned for putting on stunning events and this successful avant-garde headpiece function is another one to add to the list.
"Who knows what the future holds?" says Michelle.