Two albums have been on heavy rotate recently at The Watusi Country Club.
There's the fantastic new offering from a legendary veteran who is churning out albums at his fastest rate ever and a fascinating project from someone half his age which has polarised people sensitive to the concerns of gender politics.
The veteran with the over-sized output is not, for a change, Bob Dylan. Though Bob has just this week released yet another three CDs-worth of old material.
This new set, Travelin' Thru, is possibly the least essential yet of Bob's ever-expanding 'Bootleg Series' - this is Volume 15 - the centrepiece being a session with Johnny Cash in 1969. Long circulated amongst Dylan collectors, its official release might prove amusing for fans of Cash and Dylan: it is loose, informal and entertaining, although nearly all songs involve either laughter or chaos.
Since late 2016, about three years ago, Dylan has released a three-CD set of re-arranged songs from what they call the 'Great American Songbook' plus no fewer than 33 CDs of stuff from the vaults.
Van the man
By comparison, Van Morrison - who at 74 is 4 years younger than Bob – has not been plundering his archives.
He has been making new music. In that same period he has released six albums of his pa-tented blend of R&B, jazz, blues and Celtic soul. The latest, containing 14 new Van songs, is called Three Chords & The Truth and is his best this millennium.
Most remarkable is that while Dylan's voice has retreated to a growly remnant of its glory days, albeit an extremely effective growly remnant, Van seems unaffected by age. His singing is simply astounding on the new album, that huge resonant sound perhaps even richer with age, running from tender seduction to familiar soulful barking.
He can still tease and torture one repeated word like no one alive.
We've grown used to Van's immaculate bands and here they make his largely mid-tempo swing sound effortless. It's the usual crew with a few additions: Jay Berliner, who made such a crucial contribution to Astral Weeks all those years ago, returns with lovely guitar while 'Fame Will Eat The Soul' features a sing-off between Van and venerable Righteous Brother Bill Medley.
That title is pure Van and the songs here divide in the way his so often do.
Either he's railing against the vagaries and unfairness of life, particularly in the music biz, or he's seeking transcendence, through song, through beauty, through landscape, through art, through nostalgia, but not, pointedly, through religion. He is grouchy about the world and striving for profundity.
The same struggle has been re-played through 41 albums and this latest iteration is a pleasure to witness.
Frank's wild year
Moving along, English singer Frank Turner is half Van's age and is currently taking a diversion after last year's brilliant Be More Kind album. His new offering is called No Man's Land and sees him returning to something closer to folk music than the indie pop/rock of recent releases.
And you have to admire his bravery. No Man's Land – and I should confess to rather hating the title – is a collection of 13 songs about 'fascinating women' who have been overlooked by history because of their gender. The women run the gamut from Byzantine princess Kassiani to William Blake's wife, from rocking gospel singer Sister Rosetta Tharpe to Frank's own mother.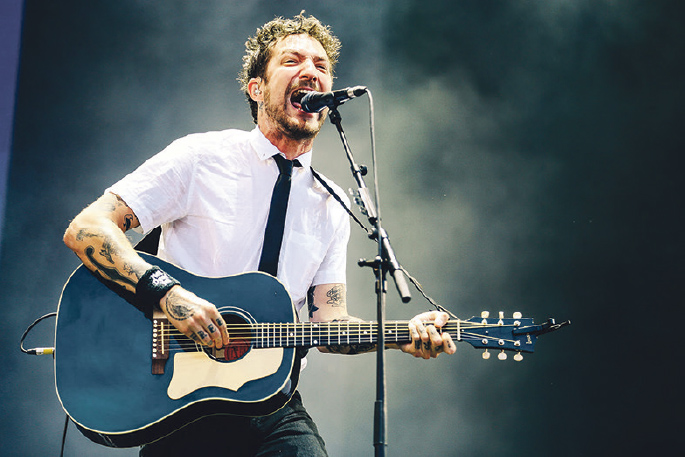 As you can imagine, in these touchy times having a man sing songs he's written about women has proved divisive. In the UK The Independent described it as "extreme mansplaining" and others have hoed into it for – surprise! - 'virtue signalling'.
But he's clearly serious about the idea, using an all-woman band as opposed to his regulars and producing a 15-part podcast, which runs to nearly nine hours, talking about each of the women and the songs. He even chats with his mother. You can find that on Spotify under 'Frank Turner's Tales From No Man's Land'.