An annual appeal that helps hundreds of families throughout Tauranga has launched for Christmas.
The Kmart Wishing Trees have been put up and waiting for presents to fill underneath them.
The appeal is a partnership with the Salvation Army that provides gifts and food to those who might not be able to afford Christmas otherwise.
Salvation Army community ministries manager, Davina Plummer says it makes such difference for the families that are receiving the gifts.
"Christmas is a special time but it can also be a time where there is more stress, there's lots of events happening, there's lots of financial pressure.
"For those who are already struggling to live week to week and for some even day to day, all the added extras are out of their reach and it causes that pressure. So this is just beautiful, it takes away stress.
"We want to see people get through Christmas really safe with good family connections and not having to worry, so it makes a real difference."
Kmart Bethlehem has celebrated the launch with the Salvation Army Brass Band and singers from Tauranga Intermediate and Tauranga Boys' College.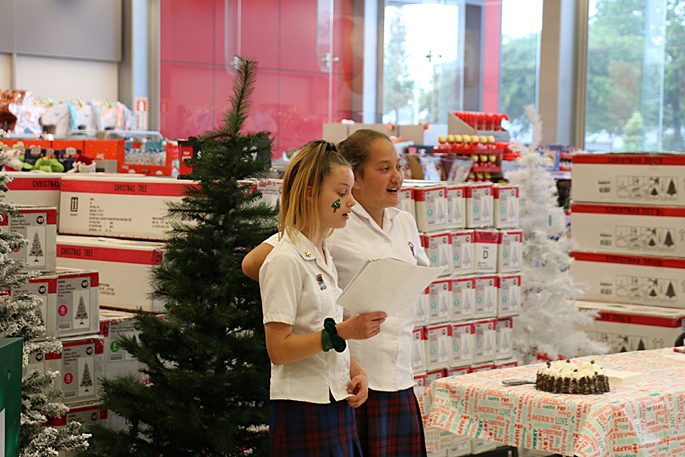 Tauranga Intermediate students Katie Davis and Tayla Ngahere-Skudder sing carols. Image: Alisha Evans/SunLive.
Kmart duty manager Hayleigh Webster says staff try to promote donating gifts or money to the wishing tree with every customer.
She says there are a few different ways to help, you can grab a gift from the store or elsewhere and donate money at the checkout or online.
Gifts can be from anywhere or even handmade they just need to be new, not second hand and left unwrapped, she says.
"Gifts can be for anyone from toddler all the way up to adult or elderly.
"They mentioned that teenagers seem to be the ones that don't get as much, so we also try to promote that, to try remember the middle ones as well as the younger kids."
She says if anyone is unsure how to donate to they can ask any staff member for help.
"We're really passionate about it and majority of the team members always really want to help and get on board," says Hayleigh.
Last year their store received around 400 gifts and the appeal collected 23,000 gifts.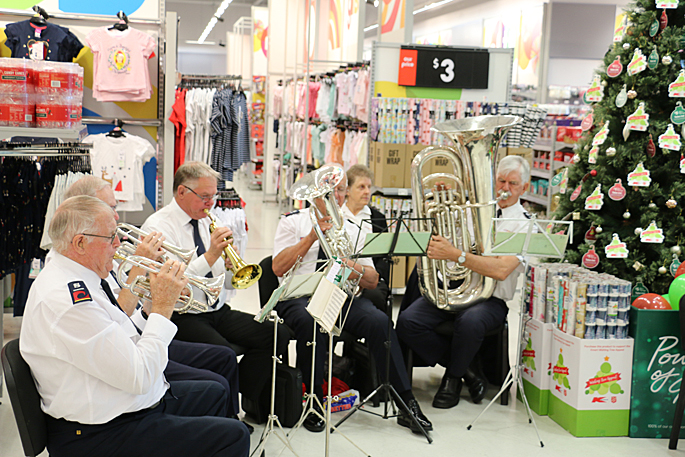 Salvation Army Brass Band. Image: Alisha Evans/SunLive.
The Tauranga Salvation Army sets up a Christmas grotto for families to go and choose the gifts they are going to give each other.
Davina says giving people a choice is really important.
"Gift giving is so much more that than just passing of an item, you're choosing something that means something to that person and you're choosing it for a reason for what they mean to you. So we allow them to choose those gifts.
"We provide items for a Christmas meal as well. So some of the donations mean that we can buy chickens and potatoes and carrots and kumara, so that they'll have everything that they need for a Christmas lunch."
Last year they helped a family that had a loved one in intensive care and because of the stress and cost they were unlikely to have a typical Christmas
They were nominated by their neighbour because she could see Christmas wasn't going to happen for them, Davina says.
"We did our thing, we provided gifts and we provided the food and, she came back and said it's just amazing. You guys made Christmas, to them it wouldn't have been Christmas without it."
Tauranga Salvation Army corps officer Francis Vemoa, says the gifts given in Tauranga stay within Tauranga.
"We've had this partnership with Kmart for about 26 years now and we've actually helped over those 26 years over half a million families.
"If it wasn't for the community we couldn't help others.
"If you look around there's actually a housing shortage in Tauranga a lot of people can't pay rent of. So we can help them out a little bit and contribute and actually be that difference.
"We encourage people to give what they can, even if it's a roll of sellotape or some wrapping paper."
Donations of gifts to the Kmart Wishing Tree are being accepted until Christmas Eve and monetary donations will be accepted until January 31 2020.