Thought last night was warm, or this morning? The sub-tropical flow that covers most of New Zealand is pushing temperatures well above normal nationwide and despite it easing across today in the South Island it may not be clearing from northern NZ all that fast.
"With a storm in the Southern Ocean for a week - and high pressure to the north for a week - we don't have any sudden changes to our airflows," says WeatherWatch.co.nz
"Over the days ahead, winds shift from sub-tropical northerlies to Tasman Sea westerlies - except for the very top of NZ."
Across northern NZ sub-tropical airflows look set to remain for today, Tuesday, Wednesday, Thursday, Friday, Saturday - possibly even into Sunday morning before a westerly change finally moves through.
"This set up means northern NZ would've had about two weeks above normal temperatures to end November and now the first week of December above normal too."
Overnight lows tonight will be high. Here are some examples:
• Some northern and eastern areas may not drop below 20C tonight

• Auckland, Napier & Hastings 19C

• Whangarei, Hamilton, Palmerston North, Masterton, Christchurch 18C

• Tauranga, Gisborne, New Plymouth, Wellington, Nelson, Blenheim 17C
Just because the sub-tropical airflows look set to ease this weekend doesn't mean they are finished with NZ for now either.
"Long range data supports the sub-tropical flow returning to the upper North Island possibly around mid next week as the slightly cooler westerly quarter flow from the Tasman Sea/Southern Ocean area continues elsewhere."
Ocean Storm: "Big doesn't always mean bad"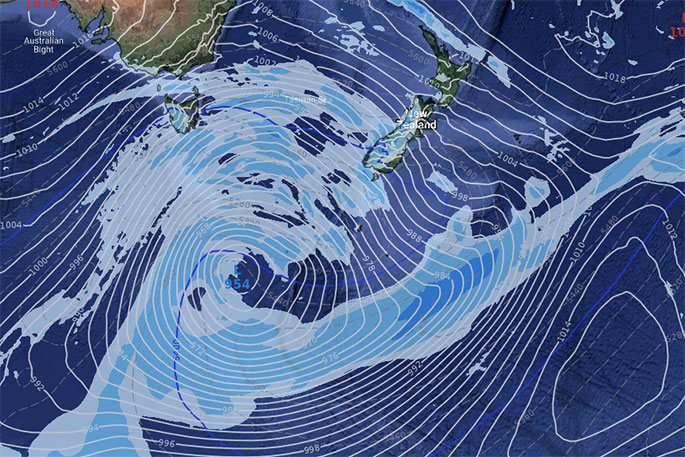 Wednesday air pressure and rain map.
A huge area of low pressure is forming in the Southern Ocean creating a large storm which will span thousands of kilometres in diameter and brush New Zealand and south eastern Australia.
"It will affect our weather for about seven full days," says WeatherWatch.co.nz
"The storm itself won't directly cross NZ, but it's so large in size it can't help but swipe us.
"It means pockets of severe weather, potentially in both islands for a time, but while this is definitely one of the larger storms we've seen this year it also doesn't equal an especially rough time for many parts of New Zealand. In fact for some areas it may enhance the sunny and hot weather you've already been having lately."
Big doesn't always mean bad as these large weather systems tend to have very large areas of calm or what most of us would consider "normal" weather. Of course, being in a ship in the Southern Ocean next week would be a terrifying ordeal with gigantic seas and hurricane force winds.
"But for New Zealand and Tasmania - we're on the edges of it and because it's so large we will have plenty of non-severe weather in the mix too."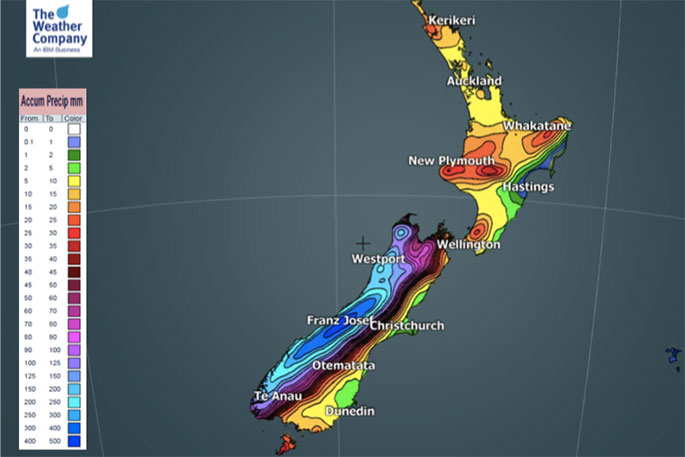 Three day rainfall totals until 7am Thursday.
Most impacted by rain will be the West Coast with significant totals there which could leads to slips, flooding and road closures.
Some snow on the ranges too. Winds will be strongest in the east, but especially around the mountains and Cook Strait next week.
The low pressure will remain hugging NZ just to our south until Monday of next week and basically means a westerly flow will kick in with rain on the West Coast, winds through central and eastern areas and remaining warmer than normal in the east and north.
"This set up doesn't mean severe weather for all - so keep up to date with MetService for more details on where the official weather warnings are."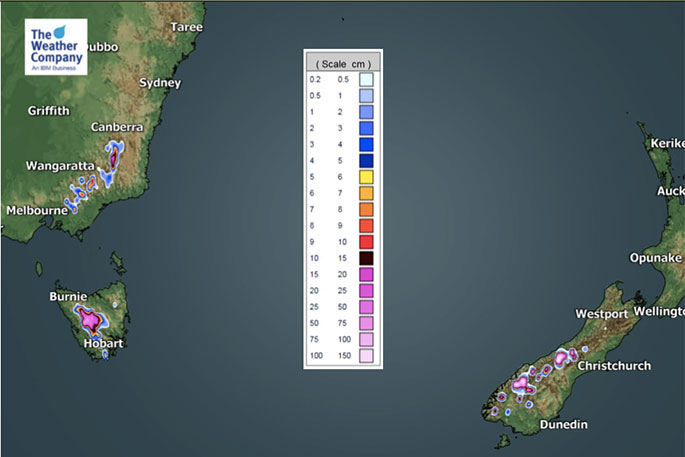 Seven day snowfall accumulation.