Students at Papamoa Primary School have been immersed in world of science and technology.
They have been using virtual reality to learn about science, using bots for coding and creating volcanoes.
It is all part of the STEM learning model which focuses on science, technology, engineering and mathematics.
Leader of Digital Technologies teacher Patrick Barret, says the week has been a chance for children to experience different ways of learning and also giving teachers more exposure to the technology resources available.
"We use the experts that we have around the school, and we've timetabled them to visit every class and pod throughout the course of the week and introducing some digital technology opportunities to them.
"Our goal really within the school is to have a dedicated STEM workspace, and for us this week is promoting it with all the teaching staff. We want to build those capabilities, we want to resource it more.
"Sometimes the teachers around our school don't feel confident to use the resources. So we're just coming in through classes giving some professional development for the teachers."
Patrick says it gives the children vitals skills that they can apply to all of the subjects they learn.
"It's bringing in those unplugged activities and just that problem solving. That's the main focuses is getting the kids thinking in a different way, getting them problem solving and collaborating together and really just enjoying it at the same time."
"It's those skills that they're not really getting just in playing a game on a phone or a game on an iPad.
"That growth mind set and perseverance, it is those big broader life skills and competencies that we want them to get out of it."
"Collaborating and having the courage to do it and that's really what we want is giving them those, those avenues to really express themselves and try things.
"When they're not used to it or if someone who doesn't perceive themselves as being strong in maths or literacy they actually can shine because they've got those problem solving skills and they can use those skills to succeed."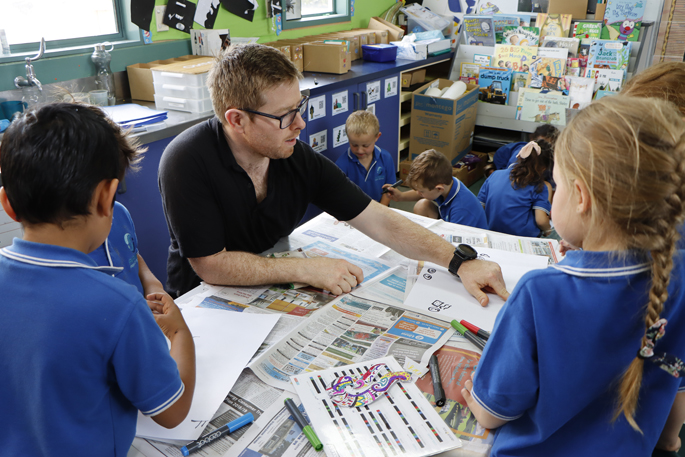 Teacher Patrick Barret showing children how to draw code for their bots. Image: Daniel Hines/SunLive.
Six-year-old Olivia Cantlon say they have been learning about volcanoes and her favourite part is making volcanoes in the sand pit.
"We've been learning about volcanoes and eruptions. We learnt how they erupted and the shape of it and how to draw them.
"We made the mould with sand for the volcano and we put vinegar and baking soda in and it made an eruption."
Children were also drawing volcanoes them animating them using an animation programme.
Teacher Filipe Prieto took the volcano lessons and incorporated at virtual reality scenario into it.
He says part of the goal of the STEM week is to give teachers example of how they can incorporate the technology resources into their lessons.
"VR can't really be used by itself, you need to have it in a lesson, so I created a science lesson to show them that you do a lesson then, you can have the VR as part of that lesson to extend the kids a bit more."
Patrick says STEM week has been received really well by the children and the teachers.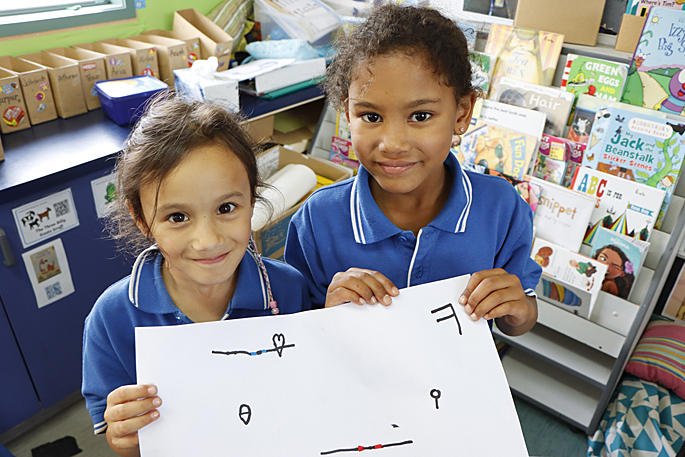 Jahsinda Goodwin and Saafiah Wilson. Image: Daniel Hines/SunLive.