Record low numbers of possums have been found in the Dansey Scenic Reserve forest.
Rotorua Canopy Tours have completed pest monitoring work in the reserve and possums are tracking at 3 per cent.
The adventure eco-tourism outfit, near Mamaku, have been maintaining an extensive pest control operation in the forest for 7 years.
Rotorua Canopy Tours General Manager, Paul Button, says the business is stoked with this result, especially given concerns that pest numbers would rise during this year's mega-mast event.
A mega mast event is where trees produce high amounts of seeds which often results in increased pest numbers.
"Our team have worked hard consistently over 7 years to achieve this result," says Paul.
"Our tours are focused around providing the best natural visitor experience in New Zealand, and a key part of that is around maintaining forest health."
The Dansey Road Scenic Reserve forest is an untouched patch of native ancient forest, which has never been logged or farmed.
The native tree species in the forest rimu, tawa and miro are Podocarp forests, which have been heavily seeding this year as part of the mast event.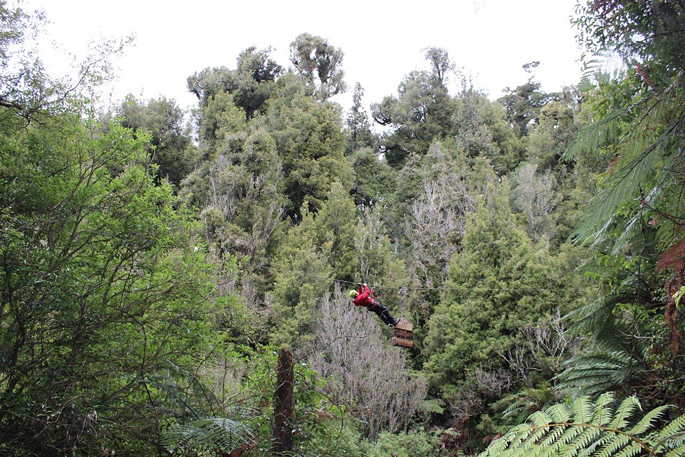 The forest in 2013. Supplied image.
Goodnature co-founder, Robbie van Dam, says that such low possum numbers are a testament to Canopy Tours' commitment to forest conservation.
"The Department of Conservation's residual trap catch index for possums in conservation operations is below 5%, so for Canopy Tours to be tracking in at 3% is an incredible achievement," says Robbie.
"It's Canopy Tours' consistency and commitment to trapping their forest that has made such a result possible, and we're really proud that our tech is contributing to this result."
Possums are notorious for eating their way through 21,000 tonnes of plant matter per night, which greatly threatens the canopies of native plant species, and the native wildlife that rely on them, says Paul.
Possums have also developed a reputation for preying on the eggs and chicks of native birds.
Paul says, the difference in the forest canopy as a result of the possum control work is staggering.
"We have before and after photos taken of the forest when we first started trapping in 2013 compared to now, and you can literally see the monumental difference."
"The forest looked dead, and the possum browse effects were so apparent."
The forest today is home to a much different picture, with native wildlife returning in abundance, he says.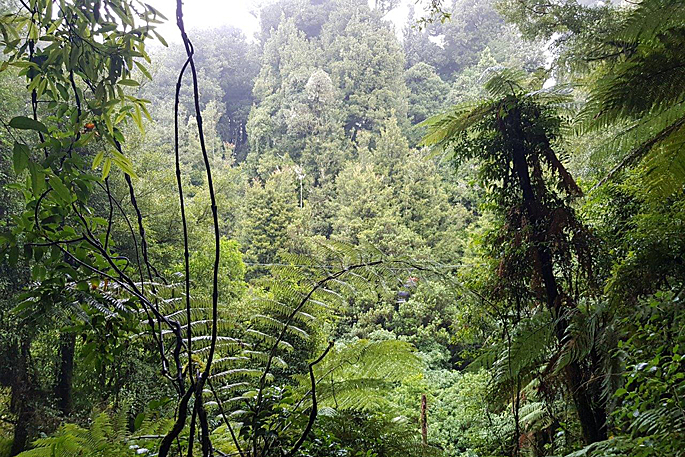 The same area of forest in 2018. Supplied image.
"Nowadays, the forest canopy is so healthy that you can't even see some of the treetop platforms and ziplines on our courses, you just zip around the trees through thick native bush.
"We have native birds flocking to the forest, such as shining cuckoos, long-tailed cockatoos, NZ falcons, amongst other smaller native forest birds.
We even spotted an incredibly rare striped skink on a platform once."
The monitoring work also showed that rats were also tracking relatively low at 16 per cent in face of the mega mast's impact on pest numbers.
With many unprotected sites tracking at 90 per cent at this time of year after breeding season, a 16 percent RCTI for rats is a fantastic result, Paul says.
Canopy Tours fund their predator control operations by contributing a portion of every tour sale towards their Canopy Conservation Trust. This work has seen around 250ha of forest protected through the use of rat, stoat, and possum trapping.
Their pest trapping network is comprised of A12 Automatic Possum Traps, single use snap traps for rats, and A24 Rat and Stoat Traps.