New Zealand yachting stars Peter Burling and Blair Tuke won a fifth world 49er title on a dramatic final day of the championships in Auckland on Sunday.
The Kiwis overcame gear failure, a near-overboard episode and a fired-up German crew of Erik Heil and Thomas Ploessel to eventually seal another accolade in their young but storied careers that include Olympic gold and America's Cup success as well as world sailor of the year honours.
Starting the day with a tenuous 12-point advantage with three races to run, they struck instant problems breaking a tiller extension – Burling's steering device – on the opening beat of the opening race and had to retire with the Germans finishing ninth.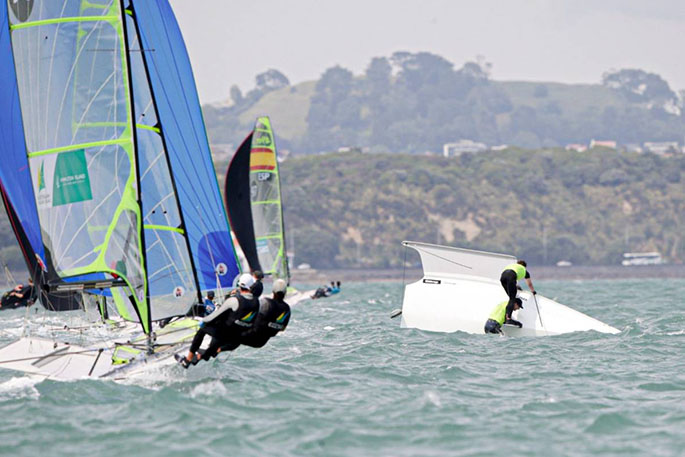 Peter Burling and Blair Tuke on their side and battling a broken tiller extension that forced them out of a crucial race on the last day of the 49er world championships in Auckland.
Heil and Ploessel then won the second race to eat further into the Kiwis' lead as Burling and Tuke, on the back of a repair job, finished third.
Despite those wobbles, Burling and Tuke still held an eight point lead going into the medal race for the top 10 crews. With double points on offer that allowed them four places on the Germans.
But they soon found themselves at the back of the small fleet as Burling missed his footing on a tack on the first beat and just managed to hold on with a desperate left hand as Tuke steadied the rocking skiff as 24 knot winds buffeted a course becoming sloppy.
Suddenly the Germans had the necessary gap, forcing the Kiwis on the hunt.
Burling and Tuke kept their cool to achieve that, working back on the first downwind run and narrowing the damage to two places with a superb final beat.
Burling and Tuke then held on in a hairy final downwind leg that had three boats tip over.
Their fourth place was enough for victory with the Germans being pipped by the other Kiwi crew involved, Logan Dunning Beck and Oscar Gunn, and tipped back to third.
The New Zealand women's 49erFX crew of Alex Maloney and Molly Meech had a good final day, ending gold fleet racing with two thirds to push up to fifth place. They left them seven points off third and everything to sail for in the medal race.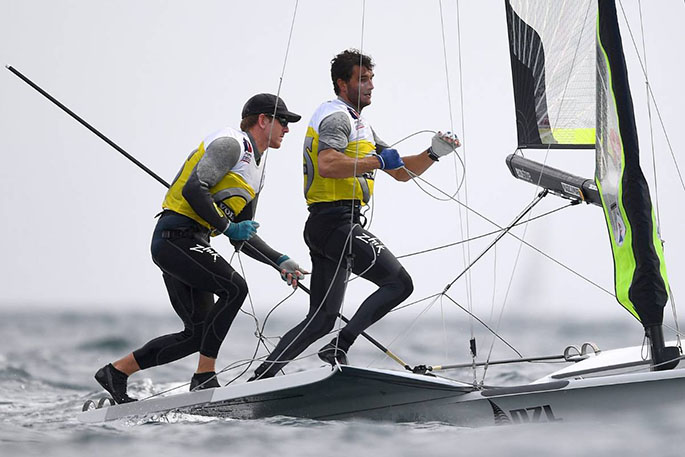 New Zealand sailors Peter Burling and Blair Tuke march on with their remarkable 49er careers. Photo: Clive Mason
No Kiwi crews made the medal race of the Nacra 17 mixed crew catamarans.
Olivia Mackay and Jason Saunders were the best of the New Zealanders in 17th.
Micah Wilkinson and Erica Dawson dropped to 19th while Gemma Jones and Josh Porebski finished up 20th.