The first boatload of injured is now coming in and helicopters are flying patients in, the Whakatane Beacon is reporting.
There are unconfirmed reports of some 20 people with injuries.
Injured people are being triaged on the island by St John and an emergency operation centre has been urgently set up at Whakatane Hospital alongside Civil Defence.
Families of passengers are gathered at the cordon awaiting news
Emergency services have cordoned off Muriwai Drive to the Whakatane Heads in the wake of this afternoon's eruption on White Island. Police, Coastguard and ambulance are on the scene.
GeoNet has confirmed an eruption occurred at 2.12pm.
The alert level on the island has been raised to 4.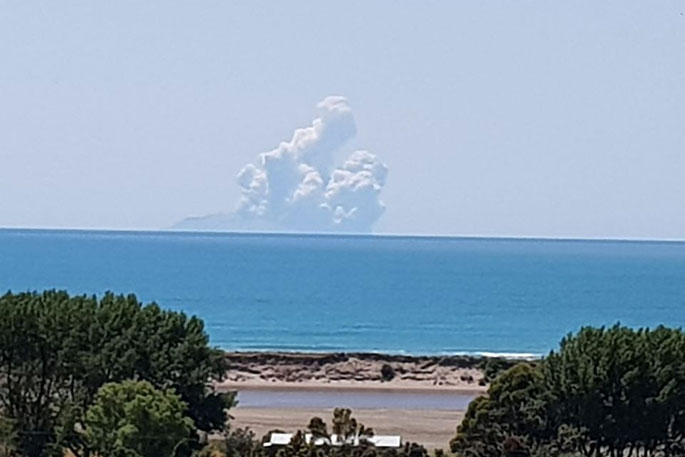 White Island erupting as seen from Opotiki. Image: Maree Reeve
Prime Minister Jacinda Ardern was late to her regular Monday post cabinet press conference as she was seeking advice on what was happening at White Island.
"Police search and rescue are supporting the emergency management crews," she says.
"At this stage, we believe 100 people were on or around the island.
"Some of these people are unaccounted for.
"This is evolving at this stage ... obviously it does appear to be a very significant issue.
"They're undertaking an operation as we speak. We believe there were around 100 people ... That is my understanding [that they are tourists]."
Jacinda was not aware of any fatalities at this stage.
A joint press conference will be at 5.30 between emergency management and police, she says.
SunLive is live at the scene and will continue to provide updates where possible.