The White Island eruption has been declared a mass fatality incident by the chief coroner.
Chief coroner judge Deborah Marshall says post mortems of the people who have died have started in Auckland.
Six people have died following the eruption that occurred at 2.11pm on Monday, November 9.
Eight people are missing and presumed deceased.
Three coroners from Auckland are working on identifying the victims.
Acting assistant police commissioner Bruce Bird says police are assessing the conditions of White Island every two to three hours to see when a recovery operation of the bodies can begin.
"We are working out the plan on how we will go about doing that recovery.
"We've got to be certain of the environmental situation out there on the island.
"The safety for staff is a huge priority for us. We cannot put other people in jeopardy until the island is considered safe."
The recovery of bodies from Whakaari/White Island is an absolute priority for police, a police spokesperson says.
"We understand and appreciate the desire of families and the public for the bodies to be retrieved as soon as possible.
"Our staff and partner agencies are committed to making this happen."
"It is the role of GNS to provide police with advice as to the safety of deploying onto the island.
"That information will be further informed by surveillance from a drone, which was successfully launched about 8.30am today."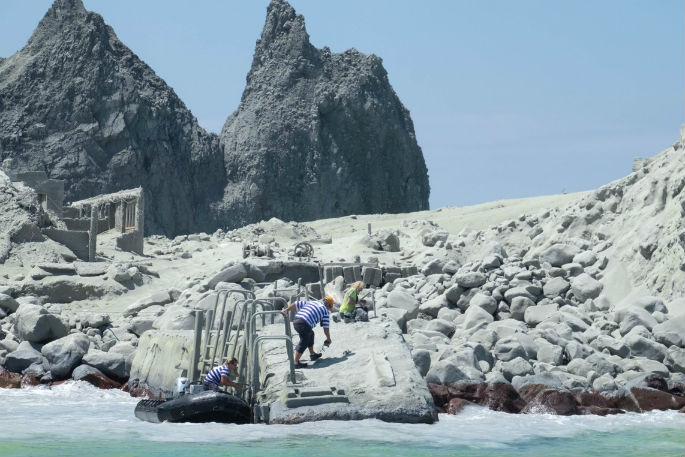 Photo: Michael Schade/Twitter.
Police has disaster victim identification specialists standing by in Whakatane ready to be deployed the spokesperson says.
"Those deploying to the island will likely encounter serious physical and chemical hazards, for which we must be prepared."
There are currently 30 patients in six hospitals around New Zealand, Middlemore, Hutt Valley, Auckland City, Tauranga, Waikato and Christchurch.
"Twenty five patients are critical with the remainder stable but serious."