The Matua community is reeling after a spate of dog attacks that have left three cats dead and many more injured.
One of the attacks was on Levers Road in the early hours of Monday morning.
Angela Newby says her cat Archie is lucky to be alive after being attacked by the dogs outside her home on Sunny Bay Road.
She says there are three tan pitbull cross dogs that are loose and have attacked a number of cats.
Angela says she woke up one night in August to the sound of Archie being attacked.
"I heard him getting attacked and I jumped out of bed and ran to him and the dog had my cat in its mouth.
"It was pretty horrific. Pretty traumatic really."
Archie suffered broken ribs, a punctured lung, fluid on his lungs, and a broken hip.
He had two surgeries that cost Angela $7000.
"The vet said he's as tough as nails, he doesn't know how he survived really."
Angela says the dogs went on a spree on Sunday night and about five or six cats have been attacked. The dogs roam the streets at night all the time, she says.
At the time of Archie's attack Angela contacted the Tauranga City Council but because she didn't have an address for the dogs and they are not registered the council was unable to help, she says.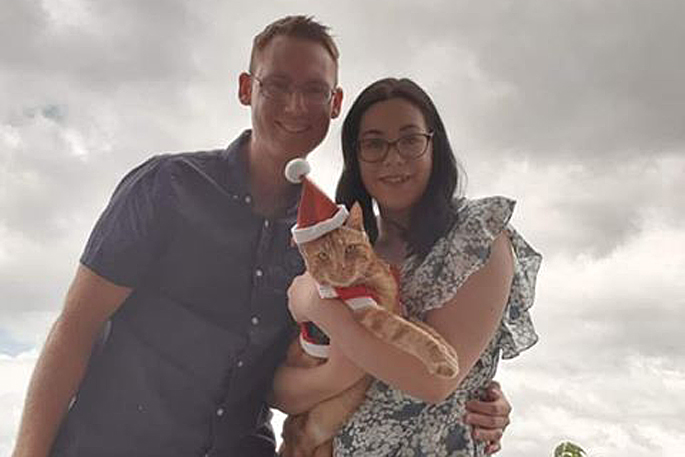 Angela and her husband Carl with Archie. Supplied image.
Tauranga Mayor Tenby Powell, was made aware of the attacks last night through his Facebook page.
He has received photos of the mauled cats.
"I think it's horrific, three pitbulls loose in an area with pets, children, and the community."
The information Tenby has been given is that the gate of the property is open and the dogs are free to come and go as they please.
According to a post on the Matua Community Facebook page the dogs reside at a property on Linton Crescent.
"They make their way around the salt marshes and they've got a very large roaming area," Tenby says.
He has spoken to police and the council senior dog control officer as well as First Security who are all out looking for the dogs.
"Police are taking a great interest in this because these are very dangerous dogs.
"We're hard out to try and find these animals today because as horrific as it is to have a pet killed, I'd hate to think that a child or a person is mauled by a dog.
"It's a terrible thing to say to people, be very vigilant and try and stay inside.
"This is the most ridiculous situation for Tauranga but it is a situation in which we find ourselves right now."
He says people shouldn't try to catch the dogs themselves but contact dog control immediately on 07 5777000.
TCC animal services team leader, Brent Lincoln says the investigation into the roaming dogs is ongoing.
"I can confirm that council has received complaints about three cats being killed in the Matua area. We have also heard about a fourth cat that was killed, but have no details.
"Council is taking this matter very seriously, we are investigating the complaints and gathering evidence."
If anyone has information that would support the investigation or has seen the dogs please phone council on 07 577 7000.