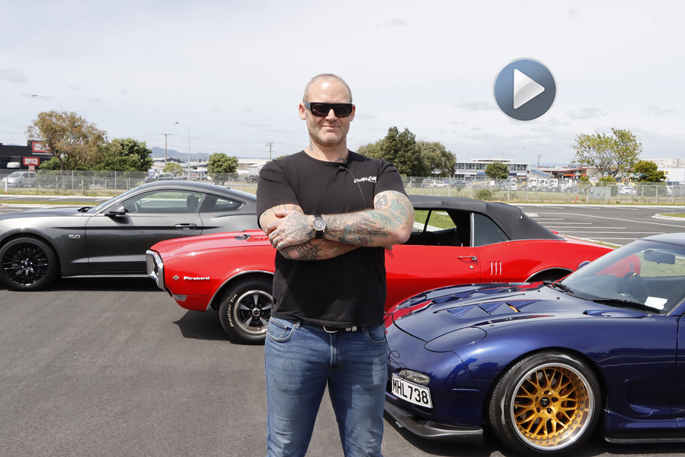 Click the image above to watch the video
What started as an idea and concept overseas, has made its way to Tauranga thanks to Wayne Brake.
Car enthusiasts have been putting on car events that feature all makes and models of cars – from Tesla's to RX7's - and are designed to be a family-friendly alcohol free day or morning out.
That, Wayne says, is how Coffee and Cars first came to Tauranga.
"I thought there was nothing happening in Tauranga. There's always car events here, but based on a particular model or a particular genre etcetera."
Wayne thought he'd get his business to "just put on a Coffee and Cars".
"We expected maybe we'd get about 20 odd people there, but we ended up having 100 vehicles."
They ran out of room at the location where they were holding the event.
"It was just ridiculous," he says.
The feedback they received from the first Coffee and Cars was very positive. Wayne says it was quite amateur run at the time, but was blown away at what it turned out to be.
From this, it was agreed he would run a second Coffee and Cars and see what that would be like.
At that point, he thought it wasn't going to get any bigger than it was. But he was wrong, with 200 cars turning up, and running out of room at the new location.
This time around, they have decided to go professional and turn it into a charitable event.
It is being held at the Mount Sports Centre on January 12, 2020 - and there is a limit of 300 vehicles that can take part.
It's a limit of 300 because that's basically the maximum they can fit in the location, says Wayne.
They are also going to have trade stands, and a representation from Breast Cancer Foundation New Zealand, as the charity of choice.
"Our aim is to raise $10,000. All the sponsors to the event, including myself are donating a considerable amount of money. All the vendors are donating a certain amount of their vendor free to the event going directly to Breast Cancer Foundation New Zealand.
"I think we'll blast that $10,000 limit. I really do, and I hope we do well. It's something that's special to everybody – special is a bad word but it's a good word because there's so many people that we love that have been through it."
Wayne's partner is just one of the 3300 people who are diagnosed with breast cancer every year.
"She's come through the other side, and she's recovering really well now, but there are other members of my family, my own blood family, friends, it just hurts everybody.
"My staff, their family, it doesn't matter where you look, you'll find someone that's had the experience of breast cancer and it's tough for everybody involved, not just the person with the cancer, but the people they are around.
"It had a really massive impact on me and I thought I'd be stupid not to make this the charity for this year. It's was something that's really important to me, my family and my friends."
As well as the display, those 300 cars will then be doing a Mount cruise at 1pm, with the drivers showing off their pride and joys.
"We'll do a hot lap of Mount Maunganui, Pilot Bay, Main Beach, and I will have collectors on the side of the road at certain points with buckets collecting for breast cancer. So those that didn't make it to the event can contribute out there as well.
"It goes along the line of the boy racers doing a bit of a cruise or the bikies doing one, it doesn't matter who does a bit of a cruise, everybody wants to have a look.
"I think it's a really great idea to promote the event and to have people stop and go 'wow'."
For more information about the event, head to the Coffee and Car's Facebook page.