A mechanical bull ride, a fun dog ring contest – and Te Puke's Strongest Man and Woman Competitions – are all new attractions to Te Puke A&P Lifestyle Show this year, on February 8.
Show secretary Kim Cawte says the 114th show's new drawcards will offer more fun to what is already a jam-packed event.
"Te Puke A&P Lifestyle Show is one of the shows that continues to grow, so bring your family and friends along to enjoy this great day."
Kim says the new mechanical bull ride is a gold coin donation, while the new fun dog ring is $10 to enter.
"Awards for the dog ring include best presented, tricks, obedience, fancy dress, obstacle course winner and judge's choice. All dogs and puppies must be on a lead, registered and vaccinated. It's a great opportunity to bring along your pooch and have some fun."
And those keen to enter Te Puke's Strongest Man & Woman Competition need to contact Chris Latham on 0212695032 or email: aucklandstrongmanseries@gmail.com
The rest of the show schedule offers a variety of fun. Western Bay Museum will have 'Daisy' the cow, rope making and butter churning.
The Young Fruitgrower of the Year Competition will have practical and theory contests from 9am-3pm, and children's competitions. "Later in the day contestants will compete in a tug of war against the Te Puke Young Farmers Club."
Stupid Robot Fighting entertainment is back and businesses are encouraged to show their competitiveness and become involved. Lawn mower racing and a truck and tractor pulling competition will return.
The mini club, trike club and classic car club will have vehicles on display. Sheep racing – which Kym says is a huge crowd-pleaser – will offer three races throughout the day.
"Te Puke Young Farmers Club will host the Ladies Gumboot Throwing contest, a new Men's Gumboot Throwing competition, a horse shoe throwing competition, and a tug of war site."
Rotorua & BOP Hunt Club will parade horses and hounds in the main horse ring at 12.10pm.
The Pet Corner will have animals and birds to view and purchase, plus horse and pony rides for the public.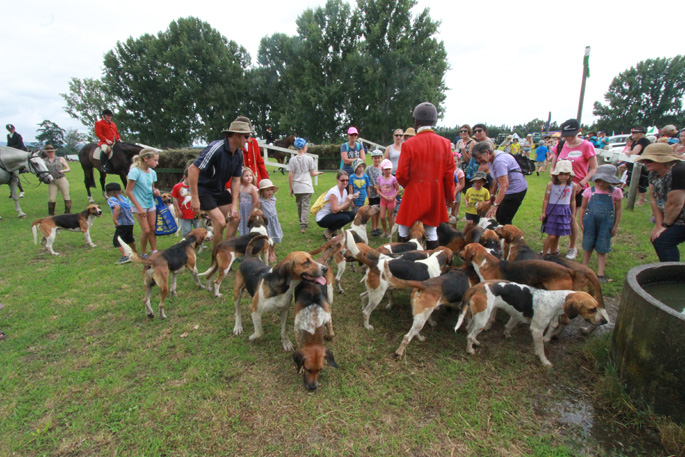 Home Industries displays and the Hargreaves Children's competition, plus Miss and Master contest for boys and girls aged four-11 will be run.
Shearing classes will include everyone from junior, to intermediate, senior, veteran and open with very attractive rewards. "The 'Women's Invitation' class will feature again, which is now a major attraction," says Kym.
The horse/pony fun ring at 1pm is for all horses and ponies and all riderage-groups. Ribbons will be awarded for all disciplines and there's a $50 prize for 'Judge's Choice'. "This is a fun ring where the aim is to involve as many local riders as possible."
Te Puke Pony Club will run a novice ring earlier in the day. Horse of the Year Qualifying classes include Park Hack, Saddle Hunter, Working Hunter and Hunter Jumper rings. Other horse sections include Harness and Led Horse.
And with a bar onsite, live music, trade sites, food stalls and Eftpos via two machines at the entry gates, people can enjoy a long day at the show.
Schedules and entry forms are at: www.ras.org.nz Or email: kimcawte@gmail.com Or check Te Puke A&P Lifestyle Show's Facebook page.
Gate entry is: Under-fives free, children $2, persons aged 13-plus $10, a family pass (two adults/four children) $25.