A vegan activism group has taken responsibility for stickers on stop signs around Tauranga.
Stickers are placed on stop signs so it reads 'STOP eating animals'.
The Gummy Bears Bay of Plenty chapter is just starting up and spokesperson Ursula Lilley says the stickers are one of the things the group is known for.
She says often independent activists place the stickers as well so they may not all be from Gummy Bears members.
SunLive recently reported that placing the stickers on government signs could be treated as a criminal offence - the Gummy Bears are undeterred by this, Ursula says.
"Most of the people that are doing these actions are absolutely willing to put their money where their mouth is and simply the fact that it's illegal - we're doing it because it's moral."
The group is placing the stickers to bring awareness about where people's food comes from.
"It's just a visible, immediate connect for people's brains, I think sometimes it's a little bit of a surprise.
"Often people actually make a disconnect in their brain between their meat that they're eating and the fact that animals have been killed so they can eat them.
"It's about making that connection for people and reminding them that the ham in your sandwich, or the chicken in your burger or whatever [meat] was a living animal with a life of its own and it was killed so that you could eat it.
"It's to bring that to the surface and to remind people, you're eating dead animals."
Ursula say the group are anti-speciesism which is the notion that all species are equal.
"Speciesism is the construct in the human mind that humans are superior to other animals and we will use and abuse them as we see fit and as anti speciesists as we reject that idea and extol the opposite values, which are that animals were not put here on this planet for humans to use."
She says they will continue placing the stickers on signs.
Tauranga City Council considers this to be intentional damage similar to the criminal offence of defacing property by graffiti vandalism, says Martin Parkes manager of network safety and sustainability.
"It may potentially be treated more seriously than graffiti given that it is a 'STOP' traffic sign used to control traffic. Interference with traffic signs has the potential to cause crashes and serious harm."
The BOP Gummy Bears have other projects planned and are currently working to ban the Waikato Rodeo they have four 'Ban Waikato Rodeo' signs around Tauranga and another 16 in Waikato.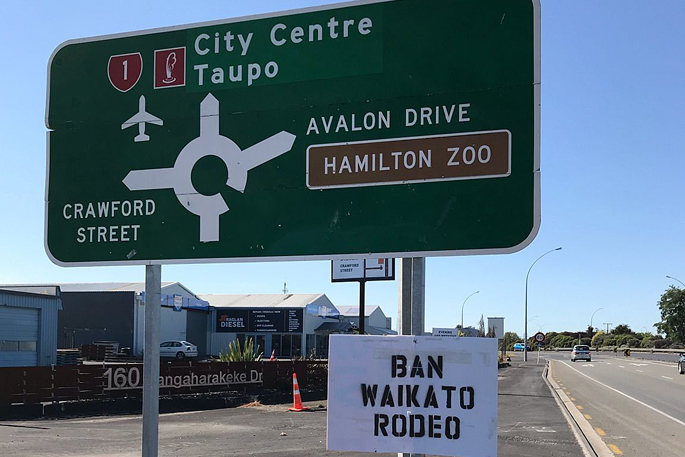 One of the BOP Gummy Bears signs. Supplied image.
"The overall ambition being to have rodeo banned in New Zealand, but our first goal is to just remove the calves from the rodeo.
"All of the rodeo activities are brutal, but calf roping is brutality directed towards baby animals.
"Ban Waikato Rodeo is our focus at the moment, and we've got the billboards so that's hopefully going to get a little bit of public attention and bring to the forefront of people's minds that animal abuse is not a wholesome family fun activity."
Ursula says to 'watch this space' for other projects the group have in the works.