Sharon Thorpe's life changed in an instant when a cluster of vessels in her brain ruptured causing her to need lifesaving surgery.
The 14-year-old was taken by helicopter from Whitianga to Starship Hospital in Auckland for treatment.
Sharon has a brain arteriovenous malformation, which is a cluster of blood vessels and arteries that are twisted
The AVL could rupture again at any time and her mum Poi Thorpe says it isn't a case of if but when.
They live with the fear and anxiety of this reality every day.
Poi says time is of the essence for Sharon and the faster she can be treated, the less damage it will do.
"It comes down to time when it's to do with the brain. The longer it takes, the more damage it's going to do."
Poi says they rely on the knowledge that the rescue helicopter is ready and waiting if a rupture were to happen again.
A rescue helicopter has been based in Whitianga over the summer months in previous years but this year the Ministry of Health removed it as part of a 10 year modernisation programme.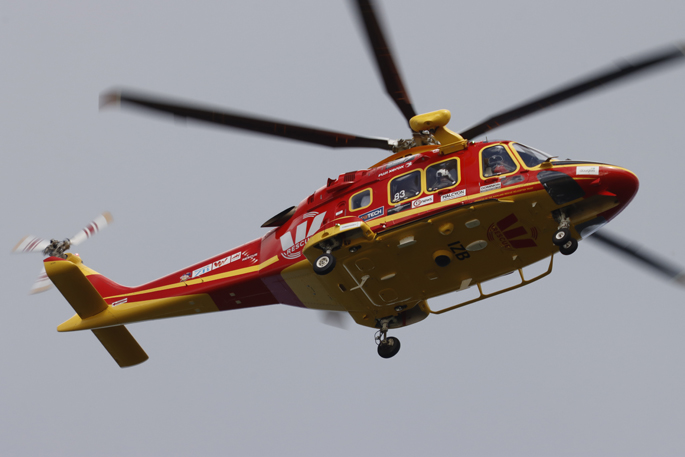 A case is building to have the Westpac rescue helicopter based in Whitianga full time. Image: Daniel Hines/SunLive.
The community is fighting to have it returned, and Poi and Coromandel Rescue Helicopter Trust chairman, Brian Bowering say it is needed there year round.
"I absolutely think it should be based year round, to be honest," Poi says.
"It wouldn't matter where ever we were, Sharon if she was to have a rupture or anything again, we would be able to be air lifted out straight away and they would take her straight to Starship."
Poi says it isn't just their situation that makes a case for the helicopter being there year round.
"Especially right throughout the summertime, the holidays, school holidays, families come here with their children, our population just doubles and triples, and I think it should be based here.
"It's a growing town we do need it here. Not only that you look at how far we are cut off when anything happens on our roads and in bad weather those roads they get closed off.
"Everyone that lives here they know that, so it's almost like we're separated from everyone and that happens through our winter months."
Brian says it also comes down to response times in an emergency and Whitianga is the closest helicopter base to service the Coromandel Peninsula, Great Barrier Island and Great Mercury Island.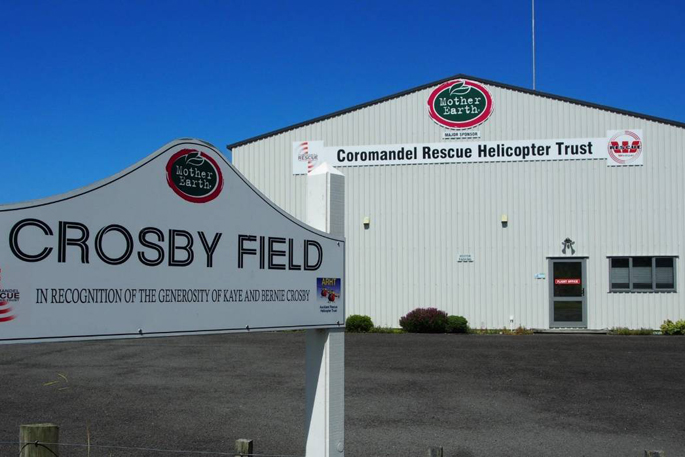 The Whitianga Helicopter Rescue facility. Image: Matt Shand/Stuff.
"There are a lot of missions to the Barrier [Great Barrier Island], the islands, we are the closest helicopter base.
"Anything on the peninsula, full stop and the Barrier hands down, we can beat anybody any day of the week.
"Very often in adverse weather events this peninsula is completely isolated. You can't even get a fixed wing aircraft in here because of the weather, but you can get a helicopter here during road closures, flooding all that sort of thing.
"We're very often isolated and we don't have a hospital anywhere here, we are very vulnerable."
To add insult to injury the community have raised $1 million for a purpose built facility with a house for four crew members for the rescue helicopter that was opened in 2012.
"The mere fact that we have the whole established facility here for it and it's not here is the biggest let down. There's $1 million been spent by the community and not one cent of government funding," Brian says.
The focus at the moment is to have the helicopter returned to summer duties with long term goal of having it based there all year round, says Brian.
"Small steps first, let's get it back for long weekends and the Christmas period, and then we'll go on from there but we've just got to take it a step at a time."
A petition to reinstate the helicopter is circulating with the goal of reaching 30,000 signatures before it closes on April 30.
The CRHT is holding an open day at the Whitianga base on Moewai Road on Saturday, January 25, from 10am to 4pm.
"One of the new rescue helicopters will be there all day for people to crawl around and have a look in and hop in," says Brian.
The new helicopter is an AW169 that is based in Ardmore.