Anyone who missed the spectacular train of Starlink3 Satellites that crossed the sky in a single file row last night will have another opportunity to see them tonight, according to Tauranga Astronomical Society president Dave Greig.
The lead satellite in this 'string of pearls' is expected to come into view about 10.05pm followed by all the rest.
The train of lights that people are witnessing from their front decks are the 60 satellites from Elon Musk's SpaceX Falcon 9 rocket that was launched from Cape Canaveral Air Force Station in Florida last week.
Video of the Starlink train crossing our sky on Saturday night February 1, filmed from Pukehina.
"Starlink3 will be rising in the West North-West and crossing the sky low over the South Western horizon before setting in the South East," says Dave. "It won't be a good pass as they will be quite low - 19 degrees elevation as seen from Tauranga - and the maximum brightness is predicted to be Mag 4.5 which is getting quite dim and hard to see."
Last night WeatherWatch received numerous reports of people seeing the satellites from around NZ with some people understanding what the lights were and others worrying.
"Saw dozens of lights traveling while out hunting tonight at 10.08pm. Was pretty freaked out and tbh I thought I had seen a UFO. Turns out it was actually SpaceX launched 60 satellites," writes one.
Another wondered if it was a UFO, writing: "Around 10pm 1/2/20 dad came racing in telling me "come check this out" I followed him out to see trail of about 30 bright lights close to each other then another 20 or 30 less bright lights further apart in straight line then saw another one follow down side of the path to stop and then join in behind last one."
Harvey Gradon was watching the display on Saturday night from his home in Ohauiti.
"It was quite low. I went outside just after ten past ten and saw them. They were there for a good five minutes, and there were close to 30 lights I'd say, although I didn't count them.
"I went out again about ten minutes later and could see other lights - about four or five different sets going across the sky."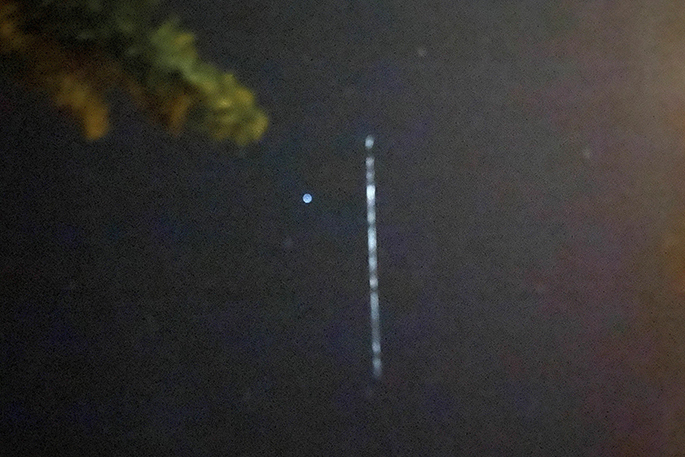 'Footage of aliens or whatever light show over Te puke @ 10:10pm Saturday'. Photo: Kane Baker

Kane Baker in Te Puke also noticed the lights about 10.10pm on Saturday night and took photos to send to SunLive with the query 'Aliens or satellite show in Te Puke?'
Elon Musk's Falcon 9 was launched as part of SpaceX' Starlink broadband network to install communication satellites for internet access. So far four sets of 60 Starlink satellites have been set up by SpaceX. SunLive reported on the second set of lights that sailed past overhead in November.
"The 60 individual Starlink3 satellites are slowly being spread out in their orbit so that they will eventually be evenly spaced in a ring around the Earth," says Dave Greig.
"There have been four successful launches so far (0, 1, 2, 3) with 60 satellites each in four different orbital rings, totalling 240 satellites so far. SpaceX plan to launch at least 12,000 Starlink satellites and perhaps as many as 42,000.
"While the Starlink trains are spectacular to see, the increasing number of satellites have worrying implications for astrophotography and astrometry with long exposure images being ruined with multiple satellites streaking through the images."
Dave says that live tracking and future pass predictions can be found at the satflare website.
Dave and other members of the Tauranga Astronomical Society can often be found filming all manner of interesting lunar and solar events, and also provide interesting talks and information at the Tauranga-based astronomy meetings.
Public meetings for the Tauranga Astronomical Society are held in the Observatory meeting room, Otumoetai Sports Club, at Fergusson Park at 7.30pm on the second and fourth Tuesday of every month. Presentations are given on current astronomical topics and all those interested in astronomy in the Bay of Plenty district are invited to attend. Weather permitting, there may be opportunities for viewing sessions through the club's 14 inch Meade LX200 telescope, 10 Dobsonian telescope, and 8 inch Meade telescope. Admission is $5 for visitors, and free for members and school age children.
The first meeting of the year for the Tauranga Astronomical Society will be on Tuesday February 11 at 7.30pm at the Tauranga Observatory at Fergusson Park, Matua. Follow them on Facebook here.