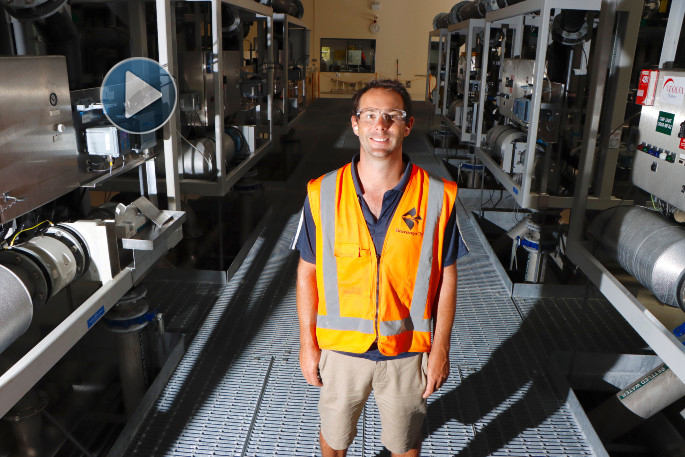 Click the image above to watch the video
When you turn on your tap at any time day or night, you may take it for granted that water will always come out.
When it doesn't, people start to panic, but nine times out of 10, engineers and technicians that look after the water treatment plants in Tauranga are already on to it.
Put simply, the treatment plant is a machine. It's like a car and will break down. That's why water usage and machinery is constantly monitored and assessed.
In simple terms the Oropi Water Treatment Plant sucks water from the river and turns it into safe drinking water for the public. Without it, many would be left drinking unsafe water from rivers.
"There are certain diseases such as E.coli and Giardia which make you sick, so this plant will filter out those contaminants," says engineering technician at the Oropi Water Treatment Plant, John Watts.
From January 23, 2020, a sprinkler ban has been in place for Tauranga residents and, at this stage, it is unknown when it will be lifted.
The water ban is in place because of the high demand for water putting pressure on the treatment plant's capacity.
"The demand usually outweighs what the plant can produce and that high demand stresses the plant," says John.
On average, 42 million litres a day, or 486 litres every second, can go through the treatment plant. That has got as high as 58 million litres a day recently because of the high demand.
John says right now, the plant is at its limit. This also puts more stress on workers, the plant gets busier, and due to the high demand machinery is more at risk of breaking down.
"There is a lot of reactive work that we have to be prepared for and a lot more maintenance comes up.
"So effectively, it's a lot more work the whole time."
To future proof water treatments and to help with the demand for water usage from the ever-growing city of Tauranga, a new treatment plant is getting built at Te Puke.
"That is going to be our third water plant to supply that area of town."
That plant is on track to be completed by 2022.
For those going through a sprinkler ban at the moment, John's advice to them is to just conserve water and to think about how long you're watering the garden for.
When residents stick to the water restrictions and conserve water, it takes the pressure off John and his colleagues.