There are 36 new cases of coronavirus in New Zealand, as of 8am today.
This brings the total number of cases in the country to 102.
The Ministry of Health's Director-General of Health Dr Ashley Bloomfield will provide an update to the media on the national COVID-19 response at 12.30pm today.
He says more than half of the cases confirmed have clear links to overseas travel.
"Most are close contacts of a confirmed case.
"There are two that there is no link to where it has come from and is being treated as community transmission."
Ashley says Prime Minister Jacinda Ardern will be delivering an update on the country's alert level later this afternoon.
More than 7400 tests have been carried out so far.
What we know so far:
As of Sunday afternoon, there were 66 cases in New Zealand, one confirmed in Tauranga. This has now jumped to 102 following Ashley's announcement this afternoon.
A Bay of Plenty man in his 30s who recently returned from the United States on March 17 is the first Tauranga person to test positive for COVID-19.
The Director-General has announced the case is amongst the 14 new NZ cases of COVID-19 confirmed today by laboratory testing, bringing the number of confirmed cases in NZ to a total of 66.
"The locations are Auckland – five cases, Northland – one, Canterbury – one, New Plymouth – two, Waikato –three, one in Tauranga, and one in Dunedin."
COVID-19 Alert Level 2
Ashley says that the COVID-19 Alert Level remains at Level 2.
The Prime Minister is expected to make an announcement on the alert level later this afternoon.
"You will note that from the presentation the Prime Minister made yesterday that as part of Alert Level 2 we are asking people with pre-existing conditions such as chronic respiratory disease which might include severe asthma, bronchiectasis, chronic obstructive pulmonary disease; and people who are immune-compromised or if they are having cancer treatment, to remain at home.
"A message to the over-70s – many of you are fit and healthy, and living active lives, but the older we are, the less our immune system is able to fight off this virus and indeed other infections, and we have seen from overseas that older people are at more risk of serious complications. So we are strongly urging you to be aware of the need to stay at home and not to have contact with others," says Dr Bloomfield.
"Please do adhere the advice to stay at home. Ask friends and families, particularly your children, not to visit. For the meantime this may mean talking to your family on Skype or other methods."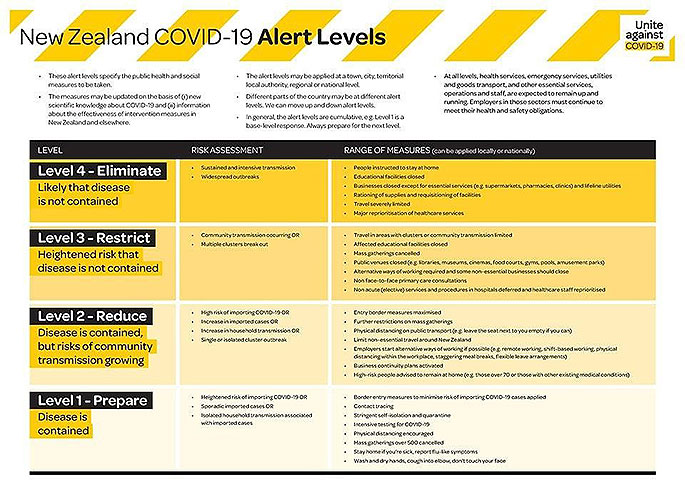 Earlier on Suday, Finance Minister Grant Robertson said the government would move to the next two phases of the Covid-19 alert levels, if yesterday's two confirmed cases were proven to be the result of community transmission.
A level 3 alert status recognises a heightened risk that the disease is not contained and demands that authorities further restrict travel and public gatherings.
A host of public venues would face closures, including gyms, libraries, museums, food courts and pools.
Some non-essential businesses would face closure too.
Ashley says Healthline is overloaded and he pleaded with people to use it properly. It's not there to give general advice, nor to offer information about self-isolation, he says.
Current Cases of COVID-19 in NZ:
Case

Location

Age

Gender

Travel details

66

Auckland

20s

M

Austria to Auckland via Doha arrived 17 March- flight EK448

65

Northland

40s

F

Melbourne to Auckland on Sunday 15 March – flight JQ217

64

Canterbury

50s

F

San Francisco to Auckland on Monday 16 March – flight NZ7
Auckland to Christchurch on Tuesday 17 March – flight NZ523

63

Taranaki

20s

M

Dubai to Auckland on Tuesday 17 March – flight EK448
Auckland to New Plymouth on 18 March – flight NZ8041

62

Taranaki

50s

M

Bangkok to Auckland on Sunday 15 March – flight TG0491
Auckland to New Plymouth on 16 March – flight NZ8041

61

Auckland

40s

F

Travel to Africa – details to come

60

Auckland

20s

M

Dubai to Auckland on Monday 16 March – flight EK448

59

Auckland

60s

No international travel history – exposed at World Herefords Conference in Queenstown.

58

Auckland

60s

M

No international travel history – exposed at World Herefords Conference in Queenstown. Domestic travel history:
Dunedin to Auckland on Sunday 15 March – flight NZ674

57

Hamilton

60s

F

Travel history to Ireland, Dubai and Australia. Details to come.

56

Bay of Plenty

30s

M

Travel history to the United States of America – details to come.

55

Coramandel

60s

M

Honolulu to Auckland on 14 March – flight HA445 (arrived 15 March)

54

Waikato

40s

F

Contact with a confirmed case

53

Dundedin

40s

M

LA to Auckland on 14 March – flight NZ1
Auckland to Queenstown on 14 March – flight NZ615

52

Auckland

50s

F

Under investigation

51

Nelson

20s

F

Travel related, however international flights outside of infectious period.
Domestic flights: Auckland to Nelson on 16 March – flight 5065

50

Nelson

60s

F

Under investigation

49

Manawatu

20s

F

Doha to Auckland on 14 March – flight QR0920
Auckland to Palmerston North on 16 March – flight NZ5107

48

Manawatu

40s

M

Travel related. Queenstown to Christchurch on 13 March – flight NZ642
Christchurch to Palmerston North on 13 March – flight NZ5181

47

Taupo

50s

M

Dubai to Auckland on 10 March – flight EK0448

46

Auckland

70s

M

Dunedin to Auckland on 16 March – flight NZ674

45

Wellington

30s

F

Dubai to Auckland on 12 March – flight EK44
Auckland to Wellington on 12 March – flight NZ433

44

Wellington

50s

M

Travel related, however international flights outside of infectious period.
Domestic flights:
Auckland to Wellington on 8 March – flight NZ449
Wellington to Hamilton on 12 March – flight NZ5810
Hamilton to Wellington on 13 March – flight NZ5823.

43

Wellington

50s

M

Sydney to Wellington on 14 March – flight QF161.

42

Waikato

60s

F

Singapore to Auckland on 13 March – flight SQ0285.

41

Auckland

60s

M

Cruise ship travel. Domestic flights – Dunedin to Auckland on 15 March – flight NZ670.

40

Wellington Region

50s

M

Travel related, however flights outside of infectious period.

39

Otago

20s

Male

LA to Auckland on Wednesday 18 March – flight NZ554 Auckland to Queenstown on Wednesday 18 March – flight NZ615

38

Wellington

30s

Male

Not infectious on flight

37

Auckland

40s

Female

London to Doha to Auckland (on Sunday 15 March) - flight details to come.

36

Auckland

40s

Male

Los Angeles to Auckland - flight details to come.

35

Auckland

30s

Female

Los Angeles to Auckland - flight details to come.

34

Waikato

70s

Female

Dubai to Auckland on Monday 16 March – flight EK0450

33

Waikato

60s

Male

Dubai to Auckland on Monday 16 March – flight EK0450

32

Hawkes Bay

30s

Male

Doha to Auckland on Monday 16 March – flight QR920 Auckland to Napier on Tuesday 17 March – flight NZ5021

31

Wellington

40s

Male

Melbourne to Wellington on Saturday 14 March – flight SQ247

30

Canterbury

50s

Male

Los Angeles to Auckland on Saturday 14 March – flight AA83
Auckland to Christchurch on Sunday 15 March – flight and NZ535

29

Auckland

Singapore to Auckland on 11 March

28

Southern DHB

Sydney to Christchurch on Friday 13 March – flight EK402

27

Southern DHB

30s

Female

London to Auckland on Tuesday 17 March – flight NZ1
Auckland to Christchurch on Tuesday 17 March – flight NZ525 Christchurch to Dunedin on Tuesday 17 March – flight NZ5749

26

Auckland

40s

Male

Melbourne to Auckland on Sunday 15 March – flight QF153

25

Auckland

60s

Male

Los Angeles to Auckland on Friday 13 March – flight NZ05

24

Rotorua

50s

Male

Singapore to Auckland on Friday 13 March - flight SQ285

23

Northland

20s

Male

Sydney to Auckland on Monday 16 March – flight VA0141

22

Taranaki

40s

Male

Cairo to Frankfurt (Lufthansa LH581 on Saturday 7 March) to Vancouver to Auckland on Sunday 15 March – flight NZ23 Auckland to New Plymouth on Sunday 15 March – flight NZ8035

21

Taranaki

40s

Female

Dubai to Auckland on Monday 9 March - flight EK448 Auckland to New Plymouth on Monday 9 March - flight NZ8041

20

Waikato

70s

Male

Singapore to Auckland on Sunday 15 March – flight SQ285

19

Waikato

20s

Female

Sydney to Auckland on Sunday 8 March – flight NZ112

18

Canterbury

40s

Female

Singapore to Christchurch on Monday 16 March – flight SQ297

17

Invercargill

40s

Male

Not infectious on flight

16

Auckland

60s

Male

Travelling from Canada (on Thursday 12 March) - flight details to come.

15

Auckland

60s

Male

San Francisco to Auckland on Friday 13 March – flight NZ7

14

Auckland

40s

Female

Not infectious on flight

13

Auckland

50s

Male

Dubai to Auckland on 14 March – flight EK448

12

Dunedin

Teens

Male

Associated with travel of case 11.

11

Dunedin

40s

Male

Singapore to Auckland on Saturday 7 March - flight NZ283 Auckland to Dunedin on Sunday 8 March - flight NZ675

10

Wellington

70s

Male

Los Angeles to Auckland on 14 March – flight AA83
Auckland to Wellington on 14 March – flight NZ419

9

Wellington

30s

Male

Los Angeles to Auckland on 14 March – flight AA83
Auckland to Wellington on 14 March – flight NZ419

8

Wellington

60s

Male

Brisbane to Wellington on Saturday 14 March – flight NZ828

7

Dunedin

30s

Female

Denmark to Doha to Auckland on Tuesday 10 March - flight QR920) Auckland to Christchurch on Tuesday 10 March - flight JQ225

6

Auckland

60s

Male

Houston to Auckland on Friday 6 March – flight NZ029

5

Auckland

40s

Female

Associated with travel - Doha to Auckland on Sunday 23 February – flight QR0920

4

Auckland

40s

Male

Singapore to Auckland on Tuesday 25 February – flight NZ283

3

Auckland

40s

Male

Associated with travel - Doha to Auckland on Sunday 23 February – flight QR0920

2

Auckland

30s

Female

Singapore to Auckland on Tuesday 25 February - flight NZ283

1

Auckland

60s

Iran to Bali to Auckland on Wednesday 26 February – flight EK450