"It's been like a really long tangi."
That's how Kohutapu Lodge and Tribal Tours co-owner Nadine ToeToe describes life since the global coronavirus pandemic stole the 5000 visitors her whanau hosted annually.
Since lockdown ended, just one Stray backpacker bus carrying a few stray international travellers has stopped by the award-winning tourism business near the small Bay of Plenty town of Murupara.
"It was a really stark reminder of what our reality was before Covid-19, and that the buses would not be coming back."
But ToeToe is staunch too.
"We have warrior blood running in our veins, so we're never going to give up."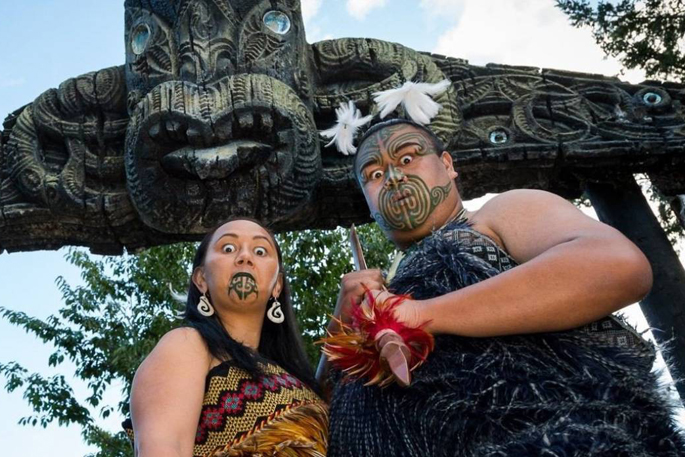 Mitai Maori Village in Rotorua is among 18 Maori tourism operators to receive assistance from a Government fund to save key tourism attractions. Photo: Supplied
The challenge now is to takahuri (turn from one thing to another) and attract New Zealand customers to replace the manuhiri ki tawahi (overseas visitors) shut out by rampant infection rates in key markets like the United States.
It is estimated 14,000 people are employed in Maori tourism and a fifth of Maori small and medium sized businesses are involved in the sector.
More than 70,000 Maori work in the wider tourism industry, which is 16 per cent of the Maori working age population, a much higher proportion than the eight per cent directly employed in tourism across the New Zealand workforce.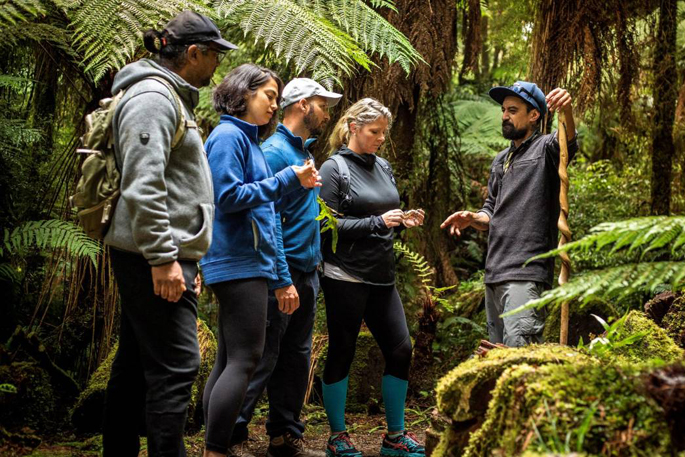 A guide from Kohutapu Lodge and Tribal Tours shows visitors rongoa (medicine plants) in the Whirinaki Rainforest. Photo: Supplied
A survey of international visitors showed 1.6 million of them experienced some form of Maori culture last year, and removing that spending power is expected to have big consequences.
A report to the Cabinet in May warned that iwi balance sheets could be disproportionately affected by COVID-19 because their investments were geared towards tourism and commercial property.
Tainui has three hotels with a fourth under construction, and five of Ngai Tahu's 11 tourism operations remain closed, resulting in the loss of more than 200 jobs and a major restructuring of its entire investment portfolio.
New Zealand Maori Tourism chief executive Pania Tyson-Nathan points out her sector was hit almost two months ahead of many other operators through its exposure to the China market, which ground to a halt in February when Chinese visitors were denied entry.
She calculates job losses in Maori tourism are under 600, although that is certain to grow, and she says the figure reflects a strong determination to retain kaimahi (staff) and look after whanau.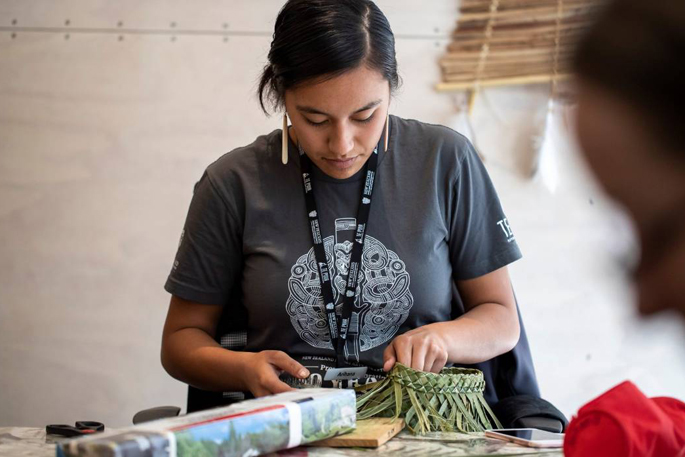 The tourism sector provides jobs for 3423 self-employed Māori and 67,038 who are employees. Photo: Supplied.
Maori Tourism received $10m as part of the $400m tourism rescue package and of the 450 businesses it has assisted over COVID-19, Tyson-Nathan says just 128 have taken the wage subsidy.
"It's humbling the number that say 'oh it's alright, others need it more than us'."
For the year to the end of May, spending by domestic visitors to Rotorua was $440m versus $283m from internationals, and businesses like Mitai Maori Village are desperately trying to attract more Kiwis.
At its peak the 18-year-old business welcomed about 60,000 visitors, mostly Europeans, Australians and Brits, with up to 300 packing out performances.
Late last week founder Wetini Mitai was mighty relieved to learn a Government scheme to protect key attractions had awarded the village a $500,000 cash grant and access to a $2m loan.
He says it will help retain 80 staff while they redesign their visitor experience. "[Without the money] we would have had to close down or go into hibernation."
Although Murupara is less than an hour from Rotorua, ToeToe says it is difficult for small more remote Maori tourism businesses lacking easy access to main population centres.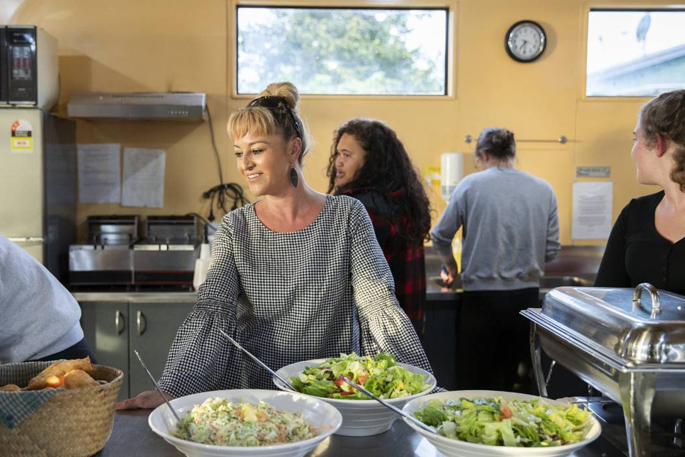 Nadine ToeToe of Kohutapu Lodge and Tribal Tours says that having to suddenly cope without international customers is a massive change, akin to taking away a dairy farmer's cows overnight, and suggesting they try farming goats instead. Photo: Christel Yardley/Stuff.
Despite that handicap, she and husband Karl are forging ahead with a new guided tour of the Whirinaki Forest which they hope to launch in spring, along with more lakeside accommodation.
"The lessons New Zealand learned during lockdown were around getting back into nature and going to places that are uplifting for the mind, body and soul."
Over the past seven years, ToeToe says the business has invested $500,000 in the local community, paying for school trips and uniforms, and providing meals for the kura students from hangi that fed guests.
Now the family has turned a couple of paddocks into a community vegetable garden.
"We wanted to be a role model to our kids; that in the face of adversity you never give up, there's always something you can do to help other people."
In Christchurch, the pandemic forced the Ko Tane Maori Experience to halt the building of a new central city base for waka tours on the Otakaro Avon River.
Director Dave Brennan says Covid was a rude shock after a fantastic summer with performances attracting full houses three or four times a week, but surviving the Canterbury earthquakes was good practice for shifting into survival mode.
"We've done it once, we can do it again."
So the waka tours will go ahead in late September, running from temporary riverside premises, and Brennan says the aim is to weave Maori and Pakeha history into an experience with broad appeal.
"Maybe we haven't tried hard enough to captivate our locals."
William Stewart of Native ConnectioNZ used to entertain international visitors at his Whakatane homestead where they got a hangi and cultural performance, visited the Mataatua Wharenui and went on a guided walk to other significant historical points in the area.
Maori golf, rugby, seafood, hunting and toi moko (tattoo) experiences were also on offer.
Stewart says overseas visitors were hugely impressed by the hangi "especially the Germans, they're all dubious as hell and when it comes up they are like 'wow it's cooked'".
But Kiwis can eat hangi at a school gala, and he is considering taking a more hands-on approach.
"Let's start at pealing the potato or doing the kumara or making stuffing, so it becomes more about the experience of making the food and skill transfer, than it does about a quick, get the hangi in, go for a walk and then come back and have a feed."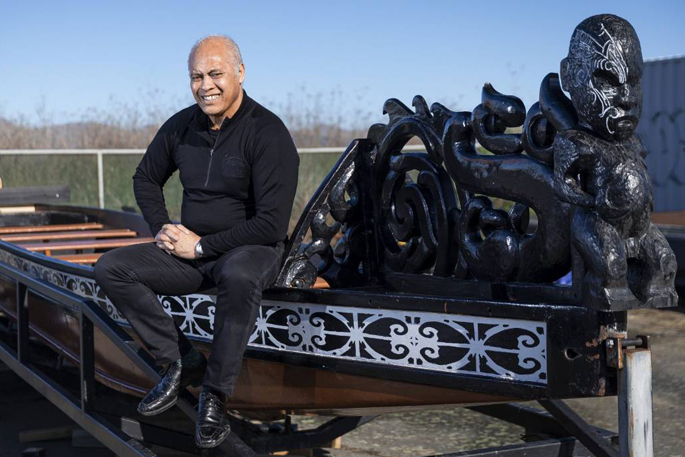 Ko Tane director Dave Brennan says that catering for New Zealanders is totally different to dealing with overseas visitors. "When you're travelling to another country, you're a bit more humble and standoffish. Kiwis will let you know how they feel." Photo: Alden Williams/Stuff
Tyson-Nathan says COVID has precipitated a hard look at what the future of Maori tourism should look like.
"Pre-COVID we had the churn and the volume, but we didn't have the value or the values aligned."
Some tourism businesses realised the bulk of their customers "don't really care too much about the experience, but want to be able to say 'I did X."
What they want are tourists – New Zealanders or internationals – who "want a deeper conversation, a connection to history, to land, to story and to community".
Tim Cossar, chief executive of Rotorua's Te Puia cultural centre, accepts it will always get a proportion of "tick box tourists".
Some bus tours were short and delays caused by traffic, weather or road accidents could limit their time at attractions like Te Puia.
"A group of international guests might only have three-quarters of an hour on site if they're lucky."
After initially laying off 140 staff, numbers have slowly built up to 55, as Te Puia limped back to life.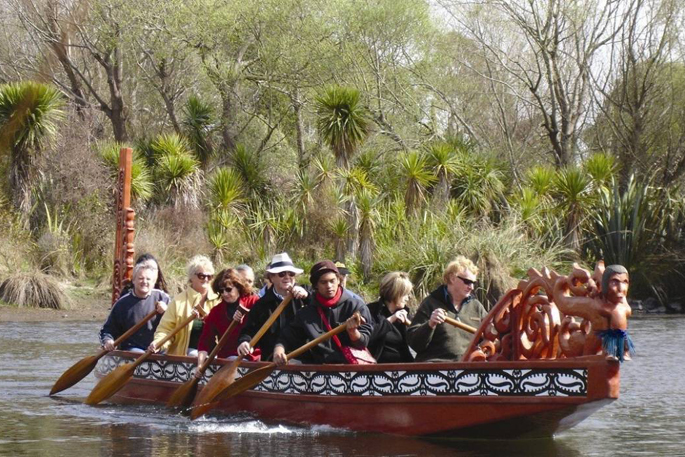 Ko Tane Maori village is moving into central Christchurch with waka tours on the Ōtakaro Avon River, but plans for a new base near the town hall have been put on hold for a year because of Covid-19. Photo: Supplied.
A $7.6m Government grant revived the Maori Arts and Crafts Institute, previously reliant on Te Puia's tourism income, allowing skilled master carvers and weavers to return to work and continue tutoring 20 trainees.
Cossar can see the benefits of "slow tourism," there is no longer a time limit on guided tours, and Kiwis are encouraged to get up close to craftspeople and ask questions.
They are spending on retail too and Cossar has been surprised at the number of high-end artworks sold through Te Puia's Ahua gallery.
"We're talking from $300 up to a couple of thousand."
Before the pandemic struck, fewer than a tenth of those through Te Puia's doors were New Zealanders.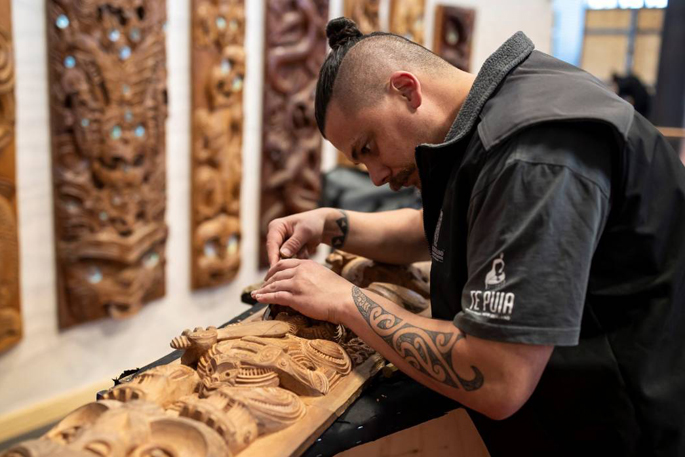 The Maori Arts and Crafts Institute at Te Puia in Rotorua has been able to rehire its master weavers and carvers thanks to a Government grant. Photo: Supplied.
Recent school holiday activities included taiaha practice and stencilled moko, and halving the entrance fee to $30 per adult (with two accompanying children admitted free) saw 5000 visitors in the first month of trading.
"It was more than we expected by about 30 or 40 per cent, but two weeks before lockdown we had one day of 3500 internationals."
Cossar says it could be September 2021 at best before overseas visitors return, and he is not under-estimating the challenges ahead for Maori tourism.
"It's not profitable running a business at this scale. The ultimate goal is to break even and show Kiwis what we've got.
"We have to look after every cent. Nothing is likely to be the same as it was for a very long time, so we just have to hunker down and make the best out of what we have."