Fake grass is being laid in Mount Maunganui in an attempt green-up the former Phoenix carpark.
It has been two year's since the park was transformed into what Tauranga City Council called an "urban space".
Earlier this week, contractors were on site installing fake grass to cover a portion of the concrete area.
A Tauranga City Council spokesperson says they are funding the artificial turf installation as a place-making initiative associated with the temporary i-Site, and to help 'activate' the park.
When asked how much it cost, Council says it is "expected to be less than $15k".
To gauge what the community thinks about the area, SunLive took to the streets to find out what people thought of the new 140m2 addition to what had previously been described as a "concrete jungle".
Parents at the space say the best part are the water fountains for their children to play in.
One Tauranga mum, who wishes to remain anonymous, says it looks unfinished but her kids are loving it.
"They've been skating here happily for hours and they love the fountain."
But she says she was wondering what the artificial turf was for.
"If it was somewhere for them to sit with real grass and trees it would be good but otherwise it doesn't really make sense."
She says there's not enough shade and it was thanks to the umbrellas of local businesses that they'd been able to stick around.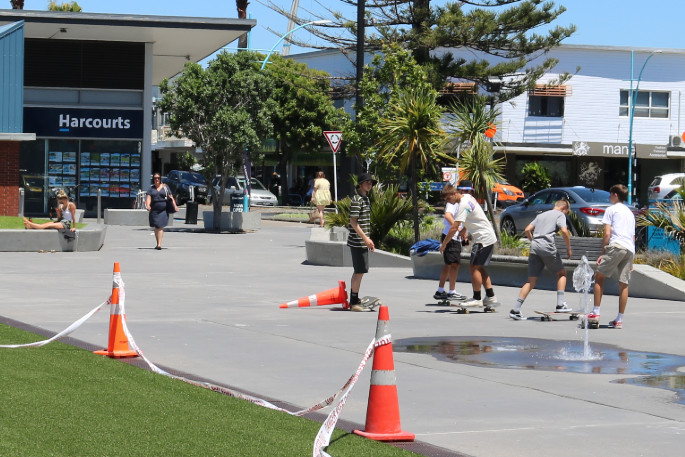 Tauranga resident Mary-Ann Braddock says with more shade, it has potential for food stalls and markets.
"There doesn't seem to be a lot happening… the water fountains are good for the little kids but otherwise it's just a big open space."
But local skaters say the $2.5 million could have been put to better use.
Local 14-year-old skater Caleb Paki-Campbell says the money could've given 10 homeless people houses.
Other local skaters say the area would have been better utilised as an outdoor swimming pool or indoor skate park, due to the lack of options in Tauranga.
"So many people skate and there's not really a good skate park in the whole of Tauranga."
They say the fake grass is a waste.
"Everyone just uses this for skating and you can't skate if there's grass.
"It doesn't look very good it's just concrete. I think it would look nicer if it had some meaning."
Mary-Ann agrees a skate park would be a great idea however says the location is not ideal.
"I don't know if the town centre is the greatest place for that."
The space, which Tauranga City Council officially named 'Te Papa o Ngā Manu Porotakataka', was opened in March 2019 as a space for year-round events and activities.
At the time, Deputy Mayor Kelvin Clout said the space will 'create a greater sense of belonging for our community by encouraging social interaction through a shared space to rest and play'.
When asked how long the artificial turf will be there, Council says the timing will depend on feedback from the community.