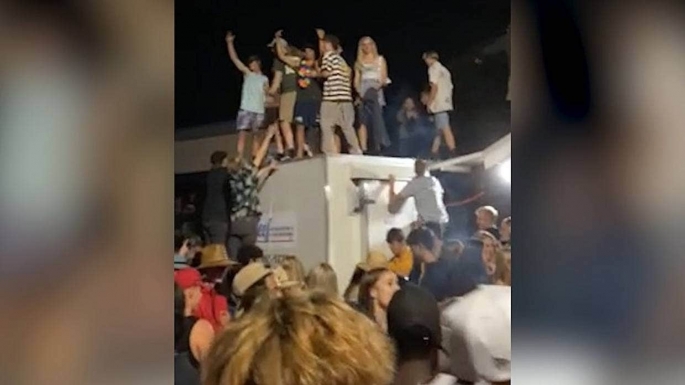 Click the image above to watch the video
Oscar Sandoy decided to spend New Year's Eve with friends at the family bach in Whangamata only to find their evening disrupted by thousands of rioting teens.
"We normally go to the [Blackies] café to get coffee and breakfast," says Oscar. "[On New Year's Eve] we walked down to see what was going on at Whanga and saw the picnic tables."
Oscar, age 18, and girlfriend Lily Anderson, both from Tauranga, were with a group of friends and family all aged about 18 - 22.
"There's an outdoor area and a picnic area and we were sitting outside at the picnic tables. Everything was closed.
"There were like two groups of people there so we thought we'd sit there for a while too. There were about eight to ten of us and it was a nice little pozzy."
About 10 minutes later the group looked up to see thousands of people swarming into the area around the café.
"They were really young, about 15," says Oscar.
"Then three people jumped on the roof and everyone jumped on the band wagon and decided they wanted to jump on the roof as well. And then everyone started to fall through the roof. I've never seen humans falling through a roof before.
"We were sitting at our table and when we saw a foot go through the roof Lily got her phone out. But then we decided to get out of there so went across the road."
Oscar says that Police and parents arrived.
"There was only one cop at first and he couldn't do much," says Oscar. "We couldn't believe how many people were on the roof.
"Then the booze bus came and about six cops jumped out of the car and that's when we left and went back to our place as we didn't want to get involved in it."
Later, he saw people walking back.
"There was a girl lying on the ground. We heard she got kicked in the head. Cops came over and she didn't move for like ten minutes. Heaps of other people got in fights. They looked real young like 12-13 but probably 15 -17-year-olds.
"And there's now roofing plastic sheets falling down everywhere at the café - and glass, it's been ruined. It's real messy."
Oscar's group decided to leave Whangamata the next day.
"There were just way too many people causing trouble," says Oscar.
"They don't have any entertainment for anyone under 18 so they all swarm into one place because there's nothing else to do. Joe's Farm the festival in Whanga is for 18 plus so they couldn't go. If they had a concert for under 18s it would be pretty sweet."
A police spokesperson said they responded to "a disorder job involving youths" at Williamson Park and about 22 people were arrested.
The cafe on Lowe St neighbours the Whangamatā Surf Life Saving Club in Williamson Park.
It's understood about $5000 worth of goods was taken from the café's freezer, and thousands of dollars' worth of damage was caused to the roof and tables.