Who's the most popular band in the Bay this summer?
It's a close run thing. What with Tauranga now being celebrated as Festival Central for New Zealand – this week sees yet another in the form of One Love's reggae celebration - there have been a whole bunch of different bands playing here in the past month or so.
But taking the prize must be... Credence Clearwater Revival! Well, the tribute show at least.
After playing at Waihi Beach just before Christmas, they were back a couple of weeks ago playing at a Twilight Concert in Katikati's Haiku Domain. Now they're back again, not on the Bayou but in the Bay, this time playing in Tauranga for the Entertainers Club on Valentine's Day (that's Sunday 14 February for you non-romantic types).
In case you haven't been before, the Entertainers Club is held upstairs at the Tauranga Citizens Club (on the corner of Cameron Rd and 13th Ave). $15 Tickets are available at reception or from 4:30 pm on the day, unless sold out.
This weekend is another long one with a festival so I might skip ahead and briefly preview another couple of upcoming festivals.
Because I should remind you all that tickets for the Big Daddy of Tauranga's music festivals, Easter's National Jazz Festival, have gone on sale. This year's festival is number 58.
And there is much to enjoy! The notable feature of the Baycourt concerts is by my reckoning the focus on Big Bands. I mean that not just in the jazz sense. Better words might be "Large Ensembles", but that does sound vaguely pretentious.
BIG BANDS
But whichever way you describe it the bands are big. There's the NZ Army Band (Thursday 1 April), the Rodger Fox Big Band (Sinatra songs on Friday 2), the Auckland Jazz Orchestra (Phil Boadhurst compositions on Saturday 3), and on Sunday the BOP Symphonia will playing music by Scott Joplin, George Gershwin and Duke Ellington. They'll feature piano soloist Soomin Kim – 2015 winner of the BOP Symphonia Rising Stars Concerto Competition. Worth hearing if only to enjoy the rare treat of Gershwin's Rhapsody in Blue live.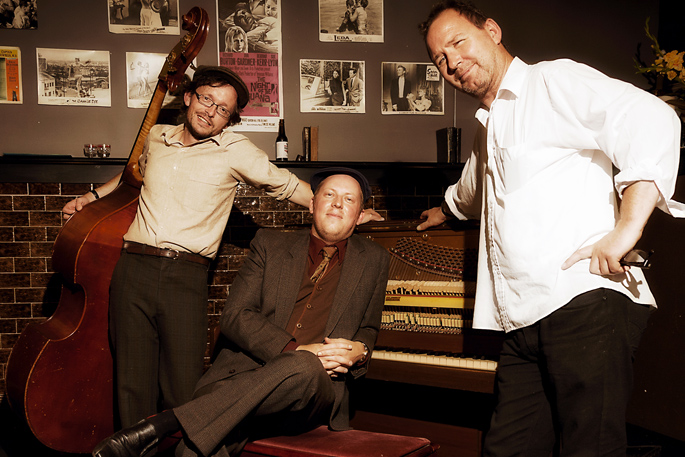 Ben Wilcox and the Jelly Rolls.
Along with those I really should mention three X-Space shows, each of which promises to be sensational. Pianist Ben Wilcox and his band the Jelly Rolls are playing alongside award-winning saxophonist Roger Mannins (Friday), and pianist Kevin Fields assembles a band of Auckland's finest musicians, including sax players Nathan Haines and Lewis McCallum (Sunday), but it's a Saturday show that has me most interested...
Love, Linda: The Life of Mrs Cole Porter is a one woman show, written by New York-based jazz vocalist Stevie Holland – who first performed it - in collaboration with Gary William Friedman. Incorporating Porter's music, Linda Lee Thomas (Mrs Cole Porter) retells the story of their unconventional life together, "examining the darker sides... while also celebrating the deep love".
Fresh off a short season in Wellington, this iteration stars singer and producer Georgia Jamieson Emms, best known for her classical stage work. She'll be accompanied by Ayrton Foote (piano), Thomas Moore (double bass) and Sebastian Macaulay (drums).
NO FUTURE
OK. Time for something arriving slightly sooner. There is another festival coming up at the end of the month and I'm going to write about it in much more depth in a fortnight but, if you're into music on the heavier and more alternative side, you're really going to want to put Saturday February 27 on your calendar.
That's the No Future Festival, spread across four venues at the Tauranga Historic Village, running from 3pm to midnight. Tickets are $60, available from the Undertheradar.co.nz. There will be in excess of thirty bands. Many have names unsuitable for a family newspaper but one caught my eye: Dhdfds.
No, I don't know how to pronounce it either but, when I enquired about the band, organiser Slob Saget told me: "Ever find yourself listening to the Stooges and never having gotten to see Iggy Pop in his prime? Scott Brown of the Dhdfds is Iggy reincarnated but with twice the recklessness, double the charisma and with a better band behind him." Sounds good to me.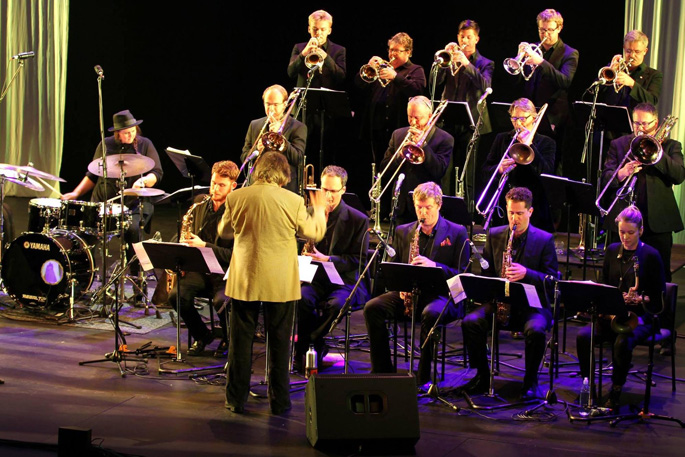 The Rodger Fox Big Band.