Good morning and welcome to Sunday and Valentine's Day. Kia ora. Kia ngahau me o whanau me o hoa.
There's plenty to do today with your Valentine, from helping with the Valentine's Day clean up at Moturiki Island to visiting the Lion & Tusk Museum, enjoying the beach, parks and cafes.
Firstly the weather - the MetService is forecasting a fine day ahead apart from some morning and evening cloud, with northeast breezes.
It's a one-clothing-layer day with an expected high of 24 degrees, and an overnight low of 19 degrees. High tide is at 10.08am and low tide at 4.14pm. Sunset is at 8.30pm.
What's on today?
The much anticipated Omokoroa Dash, hosted by the Tauranga Moana Outrigger Canoe Club will be held at the Omokoroa Domain from 7am – 2pm with 10km and 5km races, a whanau race and awesome spot prizes.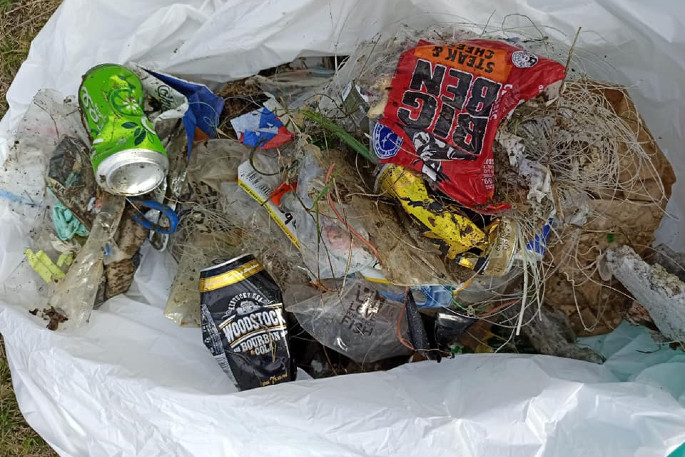 Valentine's Day is a great opportunity to invite your loved one along for a Valentine's Rubbish Clean Up at Moturiki Island at Mount Maunganui. Show love to our environment and local wildlife by helping protect them from the detrimental effects of rubbish. The event is run by Western Bay Wildlife from 1pm – 3pm. Buckets, gloves and hand sanitizer will be provided. For more information click here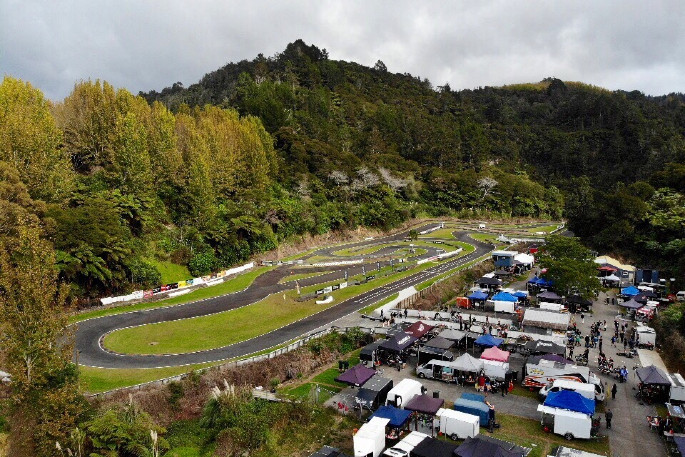 Kartsport Bay of Plenty have a club day planned at Alley Rd in te Puke from 7.30am – 4.30pm. Anyone is welcome.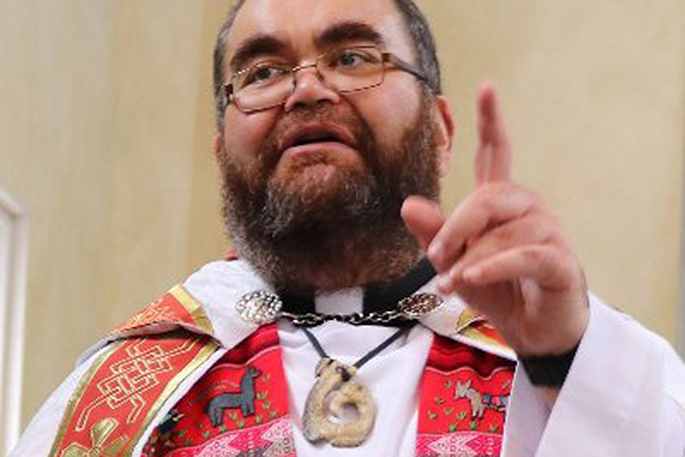 Rev Dr Hirini Kaa
This evening at 7pm, the Pukehinahina Summer Lecture Series 2021 continues with the third and final lecture in the series at St Georges Anglican Church in Gate Pa. The Rev Dr Hirini Kaa will be speaking on He Tiriti Mihinare / An Anglican Treaty.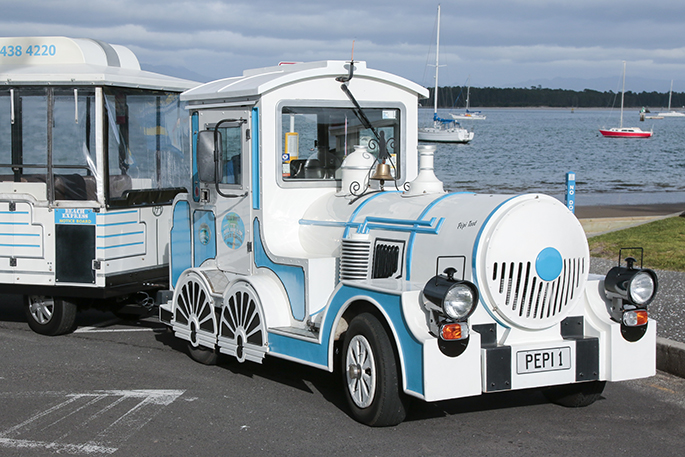 The Pepi Toot Beach Express is out and about around Mount Maunganui today and tomorrow from 10am. Come for a ride and see the Mount area from a new perspective. More information here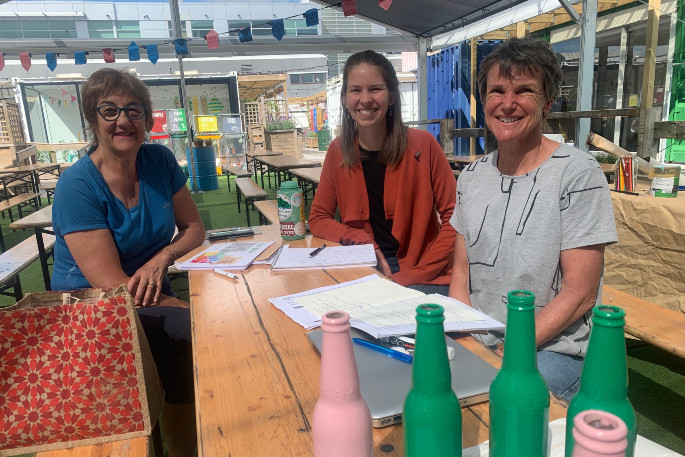 Enjoy workshops at Re:Maker, with the community of makers, located at Our Place in Willow St. Click here for more information.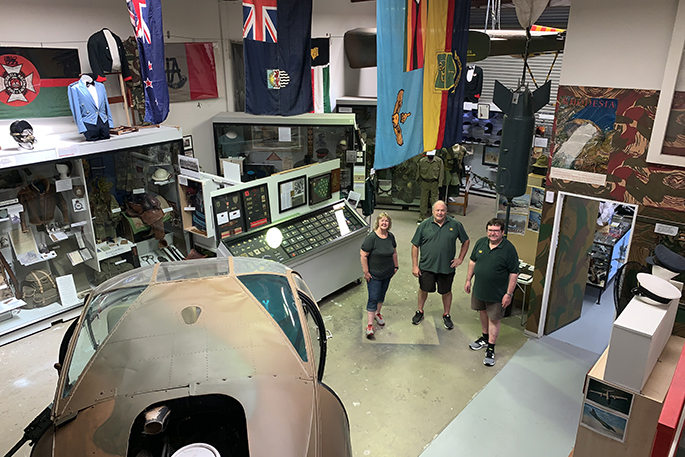 Diana Bomford, Tony Fraser and Hugh Bomford at the Lion and Tusk Museum at Mount Maunganui
Have you been to the Lion and Tusk Museum yet? It's open today from 10am - 3pm at Unit 4, 14 Portside Dr, Mount Maunganui. Come and see a massive display of Rhodesian military history records and exhibits of uniforms, medals and equipment. Opening hours are 10am – 3pm Thursday to Sunday. For more information click here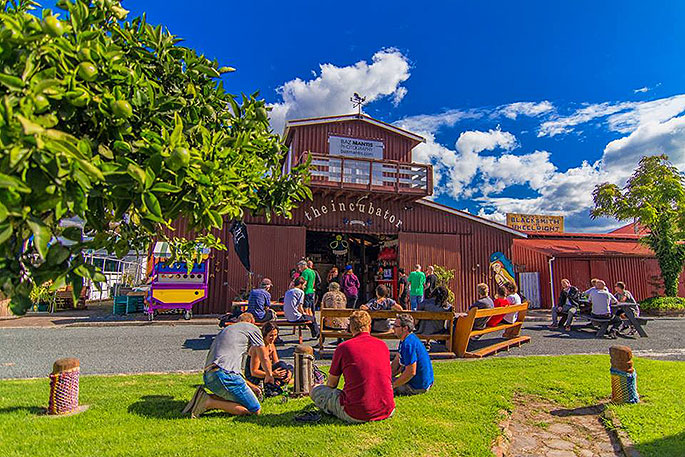 The Incubator
At The Incubator Creative Hub at Tauranga Historic Village, there are many exhibitions, workshops and events happening daily. For more information click here. Exhibition hours are 10am – 2.30pm.
What else is on today?
A COURSE IN MIRACLES
A powerful transformational interfaith teaching to find inner peace. Stuck in past grievances and resentments? Get over it! Free Internet forgiveness workshop. https://jenniferhadley.com/how-get-over-it. Text02102742502
---
Carlton Gallery Exhibition
Two Prints & a Painting by Printmakers Combined. View at The Arts Junction, 36 Main Rd, Katikati. Ph 07 549 5250
---
Croquet
Tauranga Domain, Cameron Rd, Sun, Tues, Fri, 12:45 for 1pm start. Beginners welcome. Ph Peter 571 0633
---
Golf Croquet
At Club Mt Maunganui, Kawaka St. Tues,Thurs, Sun; 9.15am for 9.30am start. Visitors, new players welcome. Ph. Nev 07 575 5121
---
Invitation To Meditate
Follow your own meditation practice with Quaker Friends during an hour of silence.10am-12 in hall behind Brain Watkins House, corner Cameron/Elizabeth Roads. Refreshments. Text 02102742502
---
Mah Jong Te Puke
12:45-4pm Lyceum clubrooms, 8 Palmer Pl Te Puke. All welcome. Learners on Thursday. Gig Green 0274 306 383
---
Maketu Market
Every 3rd and 5th Sunday. Set up from 7am at Maketu Village Green. Phone Maureen 0212671685 or Lyn 021882059.
---
QUAKERS
invite you to explore your spiritual journey. Silent worship, refreshments, conversation. 10am N W cnr Cameron Road Elizabeth Street. All welcome. Ph 5433101. www.quakers.nz
---
Quarry Plant Sale
Te Puna Quarry Park, 10-2pm. Free entry. Plants, garden ideas & equipment. Bring cash for stalls
---
Self Help Book Discussion
Read & practise The Power of Focus by Ann Cornell. A practical guide to self-healing. Make positive changes in your life. Starts soon. Ph/text 0210 274 250
---
Struggling with Debt?
Free help to anyone in need, through our debt counseling team. A sustainable solution and real hope for the future. Ph Free 0508 227 111 or www.capnz.org
---
The Sociables
A group of males & females in their 30s/40s/50s that meet to participate in events, dining out or bushwalks. Ph 022 012 0376
---
The Treaty Of Waitangi
Dr Hirini Kaa will explore how, from its beginnings, Maori & Pakeha have had different responses to our founding document. 7pm. 1 Church St. www.stgeorgesgatepa.com
---
Underwater Hockey
Baywave Pool. Intermediate age & above. Gear provided & first 3 Have-a-go sessions free. 5-6pm Have-a-go & novice players. 6:15-7:45pm experienced players. https://www.sporty.co.nz/taurangauhc
---
Valentine's Day Concert
Fall in love with Simon ONeill, Jackie Clarke & Tim Beveridge with an unforgettable evening of music & entertainment. Baycourt 7:30pm. Ticket info at www.baycourt.co.nz