Writing about promotional (ad)ventures from Your Enabler Presents makes me think of a David Lynch movie. Blue Velvet, to be exact.
He was once called Tauranga Music Sux but changed the handle to Your Enabler Presents and used to organise gigs in the unlikeliest of places featuring the unlikeliest of bands.
It's those places that make me think of Blue Velvet, a film that suggests a stranger more unsettling parallel world lurking around any blind corner. Those gigs, multi-band explosions of hardcore indie music, happened in train tunnels and under bridges, just one wrong turn out of sight on a dark night...
But that's not what's happening now. With gigs downtown during the Jazz Festival and full-on alternative festivals at Totora Street, events from Your Enabler Presents have increasingly emerged from the shadows.
The most high-profile yet is next Saturday (February 27), at four venues across the Tauranga Historic Village from 3pm to midnight. Tickets are $60, available from Undertheradar.co.nz. It's the No Future Festival, with more than 30 bands converging on Tauranga from around the country. Let's examine some of them...
THE BANDS
One Auckland three-piece in particular seems filled with well-known names. But that is an illusion. They're called Repairs but their Martin Phillips is not of the Chills and their James Milne is not of Lawrence Arabia. But Martin is married to Nicola Edwards and they share a love of Shellac and Sonic Youth and she sings a bunch of energetic melodic sub-three minute alt-punk songs.
With so many somewhat obscure bands I asked the man behind the whole shebang for a few essential picks.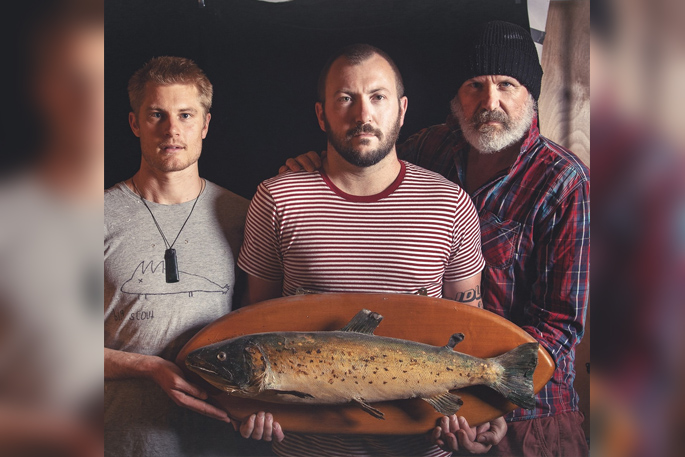 Big Scout.
He recommends Big Scout, travelling from Blenheim and claiming the title of official international headliners of the festival. They're another three-piece, who share a love of '80s post hardcore music, pro-wrestling and wine.
Yet another trio are all-female Auckland outfit Slumbug whose members come complete with nicknames: Jessica Paton ("Donny"), Lucy Katt ("Sassy") and Carla Tinsley ("Scruffy") play a fuzzed out homage to Black Sabbath-era stoner rock. Meanwhile, fellow Aucklanders Ripship are a two piece sci-fi psych-rock band who produced a six-song EP last year called Greebles, one of the strangest things I've ever heard. That is until I listened to Memory Foam.
Also from the City of Sails, Memory Foam have released one song, also called Memory Foam. Self-describing as a "big bunch of Noise", to me it was reminiscent of a radio stuck between stations. It's about as alarming a sound as you're likely to come across outside an abattoir and lasts for a brain-pummelling five minutes. Check Bandcamp if you dare...
LOCALS
Local bands include Hemordroid, with their driving bass lines, sharp staccato guitar riffs and hypnotic drum beats. Simon Fritchley (vocals/bass), Aaron Cutforth (guitar) and Simon Lee Mckenzie (drums) are what Your Enabler Presents describes as "the Tauranga equivalent of Helmet, Fugazi and a bunch of stoner doom bands I don't listen to because I am a functioning member of society." Fair enough.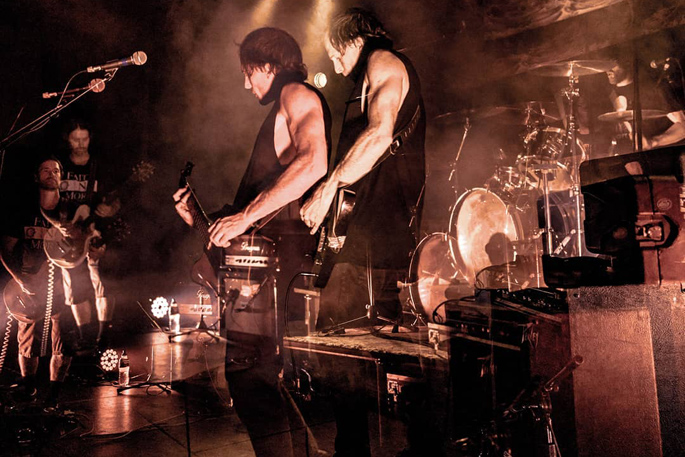 Hemordroid.
But the local band who I'd pick out as a "Must-See" is the now-legendary Threat.Meet.Protocol, a guitarless trio who combine wild keyboards with pulsating bass rhythms and who released a 3-track single on vinyl last October called Witch Trials. They followed up with a really impressive 13-date tour travelling from Auckland to Dunedin over the course of three weeks.
A video for the second song, Why, dropped last month, a live-style minimalist effort, contrasting with the video for the title track, a full-on horror movie extravaganza directed by local musician Edward Gain (Eddie and the Dreamers). Both songs are on YouTube and certainly merit a look.
OK. That's your guide to the No Future Festival. In the interest of completeness allow me to list the rest of the bands: Ayn Randy, Meganuns, Rat Dickz, Fieldings Best Dancers, Hellbent, Dhdfds, Deb5000, Nimbus, Oksun Ox, YdoubleR, Coffin Club, Soda Boyz, Jang, Eddie and the Dreamers, Spork, We Will Ride Fast, Kraus, Hardthrob, First Move, Mason Clinic, Half/Time, Jim Jones and the Peoples Temple, Prophet, Motive, Abysm, Sons of Soma, Two Skinner.