Te Wharekura o Mauao students have been rubbing shoulders with national Sevens players, learning a few life and game skills.
Around 40 Year 7 and 8 students took part in skills and drills with three All Black and Black Ferns Sevens players earlier this month as part of the Kiwi Can programme.
Black Ferns Sevens player Michaela Blyde says it is about having fun and teaching the kids not only the fundamentals of rugby, but any sport.
The Sevens players also role-played around teamwork and positive relationships to reinforce what the children have been learning through Kiwi Can.
"It's talking about positive relationships, friendships, communication and cooperation," says Michaela. "At this age it's crucial to get them to understand those values when it comes to building relationships as they grow older."
Jakob Pearson, 11, enjoyed the different games they played, which included tic tac toe and untangling a human knot. He says his favourite was when they partnered up and had to be the first to snatch the cone.
He learned about teamwork during the games, because they had to work together and talk as a group.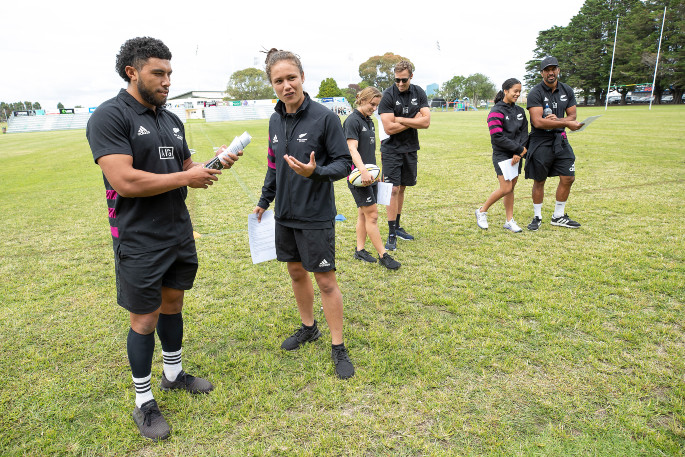 Kiwi Can leader Peter Tuhura hopes the Sevens players will inspire the students through seeing people of Maori or Pacific Island decent succeeding at a national level.
He says seeing what the children have learned in action reinforces the right messages.
"It's not only in the school - now they're it seeing outside of the classroom through the community, also through the people they see on TV," says Peter. "It makes it easier for us to teach and easier for them to apply in their lives too."
"Teaching them life skills and values through fun games and activities helps them to get a better understanding.
"We are really hands on. Being able to not only look and see, but to have hands on makes it easy to learn and apply in your own life.
"The aim is that the values and skills learnt through Kiwi Can are carried through the rest of the children's lives."
Kiwi Can leaders spend an hour at the Kura each week and focus on a different theme each term.
The Kiwi Can programme is run by the Graeme Dingle Foundation, and teaches five-to-12 year olds values, respect and resilience.