A Mount Maunganui fisherman is stunned after seeing a pod of orca in the harbour.
Koos Joubert was heading back to Sulphur Point after a rough morning of fishing, when he spotted the marine animals at around 9am Sunday.
As he was preparing to bring his jet ski back around Mauao and enter the harbour, he noticed something of a commotion.
"I went out fishing with one of my mates," says Koos. "The wind was terrible and the sea was rough, so we decided to come back earlier.
"On my way back from Motiti I noticed a boat looking at something. When I got closer I noticed a massive fin coming out of the water. Just then I realised it was the orcas."
Koos is a keen fisherman and spends a lot of his time on the water.
But in the two years he has been based in the Mount this is the first time he has encountered one of New Zealand's most enigmatic marine creatures.
Whilst orca are impressive animals the DOC do have some important advice regarding how people should interact with them if they come into contact.
Vessels should not be within 50m of a killer whale. No more than three vessels should be within 300m of any marine mammal.
DOC has advice on how to interact with orca in the water. Photo. Koos Joubert.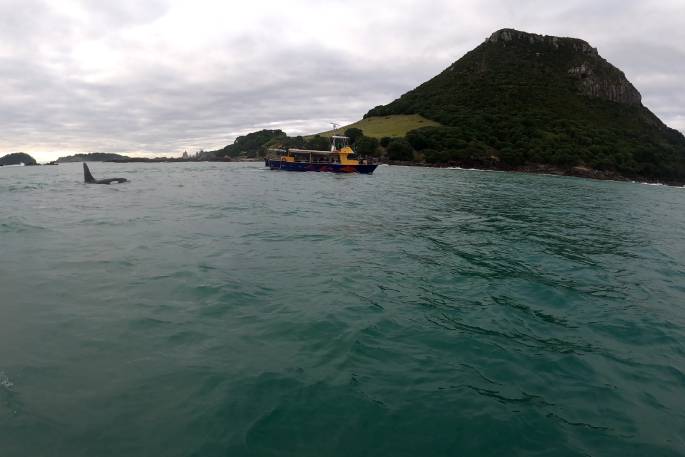 DOC has advice on how to interact with orca in the water. Photo. Koos Joubert.
Your vessel should approach orca from behind and to the side, do not circle them, obstruct their path or cut through any group.
Operate your boat slowly and quietly at 'no wake' speed when within 300m of a killer whale and you should avoid sudden noises that could startle the animals.
Koos believes there was anywhere between eight and 12 orca in the pod and was clearly left humbled by the encounter.
"This was an absolute amazing sighting," he says.
"Just watching them making their way across the ocean. The size of these orcas can't be explained to someone and photos and videos don't justify the reality."
Sightings of orca can be reported to the DOC by calling 0800 DOC HOT (0800 362 468), or by filling out an online form. Sightings are always of interest and help increase the DOC's knowledge of cetacean distribution and movements around New Zealand.