Good morning and welcome to Saturday. Ko te ra tenei i hanga e te Ariki. Ka koa tatou, ka koa hoki ki reira.
The MetService is forecasting a day that is cloudy at times, with a possible shower and northeasterlies.
It's a one-clothing-layer day with an expected high of 22 degrees, and an overnight low of 17 degrees. Low tide is at 12.49pm and high tide at 7.06pm. Sunset is at 7.17pm.
What's on today?
Calling all super heroes! It's time to dust off your masks and capes for the Waipuna Hospice walk/run to honour, remember, and celebrate the heroes in our lives. Head to Coronation Park for the 2021 Superhero Walk/Run from 9am – 12pm. The Walk/Run kicks off at 10am. Click here for more information.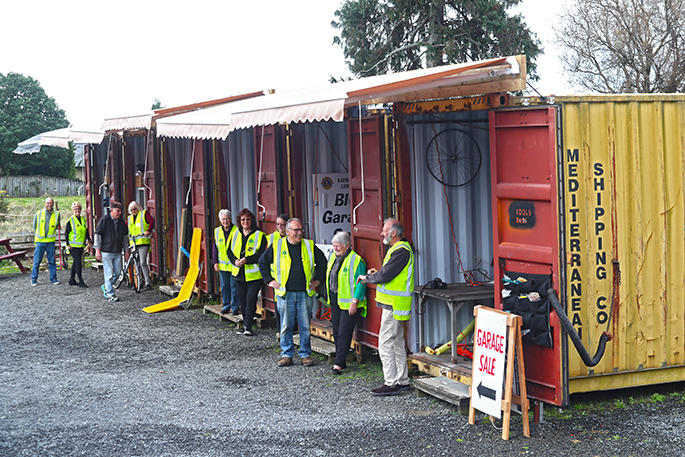 Katikati Lions monthly container garage sale is on this morning.
Katikati Lions are holding their popular monthly garage sale from 8am – 11am at the containers behind Caltex in Katikati. Come along, find lounge suits, beds and household goods while supporting local organisations.
The Tauranga Farmers Market is on from 7.45am - 12pm at Tauranga Primary School, 31 5th Ave.
At Greerton, the Greerton Hall Market is happening today from 8am – 12pm with stalls inside and outside the Greerton Hall.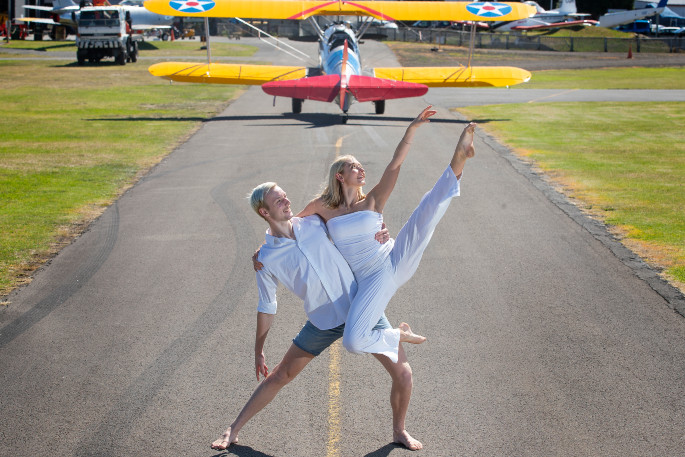 John Tetley-Jones and Tazmyn Newman from KJ Studios will be dancing a duo specifically choreographed for the event. Photo: John Borren/SunLive.
The Poppy Flight event at Classic Flyers, runs from 11am – 1.3pm with music from DJ Bob and plenty to do. Come and see the large knitted poppy and star that is being flown around NZ. Entry by gold coin donation includes a dance showcase by KJ Studios, fire engine rides, kids' activities including pedal planes, access to the Legacy Jet Hangar, Restoration Hangar 5, Torpedo Park play area and Avgas Cafe.
The two-day 2021 Healthvision Festival of Disability Sport runs today from 10am – 4pm at Trustpower Baypark. For more information click here
Come along to the Tauranga Historic Village drop-in session from 10am – 1pm to discuss the realignment of parts of the Kopurererua stream.
There is a Wander Dog walk planned for 10am at Jubilee Park, Te Puke. Come along for a sun and social dog walk around Te Ara Kahikatea Pathway. Everyone is welcome to this free event, organised by Western Bay of Plenty District Council.
Enjoy workshops at Re:Maker, with the community of makers, located at Our Place in Willow St. Click here for more information.
Come and see what skating is all about at Skatescool Tauranga. There will be performances by some of the competition squad followed by a roller disco. The event runs from 4pm – 6pm at Skatescool Tauranga, 2 Rozanne Place with friendly coaches, a café with hot food and drink, and skate hire available. Entry is by gold coin donation.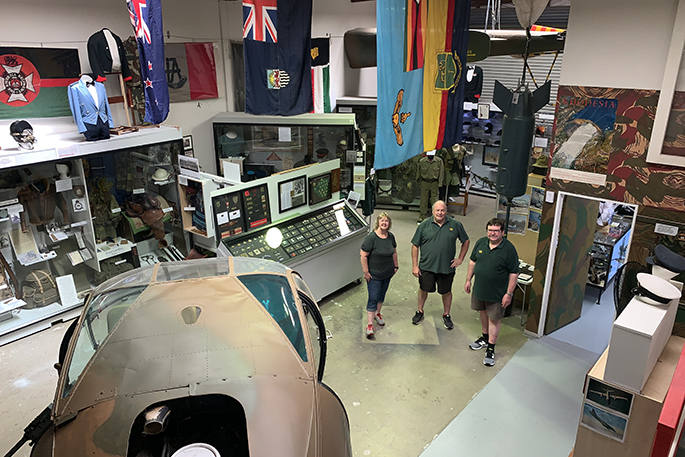 Diana Bomford, Tony Fraser and Hugh Bomford at the Lion and Tusk Museum at Mount Maunganui
Have you been to the Lion and Tusk Museum yet? It's open today from 10am - 3pm at Unit 4, 14 Portside Dr, Mount Maunganui. Come and see a massive display of Rhodesian military history records and exhibits of uniforms, medals and equipment. Opening hours are 10am – 3pm Thursday to Sunday. For more information click here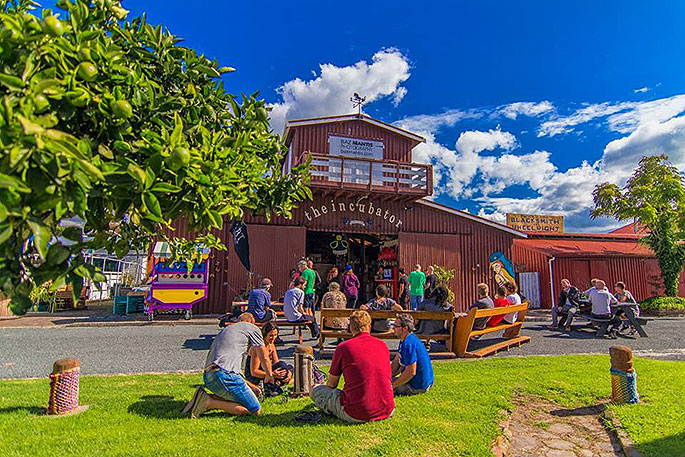 The Incubator
At The Incubator Creative Hub at Tauranga Historic Village, there are many exhibitions, workshops and events happening daily. For more information click here. Exhibition hours are 10am – 2.30pm.
A Course In Miracles
Are you stuck in past grievances & resentments? Get over it! Free internet forgiveness workshop that transforms your thinking from fear to love. https://jenniferhadley.com/how-get-over-it Text 0210 274 2502
---
Art Cold Wax Workshops
New art medium in NZ. Very popular overseas. Workshops at The Artery, Historic Village. Email kiwisuemac@gmail.com
---
Art In The Park
Original art for sale. Weather permitting. 9am-4pm. Coronation Park, Mt Maunganui. Tauranga Society of Artists
---
Association Croquet
At Club Mt Maunganui, Kawaka St. Mon, Wed, Sat; 9.15am for 9.30am start. Visitors, new players welcome. Ph. Jacqui 07 574 9232
---
Association Croquet
At Club Mount Maunganui, Kawaka St. Mon, Wed, Sat; 9:15am for 9:30am start. Visitors, new players welcome. Ph Jacqui 07 574 9232
---
Bay Singles Social Group
Join a bunch of over 50s young singles. Weekend dinners, pot-lucks, occasional outings. Have a go! Ph Delia 027 284 8762, Andrea 021 133 0313
---
Beth-El Messianic Family
Jews & Gentiles celebrating Messiah Yeshua (Jesus). He is returning. Be ready. You are welcome. Shabbat Shalom Otumoetai Primary @ 10am. Ph Joel 021 768 043
---
Car Boot Sale
Welcome Bay Community Church, 340 Welcome Bay Rd 8-11 am. $5 per stall. Sausage sizzle. Cancelled if wet.
---
Circus Circus
By Dance Avenue. Dancers from 2yrs plus! Jazz, ballet & tap dancers & the impressive acrobats will leave you wowed! Baycourt 6:30pm
---
Death Cafe
Grindz Cafe 1pm lively discussions on life, dying & death. Agenda free. Relaxed & friendly group of folk. taurangadeathcafe@gmail.com
---
Greerton Hall Market
Second and last saturday of each month. 8am-12pm. Stalls inside/outside. Discounts for charity groups. refreshments at kitchen. Phone/txt for site. Tricia 0754341487 or 0279082952. www.facebook.com/greertonhallmarket
---
Jigsaw Library St Stephens
St Stephen's church, Highmore Tce 10am-12pm. Choose from 500 puzzles. Hire for 50c or $1, for 2 weeks
---
Katikati Lions Garage Sale
8-11am Containers behind Caltex, Main Rd Katikati. Indoor & outdoor furniture, tools, electrical, books, golf clubs, bric-a-brac & more. Ph Arthur 021 663 603
---
LOL Laughter Wellness
We don't laugh because we're happy, we're happy because we laugh! Arataki Community Centre, Zambuk Way, 11-11:45am. No experience required. Koha. Ph Trish 022 036 6768 lollaughterwellness@gmail.com
---
Saturday Night Movie
Screening: Rams. $10. Doors open 6pm for 6:30pm screening at the Junction Theatre, 36 Main Rd, Katikati. Ph 07 549 1658
---
Struggling with Debt?
Free help to anyone in need, through our debt counseling team. A sustainable solution and real hope for the future. Ph Free 0508 227 111 or www.capnz.org
---
Synchronised Swimming
Friendly synchronised swimming club based at Baywave. Beginners train Sat mornings. First lesson free. Ph Jo 027 543 1697, www.taurangasynchro.co.nz, Facebook: @taurangasynchroNZ
---
Taoist Tai Chi Arts
Cultivating Balance. New beginning classes. Mon-Sat, Tauranga, Te Puke, Papamoa, Mt Maunganui, Katikati. www.taoisttaichi.org for schedule & times or ph 07 578 9116
---
Tauranga Farmers Market
7:45-12pm at Tauranga Primary School, 31 5th Ave. Rain, hail or shine. Direct from the producers. Support local.
---
Tauranga Housing Advocacy
Volunteers & advocates required. Training day 30th Mar 5:30pm. Ph Shard 07 571 6812 or email housingadvocacy@baywidecls.org.nz
---
Tauranga Militaria Show
Tauranga Arms & Militaria show at Greerton Hall. Today 9-4, Sunday 10-3. Adults $10. Children under 12 free.
---
Tauranga Scottish Society Sequence
Dance, Wesley Church Hall, 100 13th Ave, 7-10pm, $7 includes supper & raffle, warm welcome. Ph 07 218 1318
---
Tauranga Social Dance
7-10pm, Baptist Church 13th Ave, every 2nd Saturday of month. Ph Jan 576 3455
---
Te Puke Toy Library
Come check us out & hire some great toys to keep your kids busy! Wed 10am-1pm, Thurs 2:30pm-4:30pm, Fri 10am-1pm. Also Friday Playgroup 10am-12 & Sat 10am-1.
---
The DooDahs Birthday Tour
1pm, Mt College. Ages 3-8. Come join us & celebrate at a family show with our music, dancing & lots of laughs!
---
The Rvmes Band
Eclectic band weaving together Latin, Gypsy Jazz, Funk, Rock n Roll & Reggae. 7pm, Jam Factory, Historic Village, 17th Ave. Book @ www.theincubator.co.nz.
---
The Sociables
A group of males & females in their 30s/40s/50s that meet to participate in events, dining out or bushwalks. Ph 022 012 0376