Tonight, Tauranga's own Village Radio will be featured on Good Sorts, a TV1 News segment that has for ten years celebrated ordinary Kiwis doing something extraordinary.
The station at Tauranga Historic Village was visited by Haydn Jones from Good Sorts and Fair Go on Tuesday.
"We only learned two days ago that it will be on TV1 tonight," says Tauranga Village Radio Museum Inc Chairperson Brian Williams.
"We've been caught up with the jazz festival at the village. I wanted to let family know, went through my address book, saw SunLive and thought I must tell them too we're going to be on TV."
Haydn Jones talking to the listeners of Village Radio 1XT on Tuesday. Video: Tauranga Village Radio Facebook group.
Village Radio 1XT is on 1368AM and broadcasts from the second floor of the historic Town Board Building, at Tauranga Historic Village, 17th Avenue West, playing the nostalgic music of the 40s to 90s.
"Our role is to be a companion to people who are isolated in their homes whether they are old or have disabilities. We play music that suits people," says Brian.
There are about 120,000 tracks of music – LPs,45s,78s and CDs – some 50,000 titles and 10,000 artists - plenty to suit every type of musical preference.
"Haydn Jones was in touch with one of our staff about a year ago. Then about a week ago he got in touch to say he'd be here to see us. He was here at the radio station on Tuesday and it's going straight on TV tonight. He must have used up all his stock of stories."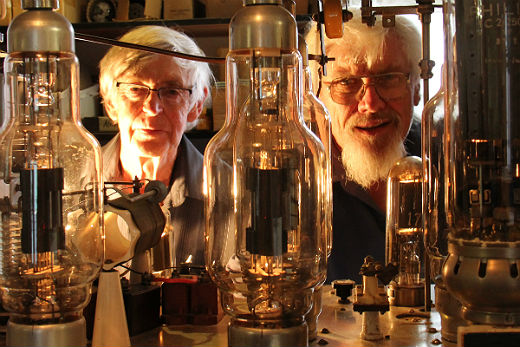 Village Radio technician and announcer George Stewart and chairman Steve Lambie in 2014 with the Collins High Fidelity Broadcast Transmitter built in 1936. Photo by Tracy Hardy.
Brian doesn't know if he'll be in the Good Sorts segment.
"We had two volunteers rostered on that day - Peter Donnelly and Kate Pollock - and they are very good for filming. I was only filmed for about a minute."
Brian says Haydn filmed six other people and was at the studio for three hours, during which time he auditioned to be an announcer for the station.
"We're always on the lookout for new announcers," says Brian. "Village Radio is always keen to bring in new people. We have enough announcers but not all the time – some become unwell and others go away on holiday in the motorhomes so it depletes our numbers.
"When Haydn finished interviewing he sat down and did a spiel through the microphone saying that it's Haydn Jones from Good Sorts and Fair Go, being auditioned for a job for Village Radio."
Brian thinks Hayden probably 'cut the mustard'.
"These days we are fortunate that most people we get as volunteers have a good musical knowledge."
On the day that Haydn spent time at the station, Brian was busy interviewing the Tauranga Jazz Festival manager Marc Anderson about the upcoming jazz weekend.
"Peter Donnelly and Kate Pollock were volunteering that day. Peter was the announcer, and Kate was looking after the control panel. We have a very ancient studio where very often an announcer will have someone there to move all the dials.
"Then their shift ended and Graeme Millow came in. Graeme can do it all himself because he plugs his laptop in. Our secretary Sheila Lacey was also interviewed. I think she told a bit of our history.
"Our station manager George Stewart told them a bit about the ancient Collins transmitter we have."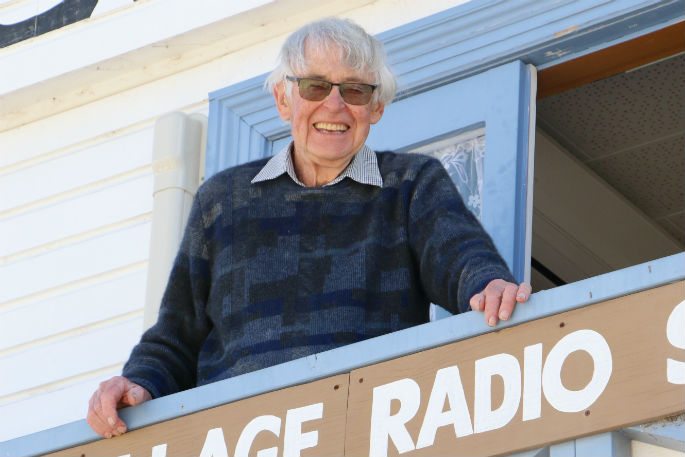 Station manager George Stewart outside the Village Radio.
Some of the equipment the Village Radio has was originally from Radio 1ZD, Tauranga, where it became surplus when they moved to a new location. The transmitter, loaned to the station from Radio New Zealand was the original 1ZB transmitter when it broadcasted from Waterview in Auckland. On January 5 2013 the 75-year-old Collins Transmitter went on air without a hitch.
The transmitter is only the second known to be operating in the world and was restored by Russ Bain, George Stewart and Neil Walsh, technicians at Village Radio. It has been out of action for over 13 years but has been painstakingly restored by the technicians and a grant from the Lotteries Commission. Village Radio continue to rely on it's more modern 1960s Toshiba value transmitter, leaving the Collins as a back-up and for special occasions.
"George Stewart may fire up our oldest transmitter, which is the oldest in the world, on April 13, our 37th birthday," says Brian. "It was built in the 1930s, in the USA. It still operates."
After chatting with George on Tuesday, Haydn interviewed Brian.
"Very briefly. He called me one-shot Brian. I may be on tonight, I don't know. I was just there putting gear together. I sat in the other studio because I was broadcasting in the afternoon for the jazz festival and doing interviews.
"It was done very quickly and we didn't expect it to be on for ages. But it's on tonight."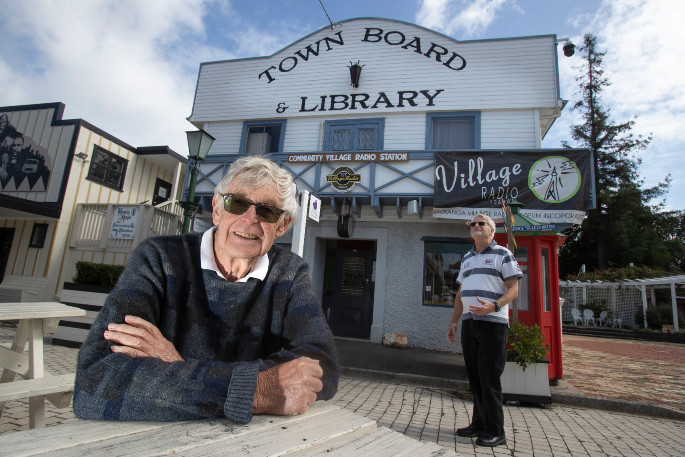 George Stewart and Brian Williams outside Village Radio in March 2020, just as the radio station was being closed during lockdown. Photo: John Borren.
Brian says when he joined the station about eight years ago, he thought he was there to help with the library.
"They sat me down at a desk and I was told to make up a list of music I could play."
He's been one of the station announcers ever since.
All the announcers, technicians and support staff at Village Radio are volunteers. The technical members maintain the equipment and operate the turntables and mixing panel whilst the announcers compile and present their own programmes based on the easy listening format of the 20s to the 90s, from recordings stored at Village Radio.
Each announcer compiles their own unique programme.
"Peter was probably playing a range of music from the 50s to the 70s that day Haydn was here," says Brian. "He's very good at alternating the music between different decades and genres. We play music for older listeners and Peter plays a very good range of various decades. He does a good programme."
Tauranga Village Radio Museum Inc is keen to hear from anyone who would like to help with announcing, panel work, technical support and the general running of the station.
The Good Sorts programme airs on TV One at approximately 6.55pm just before Country Calendar.
To learn more about Tauranga Village Radio Museum Inc visit the website www.villageradio.co.nz or email info@villageradio.co.nz