Good morning and welcome to Saturday. Ko te ra tenei i hanga e te Ariki. Ka koa tatou, ka koa hoki ki reira.
The MetService is forecasting a cloudy day with a few showers, turning to rain around midday, possibly heavy. Northeast becoming strong tonight.
It's a one-clothing-layer day with an expected high of 22 degrees, and an overnight low of 19 degrees. Low tide is at 12.05pm and high tide at 6.22pm. Sunset is at 5.56pm.
What's on today?
The Auto Extravaganza that was to be held in downtown Tauranga today has been cancelled due to high winds around The Strand waterfront.
The White Ferns take on Australia today in the third Rose Bowl ODI at Bay Oval, Blake Park from 2pm – 10pm. Entry is free.
Have you been to the Lion and Tusk Museum yet? It's open today from 10am - 3pm at Unit 4, 14 Portside Dr, Mount Maunganui. Come and see a massive display of Rhodesian military history records and exhibits of uniforms, medals and equipment. Opening hours are 10am – 3pm Thursday to Sunday. For more information click here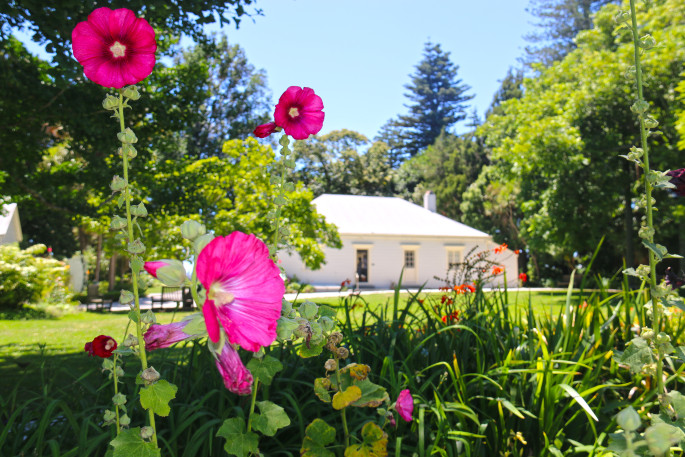 The Elms | Te Papa Tauranga. Photo: Rosalie Liddle Crawford.
The The Elms | Te Papa Tauranga in Mission St is open from 10am - 4pm. Come and view the Mission House and gardens. For more information click here
The NZ Symphony Orchestra is inviting the Tauranga community to come join them for free events today at Baycourt from 10.30am. Click here to find out more.
Head along to Baycourt Addision Theatre to hear the NZ Symphony Orchestra's concert 'Firebird' starting at 7.30pm. For more information click here
For more events visit My Tauranga.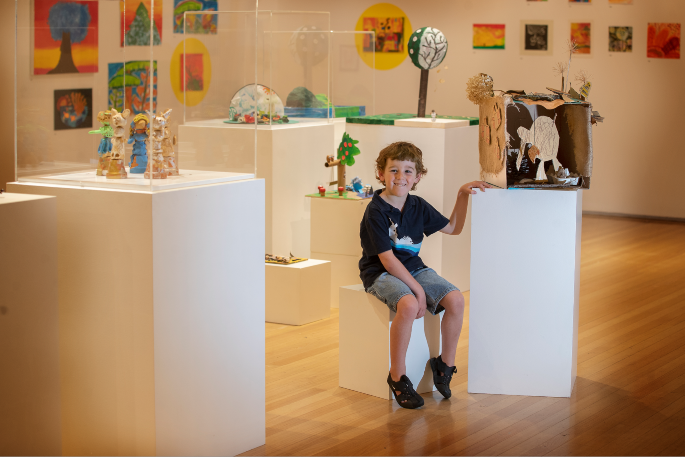 Kobe Jennings, 5, winner of the 'Innovative Use of Art Materials' award with his 'Insect and Bird House'. Photo: John Borren.
Take a walk through Tauranga Art Gallery and view the many exhibitions on display there this week, including the entries in the Acorn Foundation Youth Art Awards. The gallery, in Willow St, is open from 10am - 4pm.
Love public art? CITY ART WALK TAURANGA app is a free to download walking tour of 20 public artworks in Tauranga's city centre. For more information click here
Enjoy workshops at Re:Maker, with the community of makers, located at Our Place in Willow St. Click here for more information.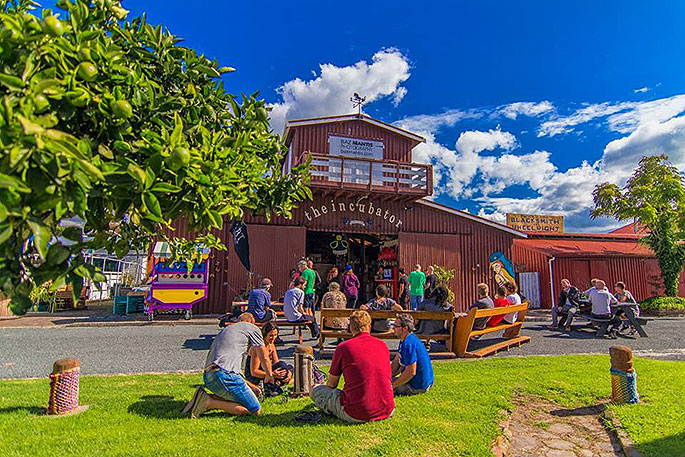 The Incubator
At The Incubator Creative Hub at Tauranga Historic Village, there are many exhibitions, workshops and events happening daily. For more information click here. Exhibition hours are 10am – 2.30pm.

Andrew Fagan Concert
Ex Mockers Fagan & The People performing his laconic social commentary classics. 7pm, Jam Factory, Historic Village, 17th Ave. Book @ www.theincubator.co.nz
---
Art Cold Wax Workshops
New art medium in NZ. Very popular overseas. Workshops at The Artery, Historic Village. Email kiwisuemac@gmail.com
---
Art In The Park
Original art for sale. Weather permitting. 9am-4pm. Coronation Park, Mt Maunganui. Tauranga Society of Artists
---
Association Croquet
At Club Mount Maunganui, Kawaka St. Mon, Wed, Sat; 9:15am for 9:30am start. Visitors, new players welcome. Ph Jacqui 07 574 9232
---
Bay Singles Social Group
Join a bunch of over 50s young singles. Weekend dinners, pot-lucks, occasional outings. Have a go! Ph Delia 027 284 8762, Andrea 021 133 0313
---
Beth-El Messianic Family
Jews & Gentiles celebrating Messiah Yeshua (Jesus). He is returning. Be ready. You are welcome. Shabbat Shalom Otumoetai Primary @ 10am. Ph Joel 021 768 043
---
Dinner With Meng Foon
Wed 14th 6pm, Meng Foon speaking on race relations in NZ along with a panel of local dignitaries. 3-course dinner $45 Tickets from House of Travel. Ph 027 284 9738
---
Firebird
Igor Stravinsky's music continues to provoke & entertain. Composed in 1910, The Firebird has profoundly stirred listeners ever since. Presented by NZSO. Baycourt 7:30pm
---
Genealogy Informal Group
Help given for researching your ancestry & family tree. 1:30pm, hall behind Brain Watkins House, 233 Cameron Rd. Ph Janet 576 8835 a/h
---
Healing Optimal EFT
Learn how to heal your mind & body using the Unseen Therapist within you. Free e-booklet describes this proven process. https://www.emofree.com/unseen-therapist Text 0210 274 2502
---
Invitation To Meditate
Follow your own meditation practice with friends in 1 hour of silence. 10am-12 in hall behind Brain Watkins House, 233 Cameron Rd. Refreshments. All welcome. Txt 0210 274 2502
---
Jigsaw Library St Stephens
St Stephen's church, Highmore Tce 10am-12pm. Choose from 500 puzzles. Hire for 50c or $1, for 2 weeks
---
Katikati Lions Moggies Market
8am-12, War Memorial Hall, Main Rd Katikati. Plants, veges crafts, books, sausage sizzle, reading corner 10-11, face painting Ph Sharon 022 318 0196
---
Katikati Tramping Club
Thompson's Track to Nth/Sth Track to Upland Rd. Moderate plus 7Hours, 8am start. Ph Geoff 0272 457 632
---
LOL Laughter Wellness
We don't laugh because we're happy, we're happy because we laugh! Arataki Community Centre, Zambuk Way, 11-11:45am. No experience required. Koha. Ph Trish 022 036 6768 lollaughterwellness@gmail.com
---
Otumoetai Tennis Club
Adult tennis. Start 1.30pm. Bellevue Park Windsor Road (adjacent to swimming pool). New players and visitors welcome. Ph Victor 0275771818 a/hrs.
---
Outdoor Bowls Women's Pairs
Come to watch 28 teams of competitive women playing bowls. 9am, Bowls Tauranga South, Tutchen St. Post section play on Sunday.
---
Outdoor Bowls Women's Pairs
Come to Tauranga South Bowling Club, Tutchen St. Watch 28 teams of competitive women playing bowls. 9am today & Sunday
---
Play Petanque
Join us for serious fun, Sat 1-4pm, Tues 1-4pm & Thurs 11am. Equipment supplied, 45 Kawaka St, Mt. Ph 022 070 8200
---
Saturday Movie
Screening: What We Do in the Shadows. Junction Theatre, 36 Main Rd, Katikati. Doors open at 6pm for 6:30pm. $10. Ph 07 549 1658
---
Sharing the Gospel Seminar
Need to learn how to share the gospel? 9:30am-1pm Mt Bible Chapel Monowai St, Mt. Ph Len 021 230 2210
---
Struggling with Debt?
Free help to anyone in need, through our debt counseling team. A sustainable solution and real hope for the future. Ph Free 0508 227 111 or www.capnz.org
---
Synchronised Swimming
Friendly synchronised swimming club based at Baywave. Beginners train Sat mornings. First lesson free. Ph Jo 027 543 1697, www.taurangasynchro.co.nz, Facebook: @taurangasynchroNZ
---
Tauranga Country Music Club
1pm, Senior Citizens Hall, Norris St, Tauranga. Members a plate please. Ph Merv 571 6716
---
Tauranga Farmers Market
7:45-12pm at Tauranga Primary School, 31 5th Ave. Rain, hail or shine. Direct from the producers. Support local.
---
Tauranga Social Dance
7-10pm, Baptist Church 13th Ave. Ph Jan 576 3455
---
Tauranga Social Dance
7-10pm, Baptist Church 13th Ave, every 2nd Saturday of month. Ph Jan 576 3455
---
Te Puke Scottish Society
Memorial Hall, Jellicoe St, Sat 17th 7-10:30pm. Great music, light supper, raffles. Enjoy old fashioned dancing, $7. Valerie 573 7093
---
Te Puke Toy Library
Come check us out & hire some great toys to keep your kids busy! Wed 10am-1pm, Thurs 2:30pm-4:30pm, Fri 10am-1pm. Also Friday Playgroup 10am-12 & Sat 10am-1.
---
The Sociables
A group of males & females in their 30s/40s/50s that meet to participate in events, dining out or bushwalks. Ph 022 012 0376
---
Well-Being For Women
You're invited to join a conversation on the health & well-being of women today. 12:30-3pm. Ph Ingrid 021 952 690