This week let's have a look at next week.
Live music continues apace. I've picked out three very different gigs of interest, one leaning Celtic, an international rock show, and a heaping helping of Indian music. Variety being the spice of life this seems a particularly well-seasoned column...
Let's take these chronologically: next Friday you might decide to head to Katikati where this month Katikati Folk Club hosts The Whittakers, a local band who released a debut album a year or so back and have been active round the area recently at the Barrel Room, the Farmer's Market and more.
This is their first visit to the Folk Club where they'll be performing at the Arts Junction Theatre on Friday, April 23.
I've heard several stories about these guys, including word from musicians that one of the band rituals is to bake a cake for every rehearsal. That certainly makes a change from the more usual refreshments I've come across at musical gatherings.
Since the album the band have downsized, losing their drummer and continuing as a four piece, with a switch by bass player Dave Williams from electric to upright. The rest of The Whittakers comprises singer and mandolin player Mitz Amores, who originally hails from the Philippines - providing an extra strand to their music – singer/guitarist/songwriter Richard Grautstuck, and their not-so-secret weapon, multi-instrumentalist Robbie Laven who contributes fiddle, guitar, banjo, whistle and no doubt more besides.
Their music revolves round Celtic sounds but dips into influences from the Philippines, Nashville, Louisiana, Italy and Brazil as well as Richard's own songs. Doors - 7pm, concert – 7.30pm; tickets at the door only - adults $20, members $15, kids free. Tea, coffee, cheese and biscuits at half time, bar in the foyer.
THE VEILS
That same night a little ways down the coast some big international visitors are hauling into town. The Veils are the brainchild of Finn Andrews, an English musician and son of the famed Barry Andrews, once of XTC, currently with Shriekback. They last visited New Zealand in 2017.
Finn was born in London but spent his teenage years at high school in Auckland playing in a bunch of bands. When he was 16, a set of demos he sent to record companies created a stir and led to invitations for him to return to the UK and make a record. Thus were The Veils born.
They recorded five albums between their 2004 debut and 2016, and on this tour present the first ever live performance of their legendary sophomore album Nux Vomica. The album was originally recorded in Los Angeles with producer Nick Launay and has acquired somewhat iconic status since its release on Rough Trade Records in 2006.
For fans, it may not be the Veils you recognise: due to ongoing COVID-19 travel restrictions the band will consist of a new line-up, old and new, throwing a few more Kiwis into the mix, including Finn Andrews, Dan Raishbrook, Liam Gerrard, Dave Khan, Cass Basil and Joe McCallum.
Tickets are $50 and can be obtained via Eventfinda.co.nz; things happen around 8.30pm.
RHYTHM & RAGA
The next night (Saturday 24) there is something equally eclectic at the Historic Village's Jam Factory: an evening of Indian music and poetry.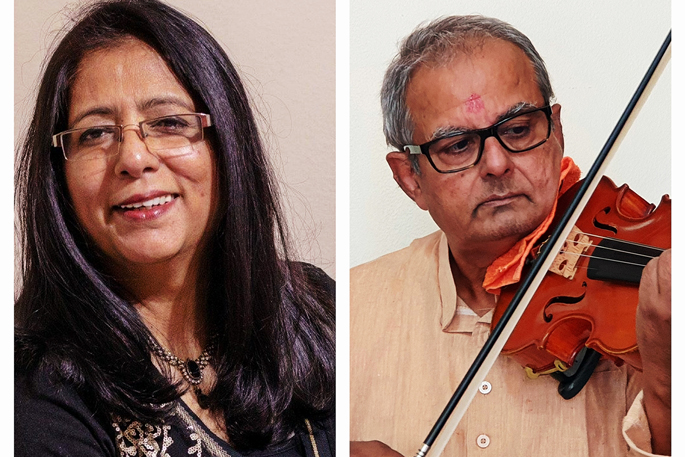 There'll be a medley of Indian Semi-Classical Music (Tagore Songs) by Kutu Mukherjee and a recital of Tagores's poems in English, but the highlight of the night will be a presentation of Indian classical music by Dr Chintamani Rath (violin), accompanied on tabla by well-known percussionist Sanjay Dixit.
Dr Chintamani Rath has performed for audiences all across India and around the world. His recitals are marked by uncompromising adherence to tradition and he is noted for his bold expression and brilliant creativity. He also researches ancient music treatises, writes about music and teaches.
Mr Dixit is a well-known tabla player from Wellington and will accompany both Dr Rath and Mrs Mukherjee. Things happen at 7pm, tickets are $20 from EventsPronto (or maybe the door).