When Donny McCaskie played his 100th game of rugby for Manawatu, there wasn't a hint of it in the newspaper report of 1967.
The halfback, who died in Tauranga last week aged 83, emerged from Rangiwahia in the northern Manawatu high country and became Manawatu's first centurion when they downed Marlborough at Blenheim.
Times were different then for Manawatu Evening Standard sports editor John Mancer.
Record-keeping of games played wasn't reliable. McCaskie also has three games for Manawatu-Horowhenua, against France in 1961, the 1965 Springboks and the 1966 British Lions.
Even when he played his 101st and last game for Manawatu, against Whanganui, there was no inkling of the milestone. Since then ten others have brought up the ton and been much feted for it.
The only other deceased centurion is lock Murray Rosenbrook who died too early at the age of 37 after playing 111 games.
Few of McCaskie's fellow players are around to testify to his prowess. Those who are such as fellow Oroua stalwart, Kevin Nesdale, suggest their man might have gone further had he been with a stronger outfit than Manawatu.
Late All Black Sam Strahan rated McCaskie as the equal of his generation of halfbacks who included renowned All Blacks Kevin Briscoe and Roger Urbahn, and later Chris Laidlaw and Sid Going, while one of the selectors was Manawatu's Jack Finlay.
Like so many halfbacks, the quick-witted McCaskie could get under the skin of opponents, and Nesdale remembered he could be ''a cheeky little coot'' and ''a bit of a larrikin''.
The usually calm Brian Lochore told me once that when playing for Wairarapa he'd had enough of McCaskie's yapping, so he leant through the lineout and told McCaskie if he didn't shut his trap, he would do it for him.
They played at a time when the ball could be kicked into touch from anywhere, and it was said if McCaskie didn't kick and gain five metres or so, the first five-eighth Jimmy Taitoko would.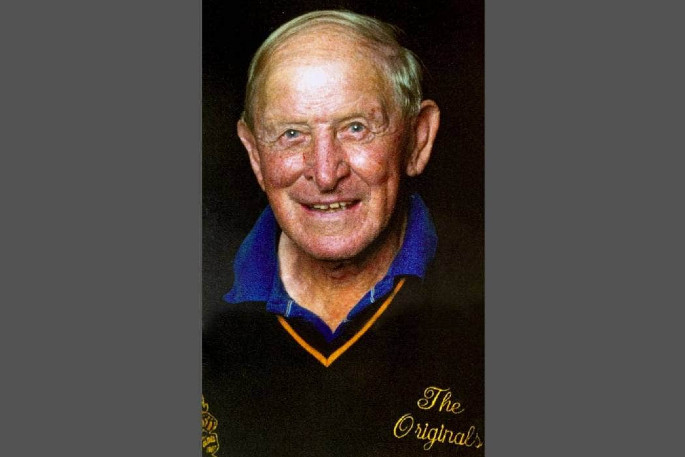 Donny McCaskie played 101 games for Manawatu in an era when there was little awareness and acknowledgement for such milestones. Photo: Supplied.
In McCaskie's 100th match, against Marlborough, Mancer reported there were ''49 lineouts'' and wrote, ''the halfback and captain McCaskie played a great game. Fully protected by his forwards, he was a fast and furtive runner from the base of the scrum and was dangerous near the goal line.''
He could turn around and kick over his head in the old style.
Donny McCaskie played 101 games for Manawatu in an era when there was little awareness and acknowledgement for such milestones.
His father Archie was an immigrant from north of the Scottish borders. He became a village farmer in Rangiwahia, grazing a few sheep and milking a few cows before taking the milk to the town's dairy factory. He also drove the school bus and was a trucking contractor.
Donny's mother died when he was seven, so he was raised by his stepmother before attending Feilding Agricultural High School.
He was the last Rangiwahia publican – even after the hotel burned down. When he was out with a knee cartilage injury, a hut was towed across the road from the pub, the licence went with it and Donny was temporarily ensconced as the licence holder.
He started his rugby with Rangiwahia until the Oroua sub-union morphed into the Oroua club which boasted six Nesdales, three in the front row alone in the club's golden era. Thus, McCaskie was well protected but he still cajoled them to work harder.
Nesdale recalled his trademark dive passing, especially out of the mud.
He got on well with referees who would call him by his name. When Oroua played Marist one day, a Marist player drop-kicked a goal, the ref didn't see it and asked ''Donny'' if it had gone over.
''No'' he replied, and the droppie was ruled out.
During a battle royal against Hawke's Bay, an angry referee told McCaskie if he didn't put the ball in quickly he would be penalised.
McCaskie flicked the ball at the ref and said: ''Here, you try; there's no room in the scrum for that ball."
He played his first game for Manawatu when he was 17, in 1956, and for 12 seasons owned the jersey.
Off the field he later bought his dream farm he named Panic Station – it was only 10 acres. He went on to be a stock agent in Kimbolton and later in Feilding.
In 1989 after coaching Oroua, he and Garth Thelin coached the Manawatu team to a fine record only to be sacked by the Manawatu Rugby Union in what is still widely regarded as a gross injustice.
Later he retired to Mt Maunganui and joined the Omanu Golf Club, getting down to an 11 handicap.
He was also a mentor to Joe Schmidt and Hurricanes coach Jason Holland.
Manawatu's centurions: 145 games Gary Knight; 128 Ken Granger; 117 Geoff Old; 111 Murray Rosenbrook; 110 Mark Donaldson, Rob Foreman; 108 Bruce Hemara; 107 Kevin Eveleigh; 106 Perry Harris; 104 Nick Crosswell; 101 Donny McCaskie.