A team of scooter riders are currently travelling from Cape Reinga to Bluff in an effort to raise $200,000 for the Mental Health Foundation.
Riding mainly Vespa scooters, which are by no means designed for long journeys, the Motorally Aotearoa 2021 is anticipated to take 10 days and will probably come with its fair share of breakdowns and sore bums.
Rally organiser Perry Sansom chatted with RNZ as the team stop for breakfast in Sanson, west of Palmerston North, to see how it's all going.
Sansom says a group of 16, 13 on scooters and three people travelling in a support van, are taking part.
He got the idea, after buying a new Vespa which he describes as "a superb machine but it is designed for city commuting and cobbled roads in Italy".
However, they are all riding on the most powerful model so the Vespas are capable of cruising along at 100km/h.
The reaction from fellow New Zealanders has been enthusiastic, he says.
"It's just been great - we've had such incredible support with people tooting horns as we fly past them.
"The team is great - we're all connected heavily of course now ...we're all on this journey to get closer to this issue, have the conversation."
He says everybody who is taking part has their own reasons but they all "connected easily" with the issue of mental health.
Westpac ambassadors Sir John Kirwan and Willie Apiata joined the rally for a day "which was fabulous".
Sansom says while statistics show 50 percent of New Zealanders will be touched by the issue of mental health at some stage during their lifetime he believes it may actually affect the entire population.
"Everybody's got a story."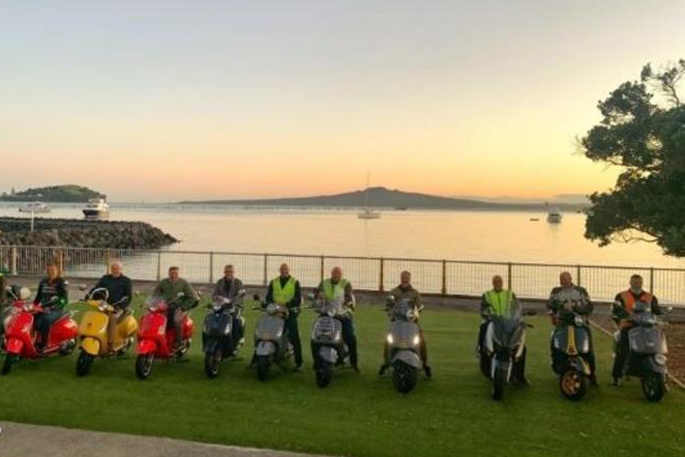 Supplied photo.
The initial aim was to raise $100,000 but "the generosity's been extraordinary" and the fund is already standing at $190,000 with the possibility of $200,000 by the time they reach Bluff.
The team will arrive in the South Island tonight and will overnight in Picton before setting off on the second half of the rally.
He says the way the country funds mental health support should be separated from spending on physical health needs because our stats are "probably the worst in the developed world".
Their chosen charity, the Mental Health Foundation, provides a massive amount of resources to support people and organisations.
"The money we're raising goes towards, as an example, putting documentation or support information into schools ...it is a lot of money and we're very grateful [to donors]."
The rally plans to reach Bluff on Anzac Day.