Showing that New Zealand can compete on a global stage, the House of Science Tauranga Robotics Club pulled off a Division win in the 2021 VEX Robotics World Championships.
The team won the Engineering B Division and an Innovation Award.
The team, made up of Mount Maunganui College students Sam Orsler, Ryan Kayser and Luca Ririnui, earned their place in the first Live Remote World Championships by competing against 60 teams in the NZ National Championships.
During the national contest, they won both the Excellence and Robot Skills Champion awards.
They designed, built and programmed their own robot to compete in a three-dimensional TicTacToe game, which involved removing and placing balls throughout a physical playing field.
The team then partnered with an all-girl robotics team from California to win one of six Middle School divisions, before losing to the eventual world champions in inter-division playoffs.
Despite the virtual teamwork required, Sam says "communication with our alliance partner was really important. Being able to live video chat with them before matches allowed us to formulate a strategy to do our best".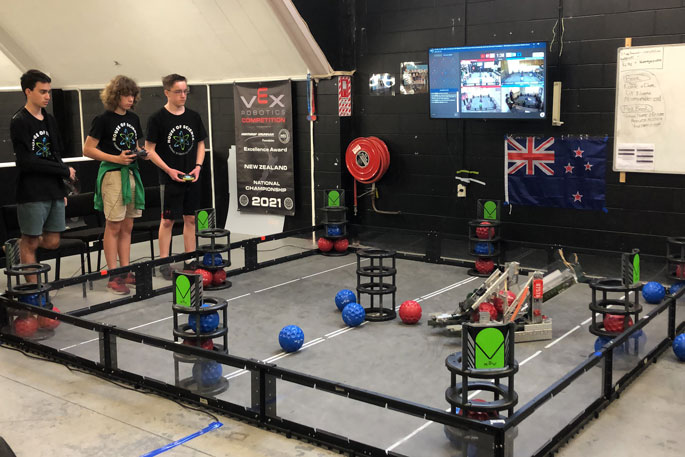 Gaining the Innovate Award is a crowning achievement for the team, having initially built their robot based on the live events held in New Zealand, as opposed to international teams being familiar with live remote contests due to stricter Covid regulations.
Spending five hours per week building robots and volunteering time with the House of Science robotics class, the team made weekly entries into a Design notebook, and improved their robot continuously through trial and error.
The quality of the robot, combined with their notebook, helped them secure their Innovate Award win.
The team have already started planning for the 2022 competition season, with the next contest called "Tipping Point" and being based off a backyard ring toss game with additional challenges.
"It is a shame we have to dismantle our robot but doing well on the world stage has given us confidence we can build another competitive robot," says Sam.
"Hopefully, next year's world event will be in-person rather than remote."