A spring storm next week is being forecast to bring wintry weather to some southern parts of NZ.
WeatherWatch.co.nz says it will also bring severe gales and heavy rain into both islands for a time.
"Rain associated with an active cold front will approach from the Tasman Sea and reach Fiordland on Sunday," says a statement released by the weather organisation.
"Rain will intensify and spread into the West Coast on Monday as well as strong northwesterly winds."
The storm will expand across New Zealand on Tuesday - parked off the east coast of the South Island, says the weather organisation
"Rainfall amounts are likely to 80-100 mm across the West Coast and Fiordland on Monday, with 50-80 mm in the east & lower North Island, also the upper South Island on Tuesday.
"Mountain areas of the South Island will receive snowfall of 15-20 cm from Monday to Tuesday.
"A few lower snow flurries are possible but not likely to settle or be too heavy."
Severe gales with possible damaging wind gusts of 80km/h to locally 100km/h are expected across the lower North Island and the upper South Island on Monday.
Southerly gales are possible in the eastern South Island on Tuesday in coastal areas in particular - but they look more likely in the Chatham Islands with severe gales possible there.
"Temperatures will be above to well above normal across New Zealand through to, and covering, Monday while some portions, especially the eastern side of the country, will experience cooler than normal nighttime temperatures from Sunday onward.
"Temperatures will then plunge significantly into much below normal from Tuesday with single digit highs across the lower South Island and single digital overnight lows across much of New Zealand.
"Minimum temperatures will drop to near freezing in some portions of the lower South Island."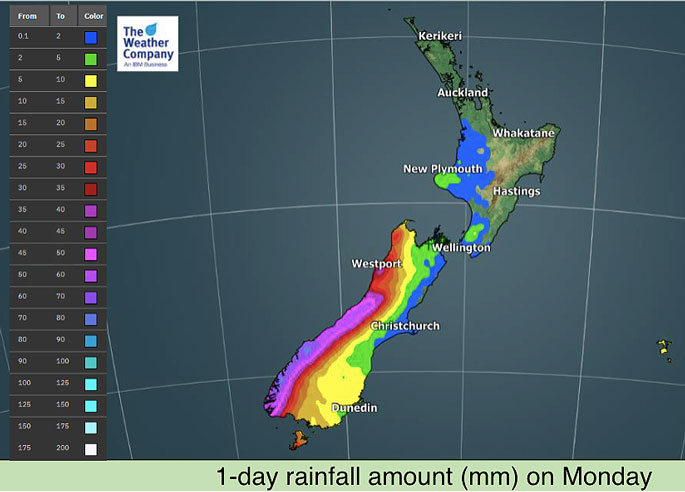 Images: WeatherWatch.co.nz