Despite not coming from a particularly horsey family, Joanna Frendrup started riding at around five years old. Now the Matamata 12-year-old has found her niche in riding world and enjoys competing in distance riding.
"When I was seven, we found Kiri at Navajo Horse Riding Adventures, and then I got to try all sorts of riding," says Joanna.
After trying showjumping, and not enjoying it because she didn't have the "correct posture or confidence", Kiri suggested she tried Cowboy Challenge with Gypsy, a 22-year-old, quarter horse.
"We practiced and came second in a leading rein class, with Kiri leading me."
In 2017, Joanna progressed to riding alone in the youth division and tried some Cowboy Challenges on another of Kiri's horses, a 16-year-old red dunn, quarter horse cross, called Elsie.
"We didn't do very well, Elsie was very hesitant at the obstacles, and I didn't have the confidence to ride her through them."
Joanna was introduced to distance riding in 2019 when she met seasoned distance rider, Natasha Guest, who regularly competes in the Distance Riding New Zealand circuit.
"She offered to accompany me on a 16km distance ride at Pukeatua, and Elsie and I loved it!
"Soon after we did 30km, which we won, and let's say, Elsie has a lot of gas in the tank!"
The pair clocked up their 250km badge together.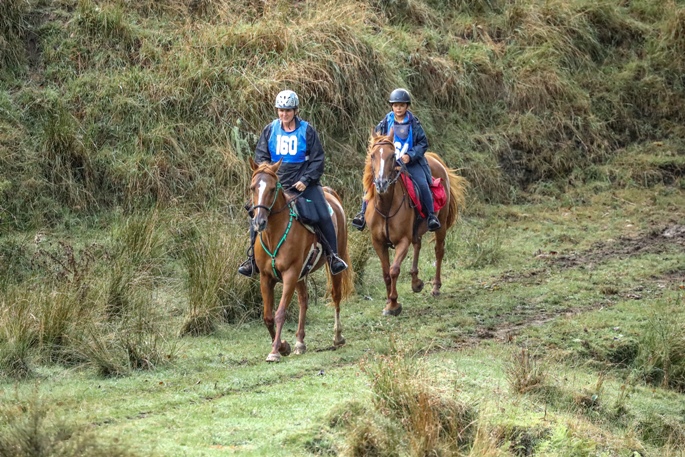 Distance rider Natasha Guest, left, with Joanna Frendrup riding Elsie from Navajo Horse Riding Adventures. Photo: Kerry Rowe Photography.
Riding distance
Distance riding is a discipline where riders have a set amount of time to complete a distance, but must finish with their horse's heart rate at or under 64 bpm. The winner is the combination with the lowest heart rates, lag times and time faults.
The 2020 season was able to go ahead after the Covid-19 lockdown.
Joanna says distance riding has really helped her gain a lot of confidence, but Elsie is a little bit too old. To match her aspirations for riding longer distances, she now rides Jade, a 10-year-old, red dunn, quarter horse.
With Natasha as a mentor, plus Kiri's training and kind sponsorship by letting her use Jade as her own dedicated horse, Joanna is going from strength to strength.
"We even tried some show jumping again, competing in 50, 70 and 80 centimetre classes.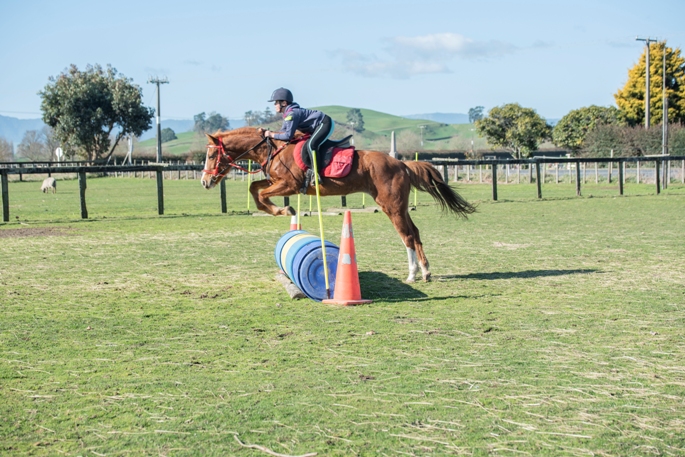 Joanna Frendrup, 12, with Jade whose jumping exceeds expectation. Photo: Catherine Fry.
"Jade is one in a million, and she exceeded what was required."
She describes Jade as a bit cheeky, sometimes showing off like a prancing show pony.
"She's got some attitude, and everyone says I have too, so we're well-matched!"
Joanna aims to acquire her 250km badge with Jade, and has plans in 2022 to complete a 60km ride split into 20km a day over three days.
Putting in the hours
To prepare for these longer events, Joanna rides four evenings a week after school, and then either rides or competes at the weekends.
"As the horse does the main work in distance riding, we have to build their fitness up and get them used to distance."
Kiri has an 800m training track, and Joanna rides Jade four times around each way, several times a week.
"We mainly walk and trot, but sometimes sneak in a canter."
Joanna's goal is to compete in a 120km distance ride in 2024.
"It takes three years to train a horse to complete a distance like that, so Jade and I are building up to it."
There is no shortage of experienced, older riders happy to chaperone Joanna on distance rides. Joanna has been all over the region, enjoying riding on beaches, in the bush, and through scenery inaccessible by road.
Distance riding is fast becoming a popular sport in New Zealand.