Luiz Rafael Vasconcelos was one of about 30 protestors standing at the corner of Golf Road and Maunganui Road yesterday afternoon to make their feelings known about the cul-de-sac plan, which is currently being trialled until mid-December.
"I just got my notice from two flatmates now because they do not want to live in this situation," says Luiz.
"Everyday is now a 5km detour and in rush hour it takes another 30 minutes now to be back at my door."
The cul-de-sac trial, which came into play on Monday, November 15, was adopted by Tauranga City Council as a means to improve safety, largely for pedestrian and bike-using school children along Links Ave.
However, some residents have opposed the move, saying it will not adequately address safety concerns whilst adding significant travel time along alternative routes, Oceanbeach Road and Maunganui Road.
Other knock-on effects are now coming to the fore, as detailed by Luiz.
He says he invested an extra $100,000 to buy a property at his current location, a block along Maunganui Road, due to the easy access it offered him for work and his lifestyle.
He now faces a detour as his route of using Spur Avenue to return onto Links Avenue will be blocked by any future cul-de-sac.
"I paid $100,000 more to live in this area, even with the traffic noise, because I wanted to have easy access to the things that are important to me," says Luiz.
"It was one of the main reasons why I live here and now that is gone."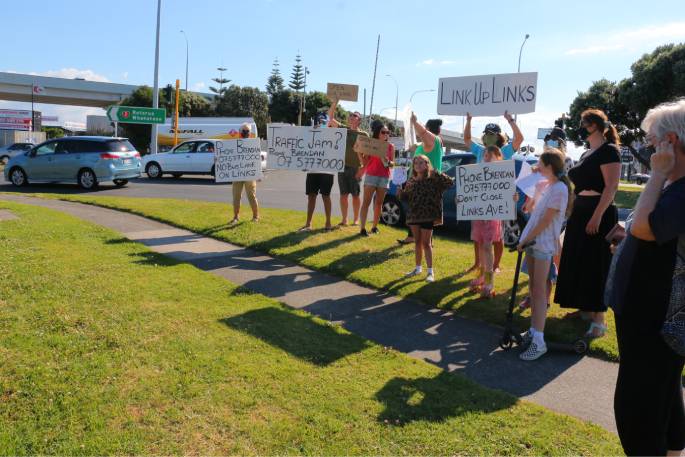 Protestors against the Links Ave cul-de-sac at the corner of Golf Road and Maunganui Road.
Luiz says he no longer has valuable spare time in the mornings to do the things he loves - such as surfing or going to the Mount - which were key factors in why he purchased his current property.
He is not alone on this issue.
"My neighbour works 12 hours a day," says Luiz.
"Now he is not able to come home at lunch to see the kids. He just sees them during the weekends now because when he gets back from work they are not awake anymore.
"It is just so bad for everyone. It is making life so much worse. It is getting terrible."
Two of Luiz's flatmates, who contribute toward mortgage payments, have informed him they plan to leave because of the cul-de-sac. Luiz says the stress is having a detrimental impact on his mental wellbeing.
"Life has now changed completely," he explains.
"I rely on my flatmates and that is now in danger. It is not good for our mental health.
"It is going to be so hard to find people that want to be in this situation. It is so stressful. With Covid and everything we are dealing with hard times already so it is just one more thing. We should not be here in this place."
Dozens of motorists passing by the protest showed their support on Friday afternoon, with many tooting their horns and shouting encouragement from vehicle windows.
Nearly all the protestors present wore masks and remained in their personal bubbles.
Teri Logie, who helped organise the protest, was pleased with the turnout.
"I was pleased with the amount of people we reached," she says.
"They were stuck in traffic jams right in front of us, it was a great position with four different flows of traffic. All slow, all backed up."
Teri is one of many opposed to the Links Ave cul-de-sac who believe the best solution to make the road safer would be to remove the bus lane currently in place.
Council says the bus lane cannot be removed due to the large amount of residents who rely on them for transport, something Teri disputes.
"We all saw the empty buses going past," she says.
Chris Cooper, another local resident, believes the solution has not sorted the problem.
"It has had a big impact on travel times and has made it less safe off of Links Ave," he says, pointing out the increased traffic on other roads and the lack of passengers on passing by buses.
Papamoa Residents and Ratepayers Association chairman Philip Brown and Mount Maunganui Residents, Ratepayers and Retailers Association president Mike O'Neill were also at the protest. They believe this is just the start.
"It is going to be bigger and bolder," says Philip.
"People are getting used to the idea of protesting this but they shouldn't have to. Common sense says you talk before you do things like this."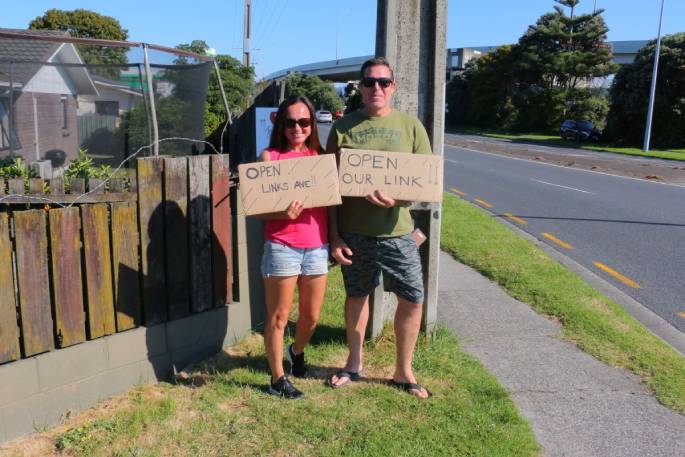 Chris Cooper and Vanessa Nikora are opposed to the move.
He says it is illogical to close off one of the main arterial routes into central Tauranga whilst construction is still underway on the Baypark to Bayfair Link.
He also has an issue with the length of the trial.
"I don't understand why it has to be five weeks," he says.
"That seems like persecution to the public. You blocked the road off, the traffic has gone somewhere and blocked that off. You must have that data already."
Mike is disappointed, but not surprised, the trial went ahead without consultation.
"This city, unfortunately, has a long history of this," he says.
"Their model of consultation is we will come out and tell you what we are going to do and they do it."
Tauranga City Council director of transport Brendan Bisley previously informed SunLive that the planned pre-trial consultation could not take place due to Covid-19 issues.
They, therefore, decided to progress with the trial, with consultation to run alongside, to allow for future decisions to be made for early-2022.
Luiz, who says he previously worked for a council in his native Brazil, still cannot believe the trial was implemented without prior consultation taking place.
"I don't think they are really assessing everything because they are not in touch with us," he states.
"Maybe they are not taking our word.
" They are not listening."