Thousands of people have gathered on Mount Main Beach at Mount Maunganui to celebrate New Years' Eve.
Fireworks were let off by people on the beach during the evening, with more lit at midnight.
A SunLive reporter at Mount Main Beach says there are thousands of people there.
"Lots of young teenagers. Many people seemed to be from Auckland or Waikato, not from around here," says a SunLive reporter.
"Generally it's fairly orderly and not too chaotic, just a lot of people."
Bottles were left smashed around the Mount Maunganui Lifeguard Service building at the corner of Adams Ave and Marine Parade.
"The beach is going to be a mess in the morning."
Light towers had been set up to light the main beach, coincidentally providing a congregation point on the sand for people.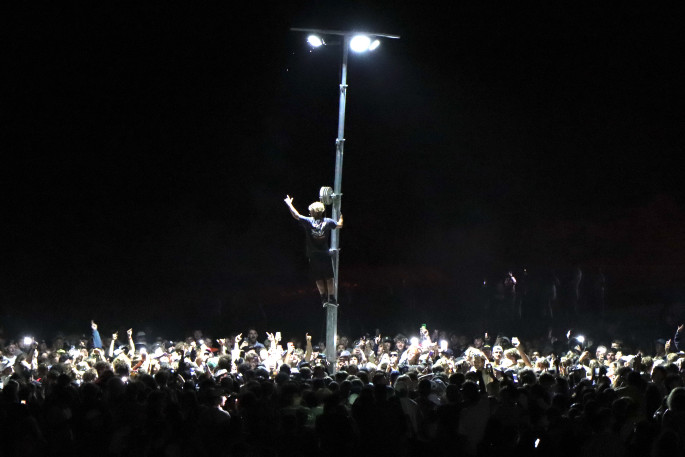 "Boy racers are going around Marine Parade revving up engines," says the SunLive reporter, "and Police are out and about."
An alcohol ban remains on the beachfront, but the street and car parks weren't fenced off this year. Police maintained a visible presence in key areas around Mount Maunganui and ran a checkpoint on Maunganui Rd.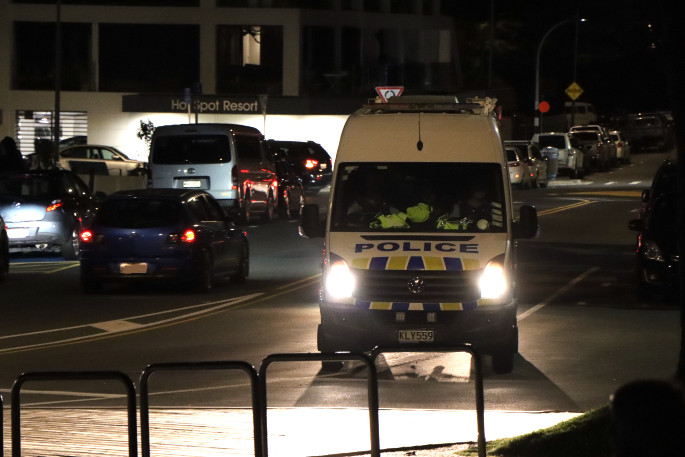 Earlier in the afternoon people 'were pouring into the Mount' says a SunLive reader.
"They were arriving by taxi. And tonight people are trying to leave cramming onto utes and into boots, they probably don't want to have to pay a taxi fare."
With the informal, unorganised event spontaneously happening on Mount Main Beach, there was also no vaccination status being checked, with people congregating closely with no masks being worn. New Years Eve was also the day that 19 new cases of Covid-19 were reported in the Bay of Plenty, nearly outstripping Auckland's new case total of 22.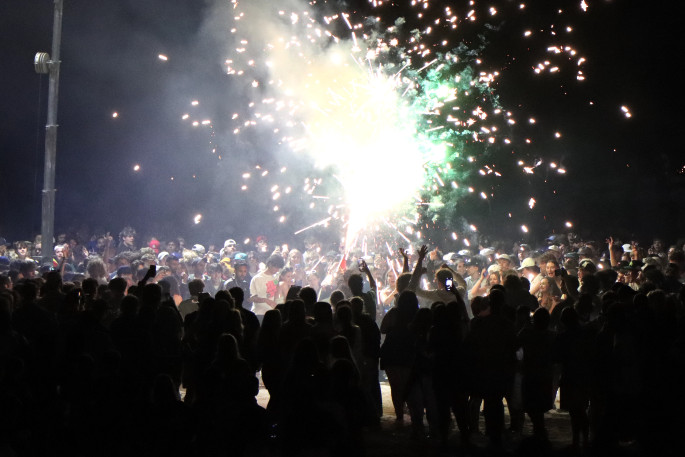 Mount Main Beach, home to a pair of dotterels and a pair of oystercatchers which nest on the beach, is located between Mauao and Moturiki - previously known as Leisure Island - where little blue penguins and petrels have their burrows and are nesting. There are around 800 little blue penguins living on Mauao and around 200 little blue penguins on Moturiki.
During the New Year period, the alcohol-free areas in Mount Maunganui and Papamoa are extended and include Mount Main Beach, Pilot Bay, Moturiki, and Mount Drury. They are in force from December 26 to 6am January 6 inclusive.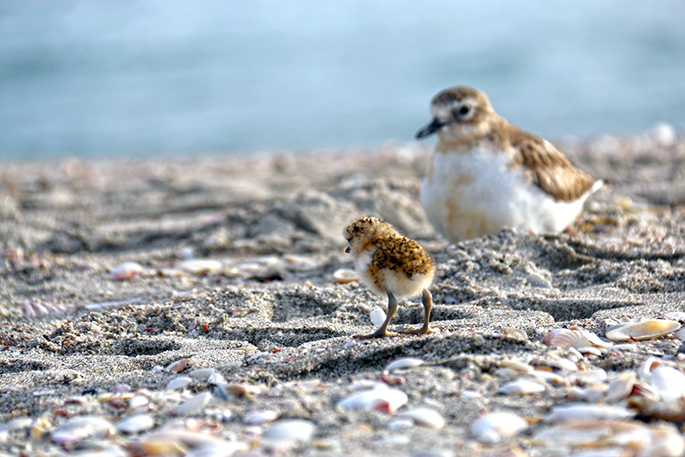 Dotterels nesting on Mount Main beach. Photo: SunLive.
Tauranga's New Year's Event community celebrations and fireworks were cancelled this year, and Tauranga is at Orange in the Covid-19 Protection Framework.
Following the 2015 New Years' Eve celebration at Mount Maunganui, a report in 2016 showed that the number of serious crimes including sexual assault were increasing, with Tauranga City Council making the decision to replace the Main Beach event with a family-friendly event at Blake Park.
Gareth Wallis, General Manager, Community Services says council had reluctantly decided not to host this year's events as there was too much uncertainty around whether it could deliver the community wide events safely.
The 2020 free community events were well attended across five sites across the city – Papamoa, Mount Maunganui, Tauranga CBD, Greerton and Matua.
Gareth says the events had grown in popularity over the past five years, and they will be back.

"We love to bring these events and fireworks to our community, and work alongside an incredible group of partners and suppliers to deliver them. We look forward to delivering these celebrations for our community in 2022," says Gareth.