Northland residents are querying why there wasn't an Emergency Mobile Alert sent out by the National Emergency Management Agency on Saturday night.
A tsunami surge hit Tutukaka Marina in Northland about 9.30pm on Saturday, causing a number of boats to sink and several others to break free from their moorings and come aground, or run into other boats.
Northland Civil Defence Emergency Management spokesperson Murray Soljak says the marina itself was also damaged, with part of the fuel jetty coming loose.
>Those living aboard their boats in the marina were evacuated as a precaution.
People in Northland took to social media saying they didn't receive a Civil Defence alert to their mobile phones before the surge happened.
"Residents in Northland are rightly concerned that neither the Emergency Mobile Alert system nor any tsunami sirens were activated prior to strong surges that destroyed dozens of boats in the Tutukaka Marina, flooded at least one campground, and put lives at risk as people scrambled to get away from the shore," says ACT's Civil Defence spokesperson James McDowall.
"We have these systems in place for a reason, to protect lives and property. Kiwis shouldn't have to rely on proactively checking Facebook pages for warnings.
"Residents are now picking up the pieces and adding up their losses, well into the millions of dollars."
NEMA public education team leader Andy Hammond-Tooke says an EMA alert is in general only sent when there is a serious threat to life, health or property.
"This was a unique situation," says Andy.
"What made this unique was that it was caused by a volcano not by an earthquake."
EMA issues a National Advisory following advice from GNS Science.
"GNS Science are the ones who issue warnings and advisories. We were monitoring with GNS Science and receiving advice from them. In this case, we put out an advisory which was more around the currents."
At 8.16pm on Saturday, January 15, NEMA issued a National Advisory that stated; "We expect New Zealand coastal areas on the north and east coast of the North Island and the Chatham Islands to experience strong and unusual currents and unpredictable surges at the shore following a large volcanic eruption at Hunga-Tonga-Hunga-Ha'pai in Tonga".
People in or near the sea were advised they should move out of the water, off beaches and shore areas and away from harbours, rivers and estuaries until at least 4am on Sunday January 16.
"There's no way we can predict marine surges.
"In the advisory we described strong and unusual currents and unpredictable surges. There was quite a bit of damage but it's the reason we put out an advisory in regards to marine surges."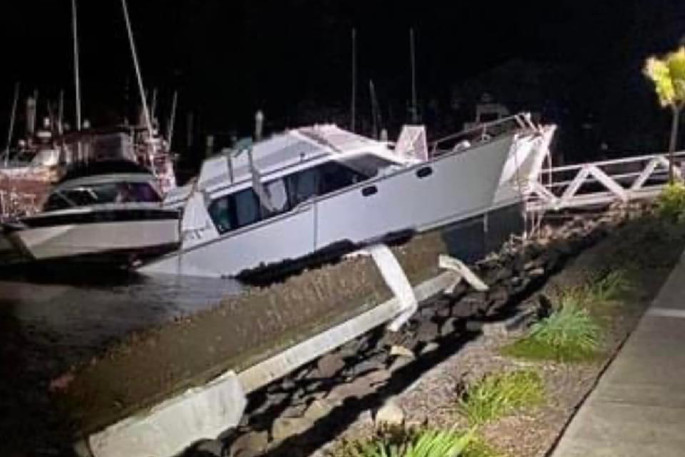 Damaged boats at Tutukaka Marina due to the tsunami and cyclone surge. Photos: Tim Alexander.
The Tutukaka Marina itself will require extensive repair.
"Those who were living in their boats are thankful that they managed to get out in time," says McDowall.
"But we cannot believe the radio silence after years of receiving mobile alerts and hearing sirens for minor events."
With further surges expected around New Zealand as a result of Cyclone Cody and the volcanic eruption in Tonga, coastal residents around New Zealand are encouraged to check NEMA's website at www.civildefence.govt.nz) or any changes to warnings.