Are you a home baker? Rise up Tauranga is calling on the Bay of Plenty community to provide fresh home baking as a way to show support for the front line staff at Tauranga and Whakatane Hospitals during the next seven weeks.
"We need our awesome community to please provide fresh home baking for hospital staff until Easter," says Rise Up Tauranga's Rosalie Liddle Crawford.
"During this Omicron outbreak, the Tauranga and Whakatane Hospital staff from the Path Lab, Emergency Department and general hospital ward staff will be going over and beyond to process thousands of Covid tests and care for many people coming into hospital," says Rosalie. "The hours are expected to be even longer, more intense and stressful than they've already experienced over the last two years.
"Some fresh home baking from the community is a great way to show support."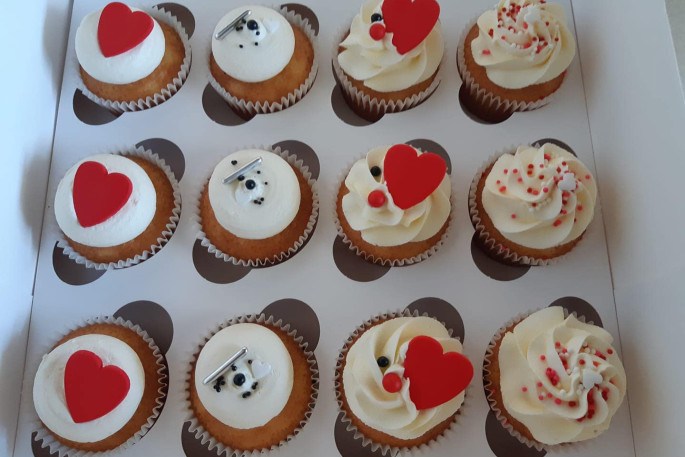 Cupcakes made by Paula Bilbe. Photo: Supplied.
On finishing college, Rosalie worked as a medical laboratory technologist at Tauranga Hospital before continuing on with further study at Wellington Hospital.
"So I know first-hand how intense the work can be. Some delicious baking made with love tends to lift people's morale and it will be nice to give all the frontline staff a boost."
Bakers sign up via a Google Doc form.
"After signing up and choosing their day, we will provide bakers with the details of each location and a map showing them where to go. There will be contactless delivery of the fresh home baking on Mondays, Wednesdays, and Fridays between 9am and 11am at a drop-off bay at both hospitals.
"Please do not go to the hospital main entrance with your baking," says Rosalie.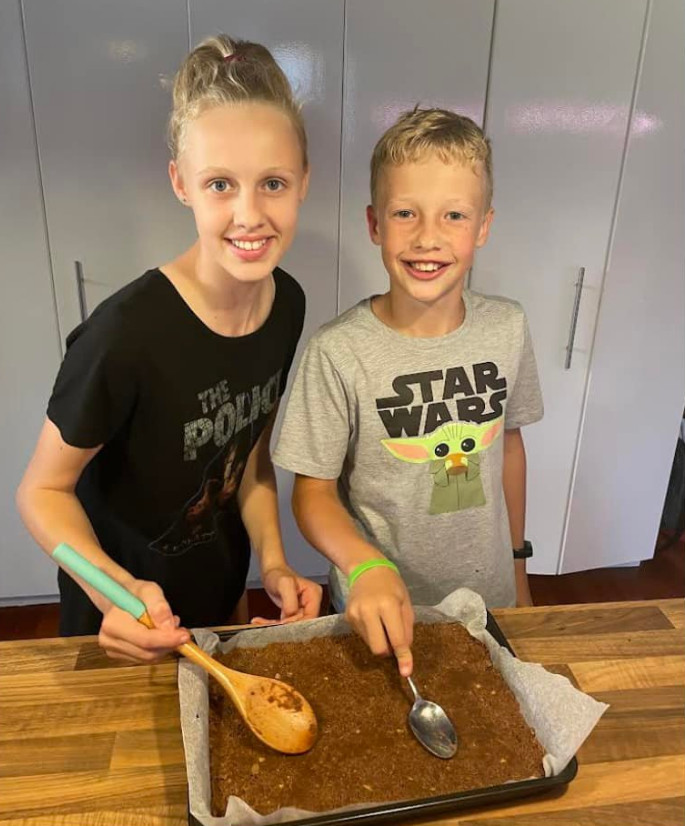 Eleanor and Mason Ashby made weetbix slice in the first week of baking for Tauranga Hospital. Photo: Supplied.
The BOPDHB Emergency Planning Team will distribute the baking to staff.
Baking can include biscuits, cakes, fruit loaf, muffins, scones, tarts, flans or slices, and gluten and dairy free options. Bakers are encouraged to share photos of themselves with their baking on the Rise Up Tauranga Facebook page.
New World Mount Maunganui has cardboard cake boxes available for purchase, which enables home bakers to place their baking in a container which won't need returning.
"We are contacting other supermarkets to see if they can also make their boxes available for purchase," says Rosalie.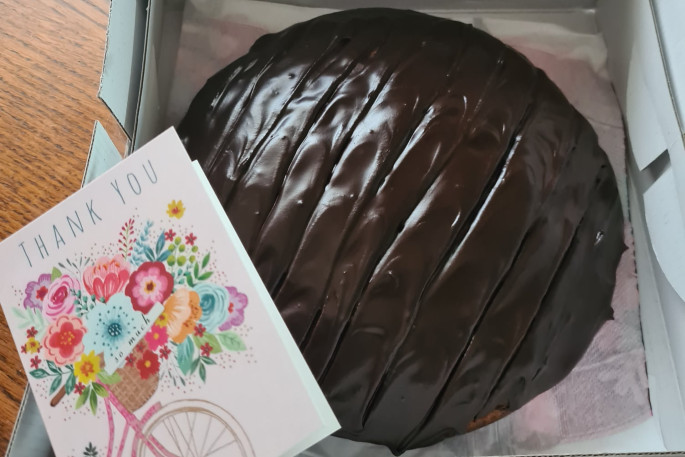 Jo Taylor's chocolate banana cake. Photo: Supplied.
A chocolate banana cake made by Jo Taylor includes a card.
"Thank you for giving me the opportunity to pay it back to the amazing staff at Tauranga Hospital. Definitely baked this one with a lot of extra love. Just a small token of my appreciation of all the hard work they do," says Jo.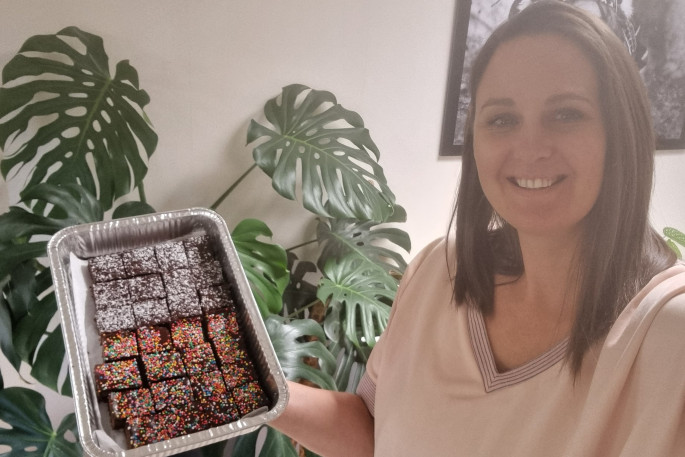 Amanda Little with two layers of her dairy free chocolate slice for Tauranga Hospital staff. Photo: Supplied.
"Thank you for giving me the opportunity to thank the staff who looked after my father for two months in aged care last year, for my hip replacement two years ago and the numerous broken limbs my daughter has done (we now bubble wrap her). Such wonderful staff," says Amanda Little, who baked a dairy free chocolate slice for Friday's delivery.
"I appreciate our medical staff so much," says Ruth Sweatman who baked scones this week for Tauranga Hospital.
"It is so nice after this very difficult week to do something that is positive and perhaps helpful. Congrats to the team who organised this for our Tauranga Hospital meds."
During the first week of the baking project, Vicky McGreal, on realising that many of the bakers signing up lived near her in Arataki, started a Facebook group to help coordinate deliveries across to Tauranga Hospital. The Arataki Bakers now has over 20 members, with one member providing a contactless table for bakers to drop off their baking to her before she delivers it all to the hospital.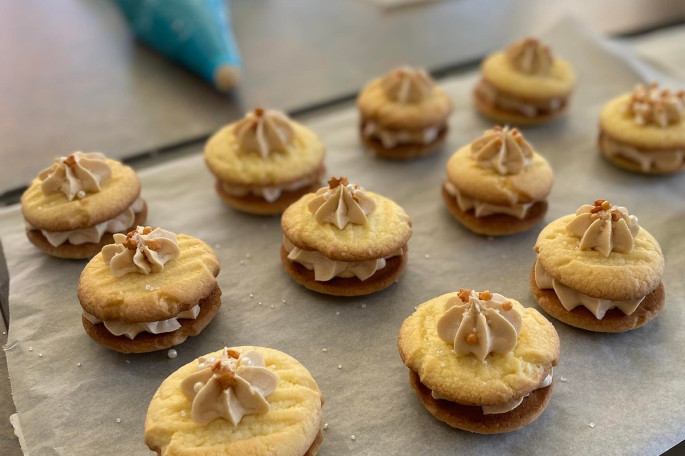 Fresh home baking for Tauranga Hospital staff by Vicky McGreal, who started The Arataki Bakers group. Photo: Supplied.
The community project has been endorsed by the Bay of Plenty District Health Board CEO Pete Chandler.
"We're thrilled with this wonderful offer of community support for our teams and the demonstration of appreciation at a time when all of our staff are going above and beyond," says Pete. "Huge thanks to Rosalie and the Rise Up Tauranga network of bakers for giving your time and effort. Whilst we provide a range of things to keep our teams as supported as we can, a community effort is very special and is a tremendous message of kindness to our frontline staff – thank you all!"
The fresh home baking for hospital staff is a project run by Rise Up Tauranga in liaison with the BOPDHB's Emergency Planning Team. Updates will be posted to the www.facebook.com/riseuptauranga page.
The fresh home baking project for Tauranga and Whakatane Hospital staff is running for seven weeks until Wednesday, April 13.
For more information, contact Rosalie on rosalie@topshelfdesign.com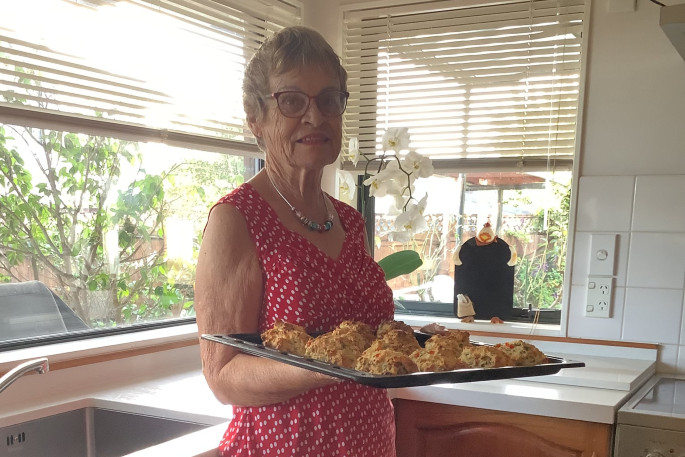 Ruth Sweatman with her freshly baked scones for Tauranga Hospital staff. Photo: Supplied.