TECT Rescue Helicopter has had a busy start to June with three responses to incidents this last week involving a horse, gorge and a boy with a blocked airway.
On Wednesday, June 8, the TECT Rescue Helicopter was tasked to a farm in Hamurana for a man in his 50's who had sustained injuries falling from a horse.
The air ambulance's critical care flight paramedic Janine and crewman Ben assisted the man at the scene and then flew him to Rotorua Hospital for further treatment.
TECT Rescue Helicopter at the scene of the horse fall in Hamurana on Wednesay. Photo: Supplied.
On Sunday, June 5, the TECT Rescue Helicopter was dispatched to Whakatane Hospital to transport a young boy who had an obstructed airway.
The boy was flown, with his mother alongside, to Waikato Hospital for further treatment.
On Saturday, June 4, the TECT Rescue Helicopter responded to a motor vehicle accident in the Karangahake Gorge, where a man in his 50s had sustained serious injuries.
TECT rescue helicopter arriving at the scene in the Karangahake Gorge on Saturday June 4. Photo: Patricia Rushton.
The TECT Rescue Helicopter is a Kawasaki BK117.
This single-pilot twin-engine helicopter has commonly been used as a rescue helicopter due to its speed, reliability and ability to fly close to cliff faces which makes it the best aircraft for all types of missions.
The TECT Rescue Helicopter has been specially fitted for rescues, and is equipped with state-of-the-art avionics and medical equipment such as night vision goggles, a 600lb rescue winch, stretcher, defibrillator and ventilator, to ensure the best care possible for patients onboard.
With a cruise speed of 222 kilometres per hour and a max speed of 278 kilometres per hour and powered by a team of Pilots, Crewmen and Critical Care Flight Paramedics, the BK117 can be airborne within 10 minutes during the day (or 20 minutes at night) to deliver rescue personnel to patients in need, with the ability to provide life-saving in-flight care along the way.
The TECT Rescue started out as the Tranz Rail Rescue Helicopter, founded in 2000. Since its inception, the crew have undertaken over 3,408 missions. TECT and Trustpower joined up to become principal sponsors of the helicopter in 2004, and the service was renamed the Trustpower TECT Rescue Helicopter.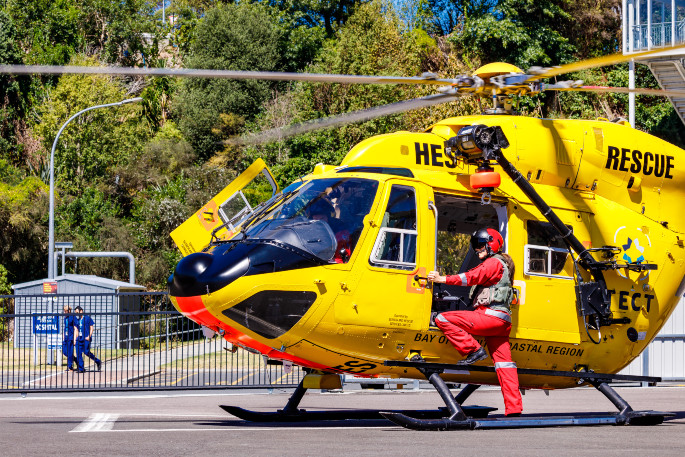 In 2007, the Ian Pain Memorial Hangar was built, sponsored by Vern and Barbara Pain. In April 2018, the helicopter was upgraded from the single-engine Squirrel to the twin-engine BK117.
By 2019, the TECT Rescue Helicopter had employed full-time Crewmen and Intensive Care Paramedics, and TECT had become the sole principal sponsor, giving it the name we know it by today: The TECT Rescue Helicopter.
Philips Search & Rescue Trust (PSRT) is the charity responsible for fundraising and promotion of the North Island's largest pool of community rescue helicopters, including the TECT Rescue Helicopter. Encompassing a fleet of rescue helicopters and fixed-wing planes, the service provides air health and rescue services free of charge to the public on a no-fault basis
PSRT was founded in 1985 after an endowment by a private company, Philips New Zealand Ltd, to mark a light aircraft crash in which two Philips NZ Ltd employees lost their lives.
After instigating one of the largest privately organised searches ever seen in New Zealand, the company made an endowment to initiate a Trust with the objective of providing the highest possible standard of air rescue and emergency helicopter services in the central North Island. Philips Search & Rescue Trust became a dedicated, full-time service in 1987.
The rescue helicopter service relies on sponsorships and donations. To support the service and help save lives click here to make a donation.