Meet Rico Ryan, a remarkable 11-year-old who's taking the world of BMX racing by storm.
At the age of six, Rico crafted his own licence plate bearing the inscription 'W1' – cementing his ambition to become the number one rider in the world.
'He was talented straight away," says dad Matt Ryan.
'He started at a relatively late age but he's calculated and smart about racing."
The Tauranga youngster needs to be strategic. He's one of only a handful of riders who 'dual compete' in two different racing classes.
'He has twice as many races on two different bikes so it's a long, tiring day that needs to be planned out. He needs to conserve his energy in certain events to race harder in others."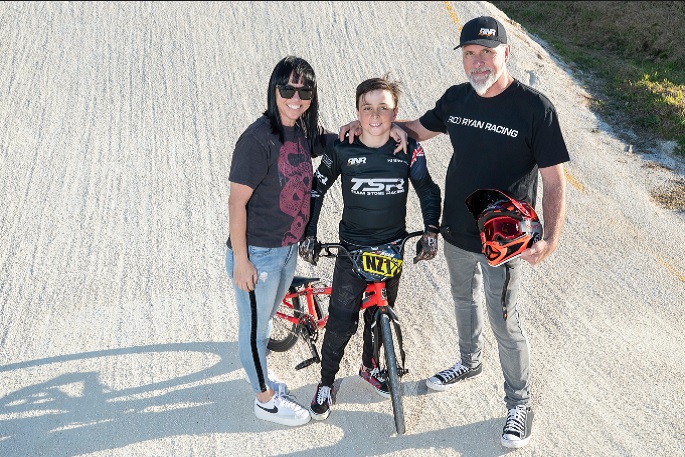 Rico Ryan with parents, Melissa and Matt Ryan. Photo: John Borren
Up to four hours of track training six times per week and gym workouts thanks to a scholarship for the Youth Academy at Mount Maunganui's Athlete Factory, are paying off.
This season Rico is the North Island Champion and has won the New Zealand Championships in both the premier and cruiser class, as well as winning the Oceania Championship premier class and placing second in cruiser class.
'He used to get quite upset about coming second," says Matt. 'It was never good enough.
"He's a really competitive guy but he's quiet natured and humble as well. His teacher has told us she had no idea Rico is the New Zealand and Oceania Number One. He doesn't show off about it."
This coming month Rico will represent New Zealand against the best BMX riders from Australia.
'The BMXNZ Mighty 11s test team is the five fastest boys and five fastest girls in their age category racing, this year, in Sydney," says Matt.
'We're home for 16 days and then we head to the World Championships in Glasgow."
Rico Ryan is off overseas to take on the BMZ racing world. Photo: John Borren.
Matt says they couldn't have made it to Scotland without sponsorship from companies including Buckley Systems Ltd, Team Stone Racing, MB Electrical, Hi-Spec Plumbing and Gas as well as support from St Mary's School and Tauranga BMX Club.
'Rico's aiming for a top eight finish, but the dream is still 'World Number One' just as it was five years ago, when he first started racing."
For racing updates, follow Rico's Instagram page: https://www.instagram.com/ricoryan660/