It's hoped new signs and road markings installed at the Waitawheta Bridge in Karangahake Gorge will help improve traffic flow and safety at the busy intersection.
Hauraki District Council Waihi Ward chair Max McLean says Google Maps identifies Waitawheta backroads as the quickest route from Auckland to Tauranga and directs travellers off the State Highway and over the one-lane bridge, which was never intended for large volumes of traffic.
"What you end up with is multiple vehicles clogging the highway waiting to go over the bridge, which is blocked by cars that have come down from Waitawheta Valley and are trying to get out onto the highway," he says.
Now drivers approaching from Waitawheta Valley are met with stop signs and yellow road marking on the bridge surface to show there is no stopping on the bridge.
One-vehicle-at-a-time signs have also been installed to prevent cars queueing on the bridge.
After pushing for something to be done, Max is optimistic the new system will make a difference.
"The Waihi Ward has been working to make this happen for quite a while, so it was fantastic to drive down and see the new system in operation. If everyone does their part and obeys the signs I'm confident this will solve the problem."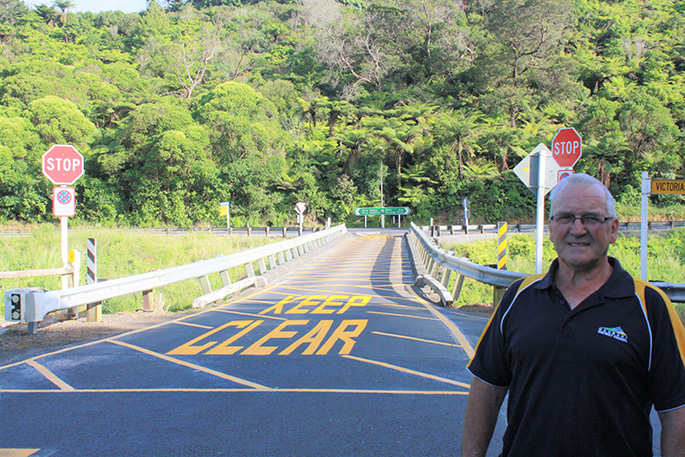 Waihi Ward Chair Max McLean at Waitawheta Bridge. Supplied photo.