I always find opening night for any play to be somehow more informal than other nights. It could be just me wondering if the actors have first night nerves, so I make myself feel relaxed for their sakes, and ready to forgive any first night faux pas.
Whatever the reason, I wasn't prepared for the first performance of Detour Theatre's comic play 'Blithe Spirit' to be so brilliant.
Everything about Detour Theatre is warm, from the friendly greeting at the door, to the building itself. Originally the 1911 Tauranga Baptist Church, it was built from milled timber from the Paengaroa saw mill and the Rev Barnett's Kaimai farm.
The Detour Theatre Trust have turned the previously derelict building into a delightful intimate space with comfortable tiered seating. It reminds me of the times I went to see plays at the Bats Theatre in Wellington. But enough of rambling on about enjoying the surroundings and atmosphere – the lights dim, the happy murmur of patrons' hushes and the play begins.
I've heard that Noel Coward wrote 'Blithe Spirit' in just six days while traveling to North Wales in 1941.
He derived the title of the play from Shelley's poem "To a Skylark" which has the line 'Hail to thee, blithe Spirit!' At the time he'd been thinking of writing a comedy about ghosts. The play opened a month after he wrote it, was an instant success, and became one of the West End's longest-running shows.
The story opens with Charles Condomine and his wife Ruth enjoying the discomfort of their inept maid Edith, played by Stella Cooke, as she attempts to walk slowly carrying a tray of glasses.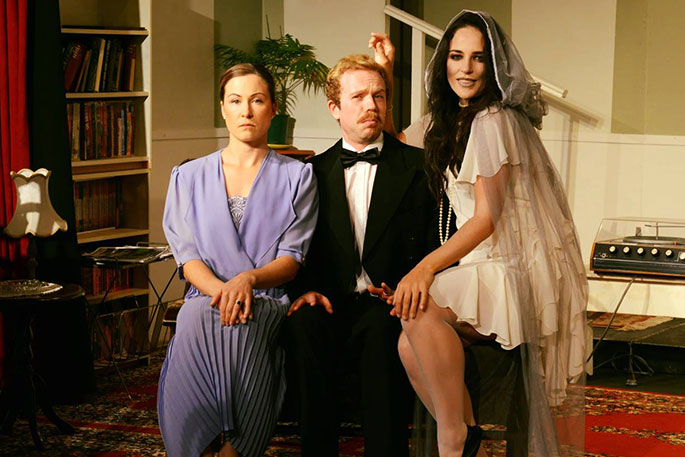 Ruth Condomine (Michelle Barns), Charles Condomine (Ryan Wood) and Elvira Condomine (Cassandra Woodhouse)
Stella moving around the stage is a high point of the play, drawing the audience's eye, as disaster nearly happens every time she appears.
Charles, played effortlessly by Ryan Wood, is a novelist and expert dry martini maker, and is dominated by his wife of two years, Ruth (Michelle Barns). His first wife Elvira (played by Cassandra Woodhouse) died of a heart attack while laughing at a BBC radio programme.
Charles wants to learn more about the supernatural for the novel he is writing, so invites over his friends Dr George Bradman and his wife Violet to meet Madame Arcati, who unknowingly brings back Elvira, who has been dead for seven years.
Having a departed wife only visible as a ghost to Charles makes for brilliant comedic moments with the playwright weaving together his conversations with both wives. Ruth thinks Charles is responding to her, when he is talking to Elvira, so Ruth becomes more and more upset.
Cassandra as the pleased then despondent ghost-wife Elvira Condomine, delivers some great lines to Charles – "Well, I really am a little hurt. You called me back (from the dead), and at great inconvenience, I came…and you've been thoroughly churlish ever since I arrived!"
She then concocts a stunning plan to steal Charles away from Ruth.
George, played by Glen Morris, offers a sedative, and Violet, played by Allison Stewart just finds the experience with Madame Arcati splendidly entertaining.
Madame Arcati is thrilled to learn that Charles' deceased wife has reappeared in his life, and is desirous of pursuing her ectoplasmic notions. Charles' current wife Ruth is the most displeased. Meanwhile Edith, the maid, flits about creating a sense of mishap.
Confusion and miscommunication are the two elements that help create great comedy, and it's a pleasure to see the actors skilfully revel in this, their dialogue smooth and unhampered.
To watch seven actors deliver lines so fluidly from memory for more than two hours is one of the great pleasure of going to theatre. This cast though is so well-rehearsed that in that intimate space and time, they very easily and believably become the fictional people they are portraying.
Ryan, a work colleague, has transformed into Charles, and Michelle, who I last talked with about rest home games in her role with Sport BOP, has become Ruth.
Lisa Thorne as Madame Arcati is killingly funny, giving a boisterous full-bodied performance with deep breathing and waving arms that's hilarious to watch. This kind of nourishing comedy is timeless and delightful, set off well by Charles's acidic witty quips and Ruth's peeved resentment.
My favourite character is Violet, probably because I'm a fan of Allison Stewart. I find her vastly amusing, snuffling laughter into her martini. (Sorry Ryan!)
There's high-jinks and mischief from Elvira, as she delivers more than Charles had bargained for. Things turns to a worst shambles once Madame Arcati is invited back to rectify the situation, only to create more hapless mayhem while sloshing down martinis and grabbing at the cucumber sandwiches.
Some of the characters can see Elvira and some can't. Watching the actors focus on not seeing her while talking to a spot in the room where they think she is standing is convincingly funny, and it's clear this movement around the stage has been carefully and cleverly choreographed.
The staging is pleasing, with the sitting-room capturing the period the play is set in, the colours muted and allowing the actors to come to the fore. I found myself reflecting on the furniture, mentally ticking off in my mind that each piece correctly belongs, even down to the wall pictures.
Ruth's stunning dresses were the topic of conversation in the row of seats in front of me, and I was asked to find out where Detour Theatre had obtained them from.
Where they borrowed from another theatre? Were they from Bay Costume Hire? Does Detour make their own costumes?
I asked the director Kim Williamson, who readily informed me that they had been donated by a member of the public during the weeks leading up to the play, and coincidentally were perfect for Ruth's character.
An accomplished director, with over 30 shows to her credit, Kim has had 25 years of theatre experience, and clearly was delighted last night to see Noel Coward's play come alive to its first audience.
The play runs for three weeks until July 7, and is a brilliantly acted, delightful and blithe production.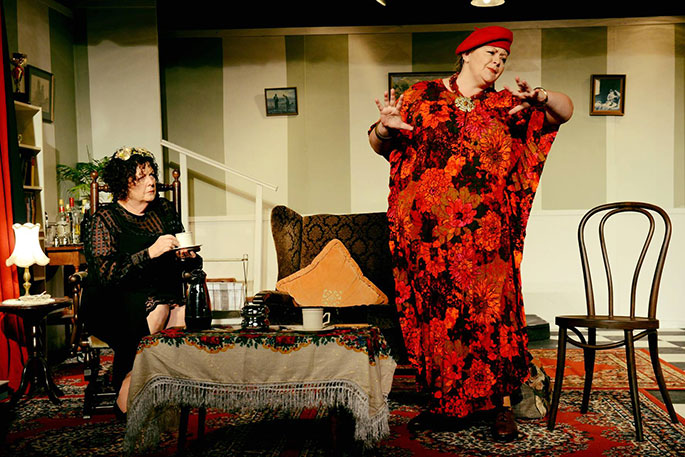 Violet Bradman (Allison Stewart) with Madame Arcati (Lisa Thorne)