Parking in and around Tauranga CBD seems to be getting worse by the day.
The average time that people start work has changed and people are no longer working the good old nine to five.
Parking in off street car parks have been filling up earlier and earlier, as people have been struggling to get a park at original times, and free car parks around the city are full at 6.30am, as people will get there early just to sit in their cars until their shift starts.
Off-street car parking in the Tauranga CBD including the Cliff Road car park, Dive Crescent car park and the Waterfront car park, is now full by the time the clock strikes nine.
Places on the side of the road, are also filling up fast with an area past the Dive Cres car park being fill with vehicles parked left, right and centre, just so they can claim a free park.
One motorist who arrives in the CBD at around 7.30-8am each morning says there are some parks around in the area, but if you want a free park they were taken hours before hand.
The motorist, who works down the north end of The Strand says they are worried they are soon not going to be able to get a park in the Dive Cres carpark, where they are currently parking now.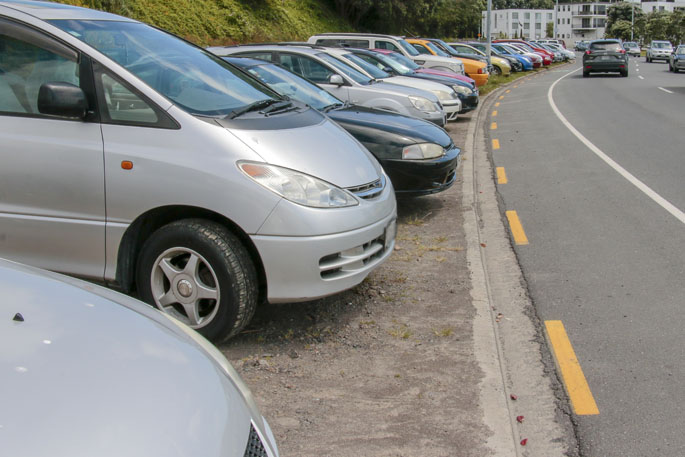 Cars lined up along Dive Crescent.
The Dive Cres carpark currently has 86 car park spaces but in a few days' time, 10 of those carparks will be taken up in order to demolish the storage buildings on the land side of Dive Cres.
While the storage building is getting knocked down to make room for more temporary car parks, in the weeks that a number of car parks will be closed, the motorist is concerned that if they are running late to work one morning, with the 10 car parks being closed, they will be forced to park in a timed car park and run the risk of getting a parking ticket.
Another motorist, who works in the same area and starts work at 9.30am and finishes at 6.30pm, says the parking options have been reduced as new business have also opened up in the CBD.
Both of these motorists say the use of public transport is not an option as they live out of the transport routes.
Both of these motorist have been left wondering what to do, as there aren't many parking options left around the CBD.
So for now they are left stalking out a park like a hunter stalks its prey.
SunLive have contacted Tauranga City Council and will update the story once further information is provided.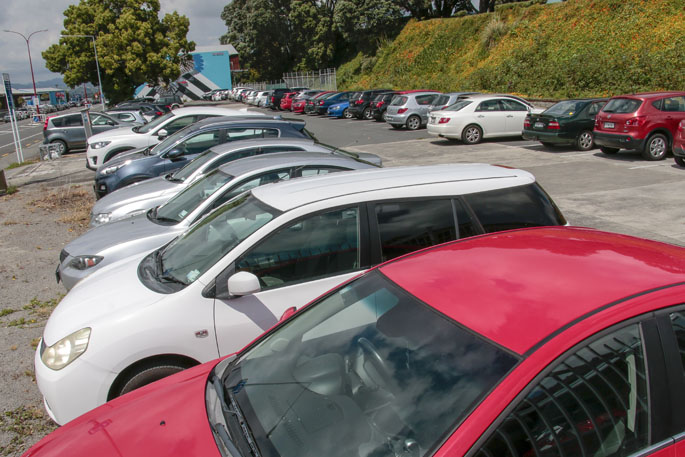 Cars parking in the Dive Crescent off street parking, where 10 car parks are soon to be unusable as the storage buildings are set to be demolished.