Tauranga City Council's third water treatment plant is hitting an important phase with the start of construction of the first pipeline, connecting the reservoir at the intersection of Poplar Lane and Te Puke Highway with the Eastern Reservoir on Welcome Bay Road.
Tauranga City Council is investing $115 million in the development of a new water supply due to be completed late 2021.
The new treatment plant will serve the future needs of Tauranga, add resilience to the city's water supply overall and provide backup for Western Bay of Plenty District Council's Te Puke water supply.
Local firm HEB Construction are managing this part of the pipeline construction work that was marked with a blessing of the site at Horaparaikete Trust on 2 April.
"Work will be off-road until the end of April, when traffic in the area surrounding the pipeline construction will start experiencing impacts," says a Tauranga City Council spokesperson.
"From 29 April to June 2020, traffic at the eastern end of Welcome Bay Road will be reduced to one lane for a 500 meter section, while work to construct the first section of the Waiāri Trunkmain Pipeline is undertaken."
• Stop/Go traffic signals on Welcome Bay Road will be operational 24 hours, seven days a week, and apply to a 500m section that will move with progress of work.

• Traffic is expected to be slower at peak times and drivers should anticipate delays.

• Traffic on the Te Puke Highway, will be impacted by reduced speed when passing the works, to 50km/h for a 200 – 300 meter section.
"We understand this work will impact on an area of the city where traffic is already under pressure and that there is some overlap with kiwifruit picking season. We have done our best to balance time constraints on construction work with the needs of the community and industry in the area and those of the wider community."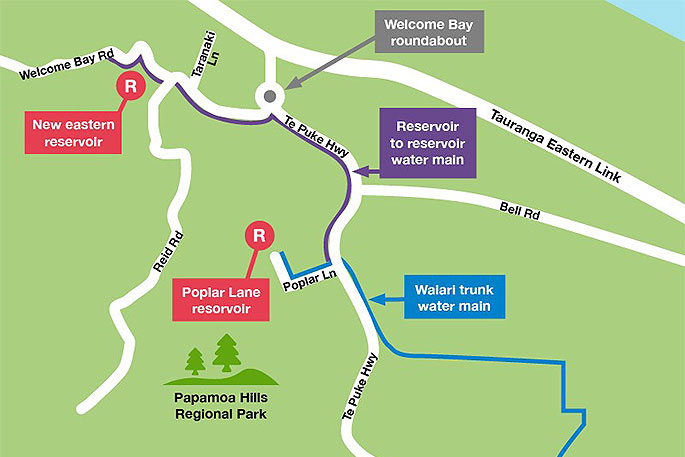 The Waiāri Water Supply Scheme includes the development of a new water abstract facility at the Waiāri Stream, a water treatment plant at 315 No.1 Road, Te Puke, and an underground water pipeline from the plant to Poplar Lane and the Eastern Reservoirs.
Two further elements to the pipeline construction are on the market for expressions of interest. Invites to tender went out earlier this month for contracts to be awarded in winter 2019.
Construction activities started in March 2018 and is expected to be completed in 2021.
For more information, visit www.tauranga.govt.nz/waiari